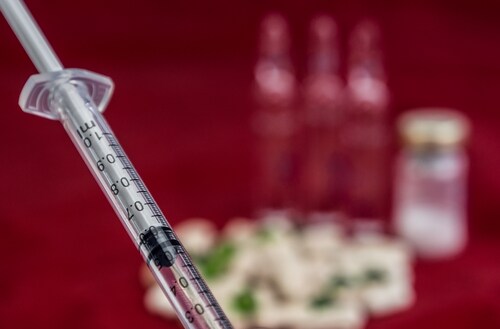 Detection of drug abuse in sports can be relatively straightforward if the analyte in question is a synthetic substance with no natural homologs in circulation; however, detecting a doping agent that is an analog of a hormone produced endogenously—such as growth hormone (GH)—is more complicated. GH is released naturally, by the anterior pituitary, as low molecular weight proteins in an episodic diurnal pattern. As a result, it is difficult to distinguish between doping and natural variation.
Traditional assays and methods for monitoring athlete samples for performance-enhancing drugs rely upon immunoassays, measuring discrepancies in the natural ratio between the two proteoforms present in circulation. Although levels of GH vary throughout the day, the ratio of the more abundant 22-kDa proteoform to its lower molecular weight (20-kDa) version approximate at 12:1. The administration of exogenous GH, synthetic or otherwise, skews the ratio, with increased abundance of the 22-kDa proteoform coinciding with negative feedback suppression of the 20-kDa proteoform. In addition to this testing, investigators often examine GH-responsive factors, such as insulin-like growth factor-I and associated binding proteins, for further confirmation.
Such-Sanmartin and colleagues (2014) investigated a mass spectrometry immunoassay (MSIA) approach that could overcome the lack of specificity for antibody discrimination between the two proteoforms as seen in traditional immunoassays.1 Using a GH-specific immunoprecipitation step to prepare samples for onward analysis, they overcame the effect of low abundance in combination with a low molecular weight analyte to develop a selected reaction monitoring (SRM) assay that could quantify levels of each proteoform.
Using blood collected from six athletes pre- and post-exercise (venous samples from four; capillary draw samples from two), the research team compared analyte preparation techniques using a 96-well plate binding protocol and a protein precipitation strategy. They found that the 96-well plate approach, which employed an antibody to both GH proteoforms, produced better results than the acetonitrile/protein precipitation method; their results showed an eight-fold improvement in data yields using the immunoconcentration.
The team confirmed their 96-well plate strategy using Western blotting to show appropriate concentration of both 22- and 20-kDa GH proteoforms pre- and post-exercise. Following this step, the team proceeded with protein digestion using an in-solution approach with trypsin as the protease. However, subsequent liquid chromatography–tandem mass spectrometry (LC-MS/MS) analysis utilizing an Easy-nLC II nanoflow liquid chromatograph coupled to a TSQ Vantage triple quadrupole mass spectrometer (both Thermo Scientific) showed insufficient yields of peptides unique to each proteoform. This prompted the team to switch to V8 (Glu-C) protease digestion for sample preparation, with a view toward developing an SRM assay capable of discriminating each proteoform.
Using spiking studies and adding recombinant proteoform solutions to samples prior to preparation, the team established the validity of their strategy. They obtained good recoveries and correlations over nine replicate experiments.
As a final examination of their analytical method, the team examined samples obtained by finger prick from two athletes pre- and post-exercise (a 30-minute run). They found that the small sample volume was sufficient for immunoconcentration and onward SRM-assay analysis. Moreover, results showed physiologically elevated GH levels post-exercise (as expected) but that 22-kDa:20-kDa ratios stayed within normal parameters, thus confirming the absence of drug abuse in the two individuals. The research team is therefore confident that their method, which effectively discriminates between the two major circulating GH proteoforms, is robust and suitable for real-life application in sports doping control.
Such-Sanmartin et al. note, however, that their bottom-up process may be inferior to top-down analysis of intact proteoforms, giving better sensitivity and accuracy for ratio calculations that could include physiologically induced protein structural changes seen normally in athletes.
Reference
1. Such-Sanmartín, G., et al. (2015, April) "Detection of 22 kDa and 20 kDa growth hormone proteoforms in human plasma by LC-MS/MS," Biochimica Biophysica Acta, 1854 (pp. 284–90), doi: 10.1016/j.bbapap.2014.12.022.
Post Author: Amanda Maxwell. Mixed media artist; blogger and social media communicator; clinical scientist and writer.
A digital space explorer, engaging readers by translating complex theories and subjects creatively into everyday language.