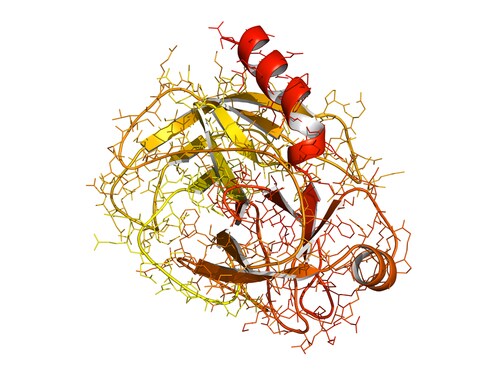 Researchers have often used trypsin to digest protein samples prior to mass spectrometric proteomic analysis, but they may not realize that trypsin may also be used to tag peptides for analysis.
Trypsin is a dual-action enzyme dependent upon reaction conditions. Under the sample preparation conditions commonly associated with protein digestion prior to analysis via mass spectrometry (MS), trypsin acts as a protease, chopping proteins into convenient and consistent fragments at precise digestion sites. In the presence of organic solvents such as ethanol, however, it turns into a ligase, attaching suitable tags onto the N-termini of digested proteins via the formation of a new peptide bond.
Pan et al. (2014) report a new enzymatic method for N-terminal labeling that exploits this dual activity, using stable biotinylated tags that can be used to clean up the sample prior to MS analysis.1 In exploring this method, their intention was to develop a terminal labeling technique that did not modify side chains or disturb post-translational modifications on lysine residues. Current chemical labeling strategies can interfere with these factors or be indistinguishable from in vivo events. The research team also wanted to develop a less expensive alternative to stable isotope labeling by amino acids in cell culture (SILAC) that could be used in vitro.
First, the researchers biotinylated 12C6-L-arginine-OEt and 13C6-L-arginine-OEt to construct stable isotope coded affinity tags; these were then esterified, forming light and heavy stable biotin-R-OEt tags, respectively. They confirmed the success of this reaction by matrix-assisted laser desorption/ionization–time-of-flight (MALDI-TOF) analysis.
Labeling reactions were tested using a synthetic peptide, ALKAADTIGYPVMIR, with a single trypsin cleavage site. Following trypsin digestion, the fragments were incubated with the biotin tags in the presence of trypsin and ethanol. Pan et al. confirmed successful N-terminal labeling by MALDI-TOF analysis in the primary synthetic peptide, as well as in two further, similarly constructed, peptides. The researchers found that the labeling reaction did not go to completion, however, leaving a majority of fragments unlabeled.
Pan and colleagues used avidin affinity chromatography (Thermo Scientific) to purify the resulting preparation, eluting labeled peptides away from the interference of unlabeled fragments. They analyzed this sample by nano liquid chromatography–tandem MS (LC-MS/MS) using an LTQ Orbitrap hybrid ion trap-Orbitrap mass spectrometer (Thermo Scientific) and found that using the purification step resulted in improved MS results that could be used to quantify labeled fragments at concentrations as low as 300 fmol.
Using the same methodology, Pan and co-workers examined labeled peptides extracted from mouse liver homogenates. MS spectra obtained from this complex proteomics sample were compared with the UNIPROT mouse database. Labeled peptide structures were predicted from those created by in silico trypsin digestion. MS identified 817 peptides in an unlabeled control sample, and 788 when the peptide labeling strategy was used. When the avidin affinity purification step was omitted, 901 peptides were identified, with a labeling rate of 18.4%.
The researchers also explored labeling using different oligopeptide biotin tags: biotin-GR-OEt, biotin-HR-OEt and biotin-PR-OEt. Each variation had a different effect on fragmentation, depending on whether the LTQ Orbitrap mass spectrometer was operated in the collision induced dissociation (CID) or the electron transfer dissociation (ETD) data recovery mode. The difference was most marked when the mass spectrometer was operated in the ETD mode. Less than 20% overlap in peptide identification resulted. The authors suggest that ligating different types of oligopeptides alters fragmentation dynamics and could greatly enhance proteome coverage in the future.
Reference
1. Pan, Y., et al. (2014) "Trypsin-Catalyzed N-terminal Labeling of Peptides with Stable Isotope-Coded Affinity Tags for Proteome Analysis," Analytical Chemistry, 86(2) (pp. 1170–77), doi: 10.1021/ac403060d.
Post Author: Amanda Maxwell. Mixed media artist; blogger and social media communicator; clinical scientist and writer.
A digital space explorer, engaging readers by translating complex theories and subjects creatively into everyday language.