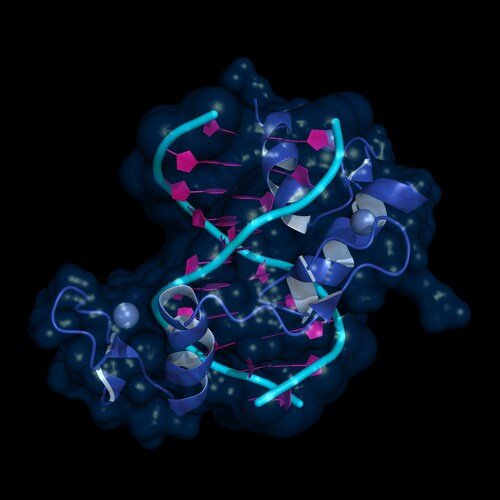 Trung et al. (2014) describe a proteomics workflow that replaces in silico modeling with quantitative DNA-protein interactome data.1 The approach uses SILAC (stable isotope labeling of amino acids in culture) to identify proteins interacting with M8, a putative cis-regulatory element that may play a significant role in leukemia and lymphoma development.
The M8 motif—TMTCGCGANR, where M is cytosine or adenine, R is adenosine or guanine, and N is any nucleotide—is a regulatory element found in 368 human genes and 64% conserved across four mammalian species (human, rat, dog, mouse). Cis-elements control various cell processes, including differentiation, response to environmental stimuli and possibly transformation toward a malignant phenotype. Levels are increased in some leukemia and lymphoma cells, and for this reason researchers are interested in finding out what transcription factors within the cell bind to this region of DNA.
Trung et al. devised a quantitative proteomics approach that utilizes SILAC-labeled nuclear extracts alongside a one-step DNA pull-down to show protein binding on the region of interest. Previously, researchers could only characterize cis-element interactomes using in silico modeling, predicting binding behavior theoretically from sequence data.
First, the research team constructed a number of synthetic oligonucleotides with wild type M8 sequences. They used corresponding mutant M8 oligonucleotides as controls for all experiments. They labeled the constructed oligonucleotides with biotin and then immobilized them on streptavidin beads for subsequent affinity chromatography.
Trung et al. used human lymphoblastic leukemia cell line Molt 4 to prepare nuclear extracts. They metabolically labeled the cells using a SILAC approach before lysing the cultures to liberate the nuclear extracts. The team incubated the labeled nuclear extracts with the immobilized M8 oligonucleotides in a one-step DNA affinity chromatography technique, then eluted the protein-DNA complexes from the column. They separated the proteins in the eluate using 4–12% Bis-Tris sodium dodecyl sulfate gel electrophoresis. After slicing the protein bands, the researchers performed in-gel digestion with trypsin before proteomic analysis using a liquid chromatography–mass spectrometry (LC-MS) approach. For this, the researchers used a LTQ Orbitrap XL ETD hybrid ion trap-Orbitrap mass spectrometer (Thermo Scientific). They examined the raw spectral data using MaxQuant v.1.0.12.13, searching for matches against the human IPI database v.3.64.
From the proteomic evaluation of the M8 motif interactome, Trung et al. identified and quantified 710 proteins. From this data, they found that 9 of these proteins exhibited evidence of specific M8 binding that was statistically significant. With further statistical refining of the data with statistical analysis, the team narrowed this data set to 4 proteins, identifying them as transcription factors zBED1, TFCP2, UBP and TFCP2L1. The researchers confirmed these data using a conventional immunoblotting approach.
Following direct immunology, the researchers chose to further validate their findings using a chromatin immunoprecipitation assay to show TFCP2 binding to the M8 regulatory motif.
Describing the workflow as a replacement for traditional techniques such as EMSA (electrophoretic mobility shift assay), the researchers note that it is now possible to fully differentiate the components of the DNA-protein interactome. Furthermore, as an improvement over current methods based on in silico evaluation, Trung et al. suggest that this approach is a useful tool for studying other DNA-transcription factor interactomes to understand more about cell process regulation and development of malignancy.
Reference
1. Trung, N.T., et al. (2014) "SILAC-based quantitative proteomics approach to identify transcription factors interacting with a novel cis-regulatory element," Journal of Proteomics and Bioinformatics, 7(3), doi: 10.4172/jpb.1000306.

Post Author: Amanda Maxwell. Mixed media artist; blogger and social media communicator; clinical scientist and writer. A digital space explorer, engaging readers by translating complex theories and subjects creatively into everyday language.