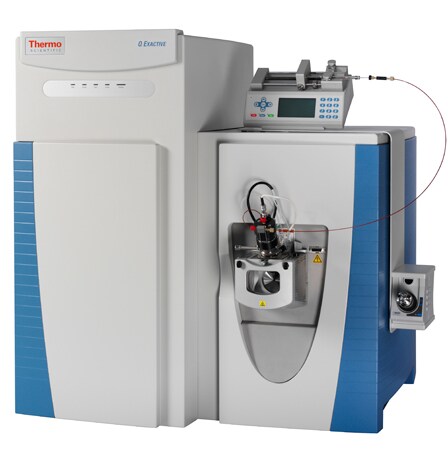 Sample complexity remains a major obstacle in mass spectrometry (MS)-based proteomics methods. Human cell lines, for example, express at a minimum 10,000 genes that encode detectable proteins. With bottom-up proteomics techniques, analytes can reach into the hundreds of thousands. Even upfront fractionation does not adequately address this challenge because it produces diminishing returns and requires longer analysis times. Moreover, because peptides of varying abundance often elute within the same timeframe, proteomics research could benefit from further advancements in the speed, resolution and sensitivity for MS platforms.
Orbitrap-based MS instruments, commercially available for nearly a decade, consist of an upfront mass spectrometer coupled to a C-trap, which compresses the ions before injection into the Orbitrap mass analyzer. Originally, the precursor selection took place in a linear ion trap. With the development of the quadrupole front-end filter, however, the Orbitrap mass spectrometers became capable of modulating the radio frequency field, allowing almost instantaneous selection of a small mass region and lending stable trajectories to select ion sets as they passed through the rod assembly. This meant that the Q Exactive hybrid quadrupole-Orbitrap mass spectrometer (Thermo Scientific) could multiplex prior to mass analysis. The Q Exactive mass spectrometer does not, however, include the highest efficiency quadrupole technology or the compact high-field analyzer found in the Orbitrap Elite hybrid ion trap-Orbitrap mass spectrometer (Thermo Scientific).
Scheltema et al. evaluated two recent Orbitrap mass analyzer incarnations: the Q Exactive Plus hybrid quadrupole-Orbitrap mass spectrometer and the Q Exactive HF hybrid quadrupole-Orbitrap mass spectrometer (both Thermo Scientific).1 Using single-shot complex mixtures of peptides and phosphopeptides over a standard 90-minute gradient, they focused on specific advancements offered by these platforms: improved robustness provided by a low-resolution filter ahead of the quadrupole, a segmented quadrupole component and, specific to the HF instrumentation, doubled resolution or acquisition speed imparted by an ultra-high-field Orbitrap mass analyzer.
Overall, the scientists reported that the higher sequencing speed of the ultra-high-field analyzer and segmented quadrupole provided improvements for shotgun proteomics applications, including cycle times of 1 second for a top 15–20 higher energy collisional dissociation protocol. Using HeLa cell lysate tryptic digests, they identified over 5,000 proteins and observed a 40% increase in unique peptide sequences, along with an increase for proteins of over 20%. For phosphorylation-enriched specimens, the research team noted up to 60% improvement for class I sites.
The team also observed that further optimizations, including dopant-enhanced mobile phases, more sensitive analytical columns and brighter ion sources, could be harnessed to increase precursor ion abundance and ensure the platforms perform at full potential in terms of speed. Indeed, they believe that, for super complex samples with sufficient precursors, the instrument productivity could be enhanced almost two-fold at the same sequencing depth.
Scheltema et al. indicate that the next generation of Q Exactive instruments add significant innovations to the original Orbitrap instrumentation, which already serves as a robust workhorse in many laboratories.
Reference
1. Scheltema, R.A., et al. (2014, December) "The Q Exactive HF, a benchtop mass spectrometer with a pre-filter, high-performance quadrupole and an ultra-high-field Orbitrap analyzer," Molecular and Cellular Proteomics, 13 (pp. 3698–3708), doi: 10.1074/mcp.M114.043489.
Post Author: Melissa J. Mayer. Melissa is a freelance writer who specializes in science journalism. She possesses passion for and experience in the fields of proteomics, cellular/molecular biology, microbiology, biochemistry, and immunology. Melissa is also bilingual (Spanish) and holds a teaching certificate with a biology endorsement.