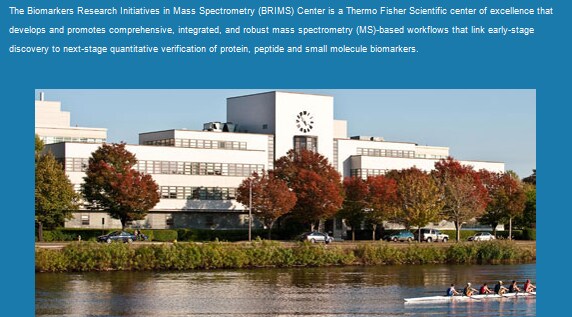 Scientists from the Thermo Fisher Scientific Biomarkers Research Initiatives in Mass Spectrometry (BRIMS) Center—in conjunction with researchers from the Institute for Cancer Research (London), the Women's Integrated Research Center at Inova Health (Annandale, VA), and additional Thermo Fisher Scientific locations—recently presented a poster at the 2014 Mass Spectrometry: Applications to the Clinical Lab (MSACL) conference.1
Their work focused on improving throughput over large dynamic ranges by using high-resolution, accurate-mass (HR/AM) mass spectrometry (MS) and MS/MS schemes in conjunction with validated spectral libraries. This method makes it possible to acquire, verify and quantify data in real time.
Prakash et al. grew K562 colon cancer carcinoma cells in heavy and light media. Next, they collected and mixed the cells to represent a 20-fold dynamic range. They digested and analyzed the cells using a Thermo Scientific Q Exactive hybrid quadrupole-Orbitrap mass spectrometer equipped with a nanospray ion source. The research team used another product from Thermo Scientific, the Pierce PRTC mixture kit, to characterize the LC-MS parameters. In particular, they determined the scheduled retention time windows and the average chromatography peak widths.
The team's next step in the targeted quantification scheme was to generate a highly multiplexed, targeted protein list and to then use the list to generate a spectral library based on either predictive algorithms or empirical observations. They included the precursor m/z values and the expected retention time window. Next, the scientists compared higher-energy collision dissociation against the spectral library to generate a dot product correlation coefficient and determine if the targeted peptides had been previously generated. From there, they determined a targeted protein list and performed the protein quantification.
Prakash et al. selected 2,100 proteins from the K562 cell line and imported the proteins into an algorithm selecting unique peptides. They chose 3,800 peptides over a 20-fold range digest and were able to successfully qualify/quantify the proteins using this method. The authors suggest that this targeted quantification scheme will be advantageous over conventional single reaction monitoring assays in verifying large lists of biomarker candidates.
Reference
1. Prakash, A., et al. (2014) "Improving Throughput for Target Quantification Methods By Intelligent Acquisition," MSACL Conference, San Diego, CA, March 1–5.
Post Author: Emily Humphreys. As a biology undergraduate at the University of Utah, Emily balanced a heavy class schedule while working long hours in a lab studying eye development. Following graduation, she became involved in infectious disease and aging research involving SNPS.
While she enjoyed the thrill of research, Emily has since traded bench work for science journalism.
And has been a regular contributor to Accelerating Science since 2012.