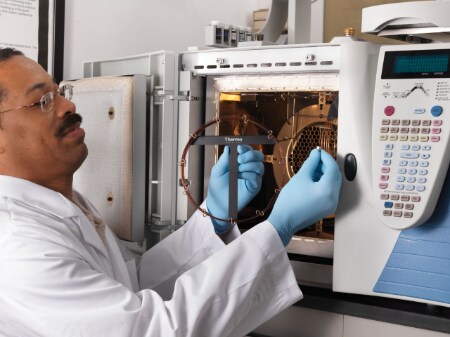 By examining the peaks produced by gas chromatography (GC), researchers can identify unknown molecules in a sample through elimination of molecules that are larger or smaller than the expected target weight. Although this method can be effective, only a portion of molecules are identified: due to complexities within a sample, researchers estimate that somewhere between only one-fifth and one-half of molecules are identifiable using current techniques.1
In a recent two-part overview, scientists from Thermo Fisher Scientific, the University of Wisconsin−Madison and other Madison research centers describe an Orbitrap mass analyzer adapted for GC.2 In part one of the series, Peterson et al. (2014) present the first-ever GC/quadrupole-Orbitrap mass spectrometer. This instrument consists of a Trace GC Ultra gas chromatograph coupled (via an adapter manifold) to a Q Exactive hybrid quadrupole-Orbitrap mass spectrometer (both from Thermo Scientific).
Because the instrument retains the performance of the Orbitrap mass analyzer, researchers have the ability to perform trace analyses as well as metabolomics structural characterizations. The research team explains that this instrument has the ability to detect electron ionization-/chemical ionization-generated ions in four modes: full scan, SIM with quadrupole isolation, "all ion fragmentation"−tandem mass spectrometry (MS/MS) with beam-type collisionally activated dissociation in the higher-energy collision dissociation cell, and MS/MS with both quadrupole isolation and beam-type collisionally activated dissociation. The team also points out that the high mass accuracy and high-resolution analyses of the GC/quadrupole-Orbitrap mass spectrometer are amenable to the timescale of GC separations.
The team adapted the Orbitrap mass spectrometer firmware (written in Python and based on Q Exactive mass spectrometer firmware version 2.0), allowing control of both instruments via a single data system. They were able to program the software to control the ion injection, automatic gain control, manual and automated signal optimization, ion optic and mass analyzer calibration, quadrupole isolation, and MS/MS capabilities.
To illustrate the capabilities of the GC/quadrupole-Orbitrap mass spectrometer, the team analyzed environmental toxins and compounds of unknown structure such as EPA 8270, polychlorinated dibenzo-p-dioxin and dibenzofuran, octafluoronaphthalene, Arabidopsis thaliana polar extracts and fatty acid methyl esters. Data from these experiments indicated that the GC/quadrupole-Orbitrap mass spectrometer resulted in isotopomer abundance errors averaging less than 5%. Additionally, the researchers determined median errors were less than 2.5% (corresponding to 2.5 ppm).
In summary, Peterson et al. maintain that the GC/quadrupole-Orbitrap mass spectrometer has the ability to expand the capabilities for data collection in detecting and analyzing small molecules.
References
1. Fiehn, O. (2008) "Extending the breadth of metabolite profiling by gas chromatography coupled to mass spectrometry," Trends in Analytical Chemistry, 27 (pp. 261−69).
2. Peterson, A.C., et al. (2014, August) "Development of a GC/quadrupole-Orbitrap mass spectrometer, part I: Design and characterization," Analytical Chemistry, 86(20) (pp. 10036–43), doi: 10.1021/ac5014767.
Post Author: Emily Humphreys. Emily has previous research experience in eye development, infectious diseases, and aging. While she enjoyed the thrill of research, She has since traded bench work for science journalism. Emily has been a regular contributor to Accelerating Science since 2012.