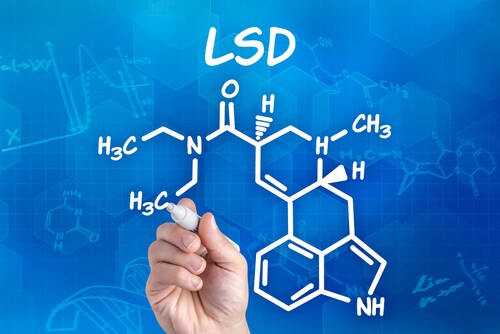 The emergence of novel psychoactive substances, or designer drugs, poses regulation issues for law enforcement. In order to support both drug prevention and harm reduction through consumer awareness initiatives like the "checkit!" project,1 industry professionals need efficient, reliable protocols to identify unregistered chemical analogs of classic illicit substances. Recently, Ostermann et al. applied proteomics techniques for this purpose.2
To do this, they performed matrix-assisted laser desorption/ionization (MALDI) high-resolution mass spectrometry (HRMS) and tandem mass spectrometry (MS/MS) using MALDI LTQ Orbitrap XL mass spectrometer (Thermo Scientific). The scan range was m/z 100–600, with 100,000 resolution at m/z 400. For data analysis, the team relied upon ExactFinder software revision 2.5 (Thermo Scientific) to compile an in-house compound index for comparison with the Mass Spectra of Designer Drugs 2012 database. They tapped Mass Frontier software (Thermo Scientific) for independent confirmation using MS/MS fragments. The scientists then obtained drug samples from checkit! and dissolved these in methanol before combining them with a 1.5-μL solid or liquid MALDI matrix. For each sample, the team spotted 1.5 μL of this mixture on MALDI sample plates for analysis.
In total, the researchers analyzed 74 street drug samples with MALDI full-scan HRMS. They identified 49 substances and confirmed them using MS/MS and 32 reference substances. Ostermann et al. also compared their findings with those of checkit!, which uses high-performance liquid chromatography for detection. They determined that all the substances identified through checkit! on-site analysis could also be detected using MALDI HRMS. Furthermore, the method described in this paper identified an additional 16 substances not detected by checkit!.
The team also evaluated MALDI using the ionic liquid matrix (ILM) DIEA-CHCA. They identified four substances with peak intensities comparable to the solid matrix CHCA: cocaine, LSD, levamisole and papaverine. All other substances produced peak intensities that were significantly lower in comparison with the solid matrix. Since ILMs are recommended for quantifications performed without internal standards, the researchers identified this as a potential area for further investigation.
Interestingly, the spectra for some of the samples revealed considerable adulteration. For example, one sample purported to be ecstasy (MDMA) contained, along with MDMA, two cathinones (methylone and butylone), an MDMA precursor (safrole), an alkaloid drug (scopolamine) and a contaminant (strychnine). The spectra for a sample sold as cocaine revealed an additional cocaine metabolite (benzoylecgonine), as well as significant adulterants (caffeine, phenacetin, cis-/trans-cinnamoylcocaine, levamisole, lidocaine and procaine).
This level of structural alteration highlights the importance of advancing the technology for fast, reliable, compound analysis of both known street drugs and designer drugs. The researchers posit that HRMS methodology may play a key role in this venture but note that current limitations include the inability to distinguish position-isomers or to clarify the structures of unknown compounds. They point to the development of cutting-edge bioinformatics tools—such as m/z Cloud (Thermo Scientific)—as possible solutions for these weaknesses. Future investigations include using MALDI HRMS to detect unknown substances in biological matrices, including blood and urine, in collaboration with checkit!.
Note and Reference
1. Checkit! is a consumer awareness, drug-prevention initiative specifically aimed at encouraging young consumers to check the veracity of synthetic drugs at music events. It was founded by the Drug Coordination of the City of Vienna 1997, a cooperative effort of Suchthilfe Wien and the Medical University of Vienna.
2. Ostermann, K., et al. (2014, June) "MALDI Orbitrap mass spectrometry for fast and simplified analysis of novel street and designer drugs," Clinica Chimica Acta, 433 (pp. 254–8), doi: 10.1016/j.cca.2014.03.013.
Post Author: Melissa J. Mayer. Melissa is a freelance writer who specializes in science journalism. She possesses passion for and experience in the fields of proteomics, cellular/molecular biology, microbiology, biochemistry, and immunology. Melissa is also bilingual (Spanish) and holds a teaching certificate with a biology endorsement.