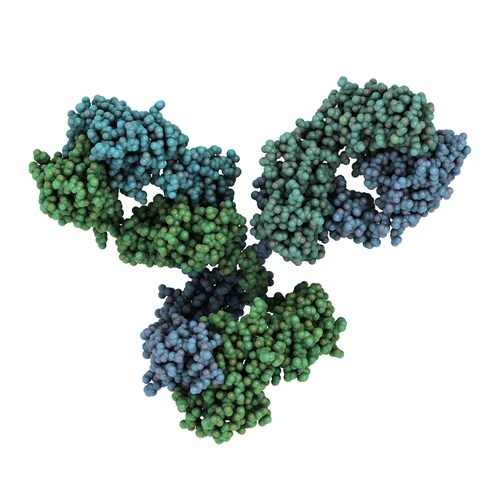 Commercial production of monoclonal antibodies (mAbs) from mammalian cell culture systems requires accurate characterization of products. In addition to pure antibody, the manufacturing process releases dimers and other mAb aggregates or fragments into the culture medium. These associated products can affect mAb function by interfering with product half-life, stability and activity. Therefore, in order to satisfy quality control requirements, producers need a method that can efficiently distinguish all forms of the mAb and characterize post-translational modifications (PTMs), such as glycan modifications, that affect bioactivity.
Lin et al. (2014) have published results from a new workflow using separation by size-exclusion chromatography in conjunction with mass spectrometry (SEC-MS) to identify and characterize commercial mAbs. They used both non-denaturing and denaturing eluents in the SEC phase of the workflow to explore the potential of this new technique.
Although SEC is currently a common method for characterizing commercial mAbs, obtaining accurate mass information about the products is difficult. For example, the de-salting step in reversed-phase liquid chromatography (used prior to mass spectrometric analysis) denatures the mAbs, disrupting antibody–drug conjugates and dissociating the heavy and light chains themselves. This means that, although products are separated prior to MS, the spectral data obtained do not accurately reflect mAb integrity or purity.
First, Lin and co-workers coupled a Dionex UltiMate 3000 RSLCnano system to an Exactive Plus EMR [extended mass range] Orbitrap mass spectrometer (both Thermo Scientific). Using the high-resolution ability and the EMR of the Exactive Plus instrument, the scientists explored non-denaturing volatile SEC buffer systems for compatibility with onward MS of intact commercial mAbs. They found that the near-neutral pH volatile buffer 20-mM ammonium formate gave good results, with the EMR capabilities of the Exactive Plus mass spectrometer accurately detecting intact mAbs, in addition to dimers and aggregates, in the 350–20,000 m/z range.
Next, the scientists turned to analyzing the mAb fragments via SEC-MS to characterize PTMs such as glycosylation, truncation events, methionine oxidation and glycan modifications. By examining spectral data from heavy chains and light chains, along with fragment antigen-binding (Fab) region and fragment crystallizable (Fc) region MS analysis, then making comparisons with expected results, the scientists found they could avoid time-consuming peptide mapping to determine modifications and their locations.
The team digested the mAbs with papain to generate Fab and Fc subunits, reducing disulfide bonds between heavy chains and light chains using dithiothrietol in preparation for SEC-MS analysis. Using denaturing SEC in an mAbPac SEC-1 monoclonal antibody analysis column (Thermo Scientific), a chromatography column designed for mAb analysis, Lin et al. were able to clearly identify PTMs in heavy-chain and light-chain preparations, although results were less successful for Fab and Fc subunits.
In conclusion, Lin et al. consider that the new workflow utilizing SEC-MS and exploiting the high-resolution EMR capability of the Exactive Plus mass spectrometer gives accurate detection that efficiently characterizes commercial mAbs and their fragments. Moreover, denaturing SEC using the mAbPac SEC-1 column fully separated light-chain and heavy-chain fragments and, to a lesser extent, in Fab and Fc subunits, thus enabling characterization of PTMs. As validated, the SEC-MS workflow represents a potential tool for further investigation in analysis and quality control for commercial mAb production.
Reference
1. Lin, S., et al. (2014) "Analysis of monoclonal antibodies, aggregates, and their fragments by size exclusion chromatography coupled with an Orbitrap mass spectrometer," poster presentation.
Post Author: Amanda Maxwell. Mixed media artist; blogger and social media communicator; clinical scientist and writer.
A digital space explorer, engaging readers by translating complex theories and subjects creatively into everyday language.