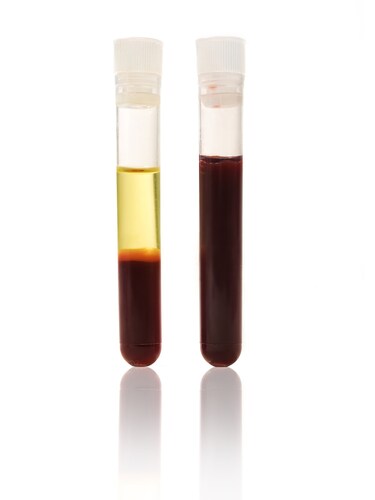 Human blood is a handy source of material for biomarker discovery, diagnosis and monitoring disease progression. It is relatively ubiquitous within the body, supporting cells and tissues for energy and waste disposal needs. Although blood samples are easy to obtain clinically, they are tricky to analyze proteomically because they contain high levels of certain proteins such as albumin. During mass spectrometry-based analysis, those proteins can mask out less abundant, and usually more interesting, proteins.
Dayon and Kussman (2013) compared and contrasted different mass spectrometry-based proteomics workflows for dealing with human plasma, providing a critical analysis of time taken per sample, steps involved, and results and coverage obtained.1 They analyzed a commercial pooled human plasma sample, subjecting it to three different liquid chromatography–tandem mass spectrometric (LC-MS/MS) workflows. The scientists compared the results obtained with and without prior abundance depletion/target enrichment strategies, following up with label-free versus tandem mass tagging (TMT) quantitation.
In summary, the three workflows used by the team to prepare samples were:
Direct processing with no depletion,
Single depletion step followed by LC-MS/MS, and
Double depletion step comprising successive load and reload through the depletion cartridge, followed by LC-MS/MS.
First, the researchers immunodepleted the plasma using a commercial kit designed to remove more than 99% of the 20 most abundant proteins. Following overnight trypsin digestion, the team reacted half the digest volumes with 6-plex TMT reagents (Thermo Scientific), leaving the remaining half label-free. They then analyzed the preparations using an Orbitrap Elite hybrid ion trap-Orbitrap mass spectrometer coupled with an EASY-nLC liquid chromatograph or UltiMate 3000 RSLCnano system (both Thermo Scientific).
The researchers found that immunodepletion removed 85% (single step) and 95% (double step) of highly abundant proteins from the plasma. The team then analyzed the samples using either 1D-RP (reversed phase)–LC-MS/MS—with either 70 minutes (15-cm column) or 150 minutes (50-cm column) of separation—or 2D-RP/RP–LC-MS/MS. They did not analyze the double depletion samples with 2D-RP/RP–LC-MS/MS, as there was insufficient volume available.
The team used a hybrid linear ion trap-Orbitrap mass spectrometer in DDA–MS/MS mode for label-free quantitation. They analyzed the TMT-labeled preparations by targeting the ten most intense peaks from MS survey scans for further fragmentation by CID (collision induced dissociation) and HCD (higher-energy C-trap dissociation).
As shown in Table 1, the researchers obtained the best results for proteome coverage with sample immunodepletion prior to LC-MS/MS characterization, with the double step increasing the number of new/unique proteins identified. The team found that the most efficient workflow was a single depletion step followed by RP-LC with a 150-minute separation phase (approximately three hours per sample).
Table 1. Number of proteins identified with each workflow
No depletion

Single depletion

Double depletion

1D-RP–LC-MS/MS @ 70 min

Label-free

20

154

151

TMT 6-plex

80

102

98

1D-RP–LC-MS/MS @ 150 min

Label-free

154

192

194

TMT 6-plex

110

129

123

2D-RP/RP–LC-MS/MS

Label-free

228

392

N/A
Although 2D-RP/RP–LC-MS/MS gave the best proteome coverage, the long analysis times of 20 hours per sample negated any benefits.
Comparing replicates for each of the workflows, Dayon and Kussman calculated an experimental variability of less than 5% among samples. The co-authors therefore feel justified in continuing to explore the automation of human plasma proteomics analysis using the workflows described in the paper and to critically evaluate the arising data.
Reference
1. Dayon, L., and Kussmann, M. (2013) "Proteomics of human plasma: A critical comparison of analytical workflows in terms of effort, throughput and outcome," EuPA Open Proteomics, 1 (pp. 8–16), doi: 10.1016/j.euprot.2013.08.001.