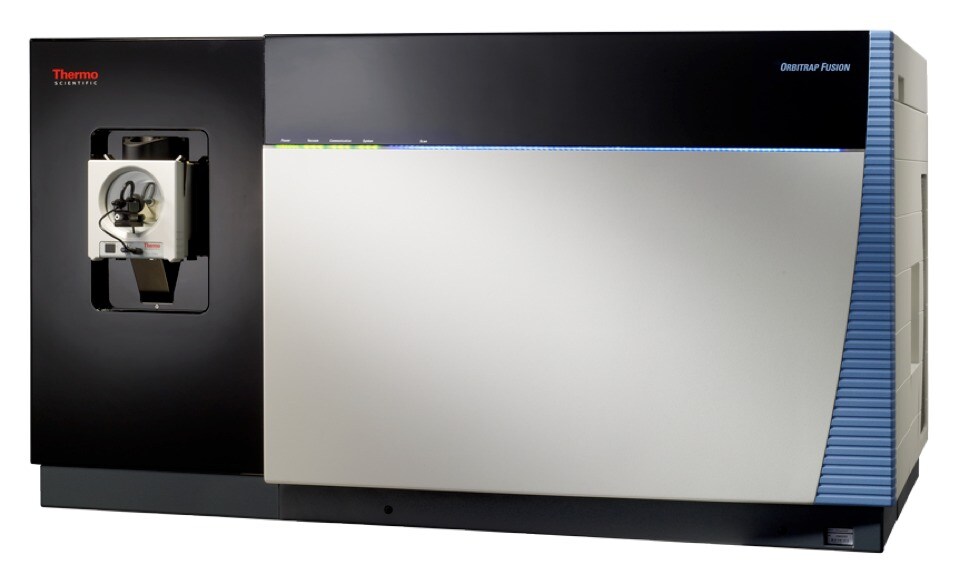 Phosphorylation mediates cell signaling, and therefore identifying phosphorylated states of proteins involved in cell progression, metabolism, growth and disease provides an opportunity to better understand cellular processes. However, with the large number of potential phosphorylation sites, there are many that remain uncharacterized. New technology is instrumental to growing this body of knowledge.
Erickson et al. put the Orbitrap Fusion mass spectrometer (Thermo Scientific) to the test by comparing phosphopeptide levels from five mouse brains and five mouse livers. Their experiment used a two-phosphoproteome model of precursor ion interference to assess the accuracy of phosphopeptide quantitation across a number of experimental approaches. They used synchronous precursor selection (SPS) to enhance tandem mass tag (TMT) reporter ion intensity and accuracy.1
The investigators harvested the brains and livers from five mice at three weeks of age. They extracted the proteins by methanol−chloroform precipitation and subsequent ice cold acetone washes and used a BCA assay (Thermo Scientific) to measure their protein concentrations. Sample enrichment ensured there would be sufficient phosphopeptides for liquid chromatography–mass spectrometry (LC-MS). The investigators then labeled the enriched phosphopeptides using either the 6-plex or 10-plex TMT reagents (Thermo Scientific) and combined the mouse brain phosphopeptides at a concentration of 10:2:1:1:2:10. To introduce interference, they mixed yeast phosphopeptides at a concentration of 10:10:10:0:0:0 and added the yeast to the mouse phosphopeptides.
Erickson et al. collected spectra on an Orbitrap Fusion mass spectrometer coupled to an Easy-nLC 1000 ultra-high pressure liquid chromatography (UHPLC) pump (Thermo Scientific). They collected FTMS1 spectra at a resolution of 120,000 and a maximum injection time of 100 ms and then selected the 10 most intense ions for MS/MS. They found MS2 quantification resulted in ratio distortion with wide distribution of ratios. However, using MS3, they achieved significantly better precision in quantification of phosphopeptides. Neutral loss peaks after CID fragmentation are common in phosphopeptide analysis. The investigators found that even though 82% of their phosphopeptides exhibited neutral loss fragment, it had little effect on ratio accuracy. Following from this, the investigators assert that much interference is likely caused by sustained low levels of singly-charged fragment ions created through the electrospray process, which are in turn co-isolated and co-fragmented with the target precursor peptide.
In summary, the investigators showed that phosphopeptide analysis is challenged by multiplexed workflows. However, they also demonstrated that SPS-MS3 can overcome ratio distortion and that selecting only the phosphate neutral loss peak for MS3 scan still provided accurate ratio measurements.
Reference
1. Erickson, B.K. (2015) "Evaluating multiplexed quantitative phosphopeptide analysis on a hybrid quadrupole mass filter/linear ion trap/Orbitrap mass spectrometer," Analytical Chemistry, 87 (pp. 1241-1249).