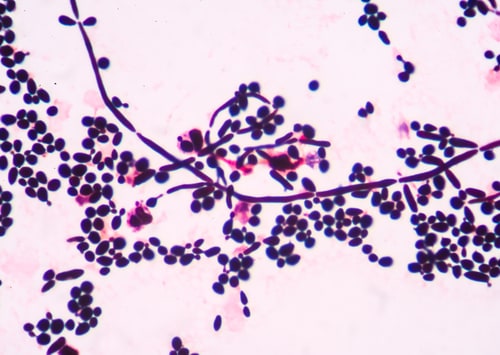 Yeast (Saccharomyces cerevisiae) provide a common biological model. Log-phase yeast growth even offers insight into proliferative cell growth associated with cancer. In this regard, characterizing the proteome changes that occur with diauxic shift (the transition from log-phase growth to the stationary phase) could yield important data with therapeutic applications.
For this reason, Murphy et al. (2015) used tandem mass tags (TMT 10plex, Thermo Scientific) and liquid chromatography–mass spectrometry (LC-MS) with synchronous precursor selection (Orbitrap Fusion Tribrid mass spectrometer, Thermo Scientific) to map diauxic shift protein dynamics for 4,547 proteins over 10 time points.1 The mapped proteins included some previously associated with diauxic shift (ACS1, FBP1, AAH1 and GLY1) as well as some with unknown functions (SPG4, FMP16, YNR034W-A and TMA17).
Using glucose depletion (at 15 hours) as the baseline, the researchers created six profiles (early-induced, late-induced, induced-then-repressed, early-repressed, late-repressed and repressed-then-induced) and used total Euclidean distance to assign proteins. They report 899 early-induced proteins, 69 late-induced proteins, 10 induced-then-repressed proteins, 1,040 early-repressed proteins, 72 late-repressed proteins and no repressed-then-induced proteins.
The team then performed functional annotation (DAVID) and transcription factor enrichment (YEASTRACT) on these profiles. They found that early-induced proteins tended toward enrichment by stress response, glycogen metabolism, oxidative phosphorylation and proteolysis. Early-induced transcription factors included BAS1, MSN2 and MSN4. They also noted proteins of unknown function in this group: ISF1, YNR034W-A, TMA10 and TMA17. Late-induced proteins enriched glyoxylate cycle and fatty acid oxidation. Late-induced transcription factors included HAP2,3,4 complex and CAT8. Proteins of unknown function included YMR206W and YNL195C. For the induced-then-repressed proteins, they noted no significant GO enrichment but observed several varying proteins in this group, including the unknown function protein YOR385W. Early-repressed proteins enriched ribosome biogenesis, amino acid transport and RNA-mediated transposition. Transcription factors here included FHL1 and RAP1. Finally, late-repressed proteins evidenced no notable enrichment.
When Murphy et al. compared their data with a landmark gene expression data set,2 they reported good correlation for some stationary phase proteins (GDH3, CIT3 and POX1), while others were induced (GAP1, GPH1, and TMA17) or repressed (HIP1, CPR4, YNL155W, HXT3, and DOT6) with high-fold changes in this data set but not in the landmark set. The team also offer protein dynamics data for 158 proteins absent in the previous study.
The team highlighted the robust nature of the Orbitrap Fusion mass spectrometer, which produced double the identified peptides when compared with an earlier-generation platform. This platform also enabled the researchers to distinguish between isoenzymes like the alcohol dehydrogenases (ADH 1-5). For example, specific to the diauxic shift, they could differentiate between ADH2, which metabolizes ethanol, and the other four isoforms, which produce ethanol. They also noted differences for the aldehyde dehydrogenases (ALD2-6), wherein the diauxic shift induced ALD2-4 but not the other two. Other notable isoforms included glyceraldehyde-3-phosphate dehydrogenase (TDH1-3),
Finally, the team performed a repeat dual time-course (five time points) 10-plex experiment to profile wild type (WT) and Hap2 yeast during diauxic shift. Their findings confirmed reproducibility (even when comparing with a previous study using other yeast strains) and allowed them to identify Hap2-dependent proteins. They report few observed differences between the strains in the log-growth phase, but 63 differentially expressed (WT-Hap2) proteins in the stationary phase. They considered these proteins strongly Hap2-dependent and performed functional annotation (DAVID), exposing enrichment for glyoxylate metabolism and oxidative phosphorylation. They also noted Hap2-dependent proteins that participate in the glyoxylate pathway through carnitine metabolism (CAT2 and YAT1) and one involved upstream of carnitine metabolism (AGP2). They TAP-tagged several Hap2-dependent proteins and used immunoblotting to confirm Hap2-dependence among proteins with known Hap2-monitored functions (PCK1 and ACH1) as well as AGP2. They also observed 53 proteins with more subtle WT-Hap2 differences that either functioned via negative regulation by Hap2 or induced compensatorily under circumstances with reduced Hap2-regulated proteins. Functional annotation revealed these to be enriched for heat stress.
Murphy et al. offer these findings as a resource for researchers using yeast models. They indicate that since this shotgun proteomics work is the most temporally resolved study currently available, the data could serve as a temporal protein dynamics benchmark.

References

1. Murphy, J.P. et al. (2015) "Comprehensive temporal protein dynamics during the diauxic shift in Saccharomyces cerevisiae," Molecular & Cellular Proteomics, doi: 10.1074/ mcp.M114.045849.
2 DeRisi, J. L. et al. (1997) "Exploring the metabolic and genetic control of gene expression on a genomic scale," Science, 278 (pp. 680–686).