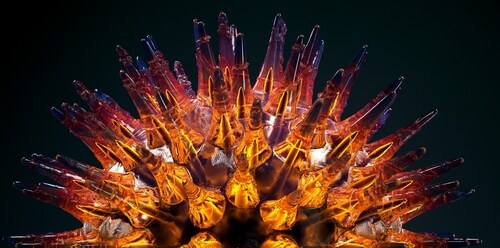 Human cytomegalovirus (HCMV), like other herpes viruses, can remain latent for years without causing symptoms. If an infected individual experiences a decrease in immune function, symptoms can occur, and the disease can then be passed to others.
In light of studying HCMV virus-host interaction, Weekes et al. pioneered a new method, quantitative temporal viromics (QTV), to look for key proteins involved in host defense.1 The researchers used a combination of plasma membrane profiling with a study of whole-cell lysates (WCL). They quantified proteins from up to 10 samples using isobaric chemical tandem mass tags (TMT).
Weekes et al. based the experimental design on their previously published method for isolating highly purified PM proteins for proteomic analysis.2 By infecting primary human fetal foreskin fibroblasts (HFFFs) with HCMV strain, the team looked at changes in the expression of proteins from the plasma membrane across different time points.
They used an Orbitrap Elite mass spectrometer (Thermo Scientific) for this analysis. From this, the researchers quantified 927 plasma membrane proteins and found 56% of proteins changed more than 2-fold and 33% more than 3-fold by hour 72 of infection. They also observed expected changes in 21 of 22 cellular proteins and detected 6 of 6 previously reported HCMV proteins at the plasma membrane. They determined that 5 proteins are virion envelope glycoproteins expressed late in infection.
The researchers also performed a temporal analysis of WCLs of HCMV infected HFFFs. Looking at protein expression during infection combined with the total abundance of a given protein in the plasma membrane, the team chose an Orbitrap Fusion Tribrid mass spectrometer (Thermo Scientific). This further confirmed changes in 31 of 35 previously reported proteins.
Taking a more in-depth look at QTV, this time utilizing 10-plex TMT and seven time points, the team quantified 1,184 plasma proteins and 7,491 cellular proteins. In addition to finding a high degree of reproducibility among biological replicates, the team used a high-throughput Western blot analysis of cells infected with Toledo strain of HCMV to further confirm their results. They saw a strong association between protein changes in both experiments (p < 0.0001).
In conclusion, QTV helped identify temporal profiles of more than 80% of HCMV canonical genes and 14 non-canonical HCMV open reading frames. The researchers consider QTV a powerful method to study viral infection.
References
1. Weekes, M.P., et al. (2014) "Quantitative temporal viromics: An approach to investigate host-pathogen interaction," Cell, 157 (pp. 1460–1472).
2. Weekes, M.P., et al. (2012) "Proteomic plasma membrane profiling reveals an essential role for gp96 in the cell surface expression of LDLR family members, including the LDL receptor and LRP6," Journal of Proteome Research, 11 (pp. 1475–1484).