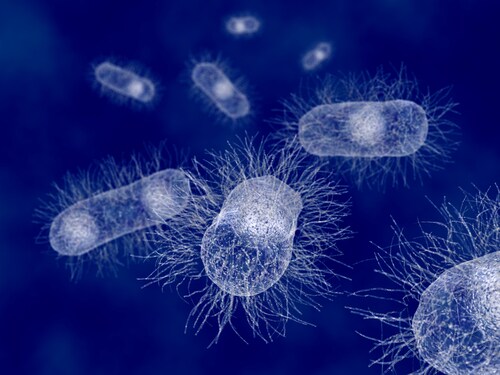 Castaño-Cerezo et al. (2014) conducted a proteomic evaluation of the Escherichia coli acetylome under four different growth conditions.1 As a post-translational modification (PTM), acetylation of lysine residues contributes to regulation of cellular activity with activation or inactivation of key proteins such as enzymes and other signaling molecules. By modifying nutrition and growth conditions in vitro, the research team has identified key roles for acetylation in the PTM of protein activity and function within this microbe.
The researchers chose to evaluate microbial acetylomics using two different E. coli knockout mutants to characterize protein changes: ΔcobB, in which the only sirtuin-like deacetylase enzyme is absent, and ΔpatZ, where a protein acetyl transferase is knocked out. Having constructed the mutant knockouts, the team then grew the microbes under four different growth conditions: control, glucose batch (non-carbon limited), chemostat (C-limited, gluconeogenesis) and acetate (non-PTS C source, gluconeogenesis). They then harvested them during exponential, stationary and steady-state growth phases.
Once the cells were harvested, Castaño-Cerezo et al. digested the cells using trypsin, and then labeled them for quantitative proteomic analysis using a stable isotope dimethyl labeling strategy. After this, they immunoprecipitated the acetylated proteins before analyzing them using a Proxeon Easy-nLC1000 liquid chromatograph coupled with an Orbitrap Q-Exactive mass spectrometer (both Thermo Scientific). The team used MaxQuant v 1.3.0.5 to examine the raw data before searching against the Uniprot E. coli MG1655 database v2012-09 using Andromeda. Once they identified key proteins, the team used pathway analysis to look at possible physiological effects of the alterations.
In conjunction with the proteomic assessment, the researchers used standard methods to examine the effect of the different culture conditions on cell morphology and mobility, enzyme activities, and genomic factors.
Overall, the ΔcobB mutants showed the greatest growth retardation and phenotypic changes in the experimental culture conditions promoting gluconeogenesis, suggesting that deacetylation is a key regulator of E. coli response under this metabolic environment. ΔpatZ mutants showed less change with culture conditions, although chemostat conditions did reduce acetylation status.
With proteomic analysis, 64% of the acetylated proteins identified had a metabolic function, and 80% of these were involved in primary metabolic pathways such as nucleotide and amino acid synthesis and carbohydrate metabolism. Further analysis showed that the adaptations affected pathways involved in metabolism, transcriptional regulation and bacterial motility through development of flagella.
For example, in addition to regulating acetyl-Coenzyme A synthetase, CobB also regulates the glyoxylate shunt in addition to promoting bacterial flagella synthesis for motility by acetylation of transcription factors. In contrast, deletion of patZ had lesser effects on cell function and form, suggesting involvement of other pathways or perhaps an alternative role for patZ in E. coli.
In summary, Castaño-Cerezo et al. suggest that the results are a significant contribution to understanding the mechanics of lysine acetylation in bacteria.
Reference
1. Castaño-Cerezo, S., et al. (2014) "Protein acetylation affects acetate metabolism,motility and acid stress response in Escherichia coli," Molecular Systems Biology, 10 (762). doi: 10.15252/msb.20145227