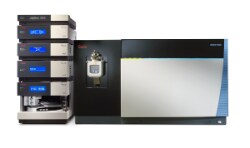 Phosphorylation and glycosylation are two common post-translational modifications (PTMs) of proteins that perform critical roles in the regulation of many cellular processes including cell cycle, signal transduction pathways, recognition, gene expression and cellular immunity.
Mass spectrometry is a powerful tool for the detection and identification of PTMs. Comprehensive characterization of proteins includes localization of the modification site, characterization of structures, and quantification of the various modified forms to fully understand their effects on protein function. Doing so, however, is not without challenges. Researchers often seek to characterize complex structures within complex matrices—for example, when identifying and localizing labeled PTMs. Additionally, researchers require high sensitivity and dynamic range in order to identify small sample concentrations and amounts. Thermo Scientific scientists have demonstrated the advantages of the new Orbitrap Fusion Tribrid mass spectrometer (Thermo Scientific) for qualitative and quantitative PTM analysis.
The Orbitrap Fusion Tribrid mass spectrometer is a ground-up redesign of software and hardware with three high-performance mass analyzers—the quadrupole, the ion trap and the Orbitrap—along with three different fragmentation techniques: collision-induced dissociation (CID), higher-energy collisional dissociation (HCD) and electron transfer dissociation (ETD). The Orbitrap Fusion Tribrid mass spectrometer features a novel T-configuration that passes all ions through the quadrupole, after which they can be transferred to either the ion trap or the Orbitrap mass analyzers, allowing for multi-tasking of scanning in both instruments simultaneously. Additionally, the new Orbitrap Fusion Tribrid mass spectrometer uses smart precursor selection with intelligent precursor priority. Rather than the standard use of the most intense ion as the priority for tandem mass spectrometric analysis, a variety of alternative possibilities exist, such as highest charge and lowest m/z, which allows researchers to select the ions most likely to produce an identifiable ETD spectra. This is important because peptides are frequently present in multiple charge states in a single scan; this also increases efficiency by excluding redundant scans based on charge states.
Scientists used this technology to analyze a human cell line using a standard data-dependent decision tree (DDDT) method—that is, using CID and ETD together, preferring the highest charge.1 They found that 30% of the ETD identifications were also identified by CID; however, when the researchers performed tandem mass spectrometric studies on single charge states, the overlap in peptides was significantly smaller, at 0.01%. Even when used in tryptic digests, smart precursor selection and parallelization allowed DDDT methods to outperform CID alone. The scientists identified 15% more unique peptides using DDDT.
Glycopeptide analysis can also benefit from simultaneous, multiple fragmentation techniques. Glycopeptide analysis currently presents multiple challenges: although ETD is necessary, performance is not efficient and it decreases for ions with m/z greater than 1,000. Also, ETD efficiency is sequence- and charge-dependent. The scientists compared samples of human serum glycopeptides enriched by strong anion exchange (SAX), which they analyzed on an Orbitrap Elite hybrid ion trap-Orbitrap mass spectrometer (Thermo Scientific), with those they analyzed on the Orbitrap Fusion Tribrid mass spectrometer. For high-intensity precursor selection, the Orbitrap Fusion Tribrid mass spectrometer identified 35% more glycopeptides. Additionally, using the intelligent precursor selection, selecting for highest charge state and lowest m/z, the Orbitrap Fusion Tribrid mass spectrometer identified more than twice as many glycopeptides than the older model of mass spectrometer.
Researchers frequently use Tandem Mass Tag isobaric labels to improve the quality of the ETD spectrum; however, they are limited when using HCD or ETD in relative quantification of isobarically labeled peptides. Using ETD, the reported fragments are often uncharged and cannot be detected. Using the Orbitrap Fusion Tribrid mass spectrometer, the team was able to overcome this, as the mass spectrometer allows for synchronous precursor selection. The parent ion is isolated in the mass spectrometer scan before being isolated in the quadrupole and fragmented by ETD in the ion trap. Following this, synchronous precursor selection takes place in the ion trap, and multiple MS2 ions are then selected and isolated—up to 20 ions can be isolated simultaneously. The ions are then transferred back into the HCD cell for HCD analysis. This approach dramatically increases signal intensity and solves problems that have been reported of ions losing charge during ETD as the quantification is done by HCD. There are also fewer problems with glycositic bonds breaking instead of peptide bonds, because the MS2 scan is ETD.
Overall, the Orbitrap Fusion Tribrid mass spectrometer offers efficient parallelization for faster and more comprehensive data acquisition. ETD and DDDT together produce improved results due to the Orbitrap Fusion Tribrid mass spectrometer's intelligent precursor prioritization for data-dependent analysis.
Reference
1. Eliuk, S., and Viner, R. (2013, December). Comprehensive Characterization of Proteins Using a Novel Orbitrap Tribrid Mass Spectrometer—The Game Changer for PTM Analysis, webinar.
Post Author: Miriam Pollak. Miriam specialised in neuroscience as an undergraduate but traded in lab work for a post graduate degree in science communication.
She has since had a career that has spanned science communication, science education and communications management.
However, Miriam has found her bliss balancing her love of writing and disseminating medical research with managing a multimillion dollar research budget for a childhood cancer charity in Australia.