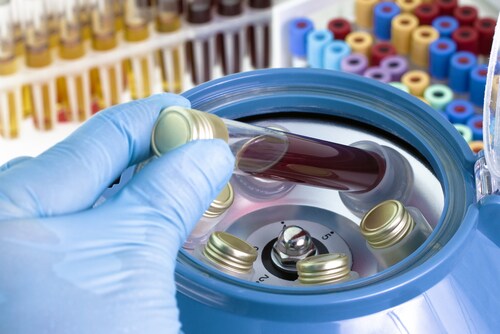 Conventional liquid chromatography–mass spectrometry (LC-MS) used for in-vivo drug metabolism and pharmacokinetics studies is time consuming and labor intensive. This method also risks loss or low recovery of the drug or its metabolites. Clinical and forensic toxicology have recently taken to using "dilute-and-shoot" (DnS) methods. That is, samples are diluted with an internal standard and then directly injected onto a LC-MS system. However, only one study has looked at this method using plasma samples. Esposito et al.1 trialed DnS together with high-resolution MS in a pharmacokinetic and metabolite study of the antianginal drug perhexiline in mouse plasma. Furthermore, they compared DnS to a standard method based on protein precipitation with organic solvent and high-performance liquid chromatography–triple quadrupole tandem mass spectrometry (LC–MS/MS) in the multiple reaction monitoring (MRM) mode.
The investigators administered perhexiline intravenously (IV) and per os (PO) to seven-week-old C57bl/6 female mice. They collected blood samples from the IV mice at 5, 15, 30 minutes; 1, 2, 4 and 8 hours; or 5, 15, 30 minutes. They collected from the PO mice at 1, 2, 4, 6, 8 and 24 hours. They then stored the centrifuged plasma samples at −80◦C. Sample preparation differed depending on whether the samples were destined for DnS or MRM. Esposito et al. used the same chromatographic conditions, but they used a Dionex UltiMate 3000 RS pump coupled with a Dionex UltiMate 3000 RS autosampler (Thermo Fisher Scientific) instead of the standard method on low resolution (UPLC-MS/MS). They subsequently analyzed the samples on a Q Exactive Orbitrap mass spectrometer (Thermo Fisher Scientific).
DnS showed good sensitivity and precision, yielding comparable pharmacokinetic parameter estimation to the standard method. The rapid preparation of samples for DnS also yielded faster results. The investigators state that their study demonstrates a 100-fold dilution of plasma is sufficient to be robust without affecting sensitivity. Furthermore, it required only very small blood volumes (5 μL).
In vivo drug metabolism and pharmacokinetics studies are essential for advancing drugs to clinical trials. Knowing the pharmacokinetic properties of drugs can reduce the number of clinical failures, and consequently drug development costs. Therefore, there is considerable benefit to be had from decreasing time- and labor-intensive steps.
Reference
1. Esposito, S., et al. (2016) "Use of 'dilute-and-shoot' liquid chromatography-high resolution mass spectrometry in preclinical research: Application to a DMPK study ofperhexiline in mouse plasma," Journal of Pharmaceutical and Biomedical Analysis, 118 (pp. 70–80).
Post Author: Miriam Pollak. Miriam a Nutritionist specialising in women's health and works from her Bondi Beach clinic. She is also currently completing her Masters by research in nutrition.
Prior to this, Miriam majored in neuroscience as an undergraduate before completing a post graduate degree in science communication. She spent over a decade working in science communication and medical research, collaborating with some of the best oncologists and researchers in Australia and the U.S.