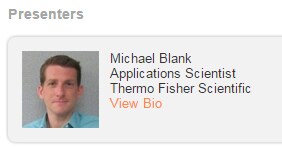 According to Michael Blank, Applications Scientist at Thermo Fisher Scientific, moving from protein characterization to targeted quantitation is a complicated transition for many scientists.1 One tool for confronting this challenge is a data-independent analysis (DIA) workflow, an untargeted screening technique that quickly scans all ions within a wide mass-to-charge range. Dr. Blank notes that, although this wide window produces complex spectra with much opportunity for interference, the advantages of DIA are great: minimal method development, retroactive access to data, and no missing data points.
Once the DIA data have been gathered, the research team uses software (Skyline, Pinpoint) and a validated spectral library, drawn from online resources or data-dependent analysis (DDA) experiments, to pull extracted ion chromatograms (XICs) from the DIA spectra. Then researchers can compare data (coeluting transitions, retention time, mass accuracy, dot product with library spectra) to make and confirm peptide identifications.
Blank emphasizes that DIA variations allow research teams to balance speed, sensitivity and selectivity to suit the sample and platform. Classic DIA scans a range of m/z 400–1200 in 32 windows (26 Da) at high resolution (60,000). The MS2 cycle time is 4 seconds with an optional MS1 scan. Blank describes this method as easy to set up, reasonably sensitive and very reproducible. The wide windows translate to a good deal of interference, however, which could lead to confusion for both the software and the user, ultimately contaminating the transitions and skewing the results. Relying upon MS2-only quantitation can also lead to uncertainty, requiring additional confirmation. Finally, this method often requires the team to choose between selectivity and speed, an important consideration since bad coefficients of variability (CVs) for a single protein can potentially skew research conclusions, impacting an entire pathway.
One solution for these challenges is an advanced platform such as the Q Exactive HF hybrid quadrupole-Orbitrap mass spectrometer (Thermo Scientific). This instrument features superlative mass accuracy (< 1 ppm with internal calibration, < 3 ppm with external calibration), an advanced active beam guide, and a segmented hyperquad mass filter, which improves transmission within even small isolation widths, leading to increased sensitivity. Additionally, the ultra-high field Orbitrap mass spectrometer provides high resolution in half the time required for previous-generation instruments. According to Blank, this platform allows researchers to analyze data without compromising on speed, sensitivity or selectivity.
To take full advantage of the features of the Q Exactive HF platform, Blank highlights a DIA variation — msxDIA. For this method, the first scan (2.5 seconds) covers a range of m/z 400–1000 at a very high resolution (120,000), followed by a second scan (4 to 5 seconds) broken into 10-Da windows multiplexed by 2. These windows are fragmented together, ultimately covering the entire range. This multiplexing lends the method the selectivity of narrower windows without compromising speed.
Finally, Blank offers the wiSIM method for the Orbitrap Fusion Tribrid mass spectrometer (Thermo Scientific). This approach consists of three SIM scans (m/z 400–600, 600–800, 800–1000) at an extremely high resolution (240,000). The Orbitrap Fusion Tribrid instrument features two analyzers operating in parallel, allowing the ion trap to collect MS/MS spectra in 17 windows (12 Da) over 3.6 seconds while the mass spectrometer collects SIM scans, ultimately providing exceptional speed, sensitivity and selectivity.
Blank wrapped up his webinar by offering an example of msxDIA at work. In his experiment, the team induced drug resistance to tyrosine kinase inhibitor Erlotinib in non-small cell lung cancer cells (H358), using msxDIA to examine the pathways impacted by drug resistance (MAPK, WnT, mTOR). This experiment featured a high dynamic range and an unenriched, complex sample. Using DDA on a Q Exactive HF mass spectrometer, the researchers first created a high-quality spectral library with over 63,000 records, which they used to unlock their msxDIA data. Ultimately, they determined the pathway impact of drug resistance to Erlotinib (MAPK downregulation, WnT downregulation, mTOR upregulation) and demonstrated that the data derived from msxDIA was consistent with that produced by orthogonal methods (TMT 10-plex, SILAC, immunoblots). They also modeled retroactively interrogating DIA data and, in so doing, found increased phosphorylation of a specific protein (STMN1, S38) in the MAPK pathway.
Overall, Blank offers an overview of DIA as a tool for exploring protein pathways between discovery and routine quantitation, highlighting specific instruments that lift DIA to the next level of performance.
Reference
1. Blank, M. (2014) "Effective use of novel data independent analysis methods: Comprehensive and reproducible characterization of a biological pathway in cell lines," webinar.
Post Author: Melissa J. Mayer. Melissa is a freelance writer who specializes in science journalism. She possesses passion for and experience in the fields of proteomics, cellular/molecular biology, microbiology, biochemistry, and immunology. Melissa is also bilingual (Spanish) and holds a teaching certificate with a biology endorsement.