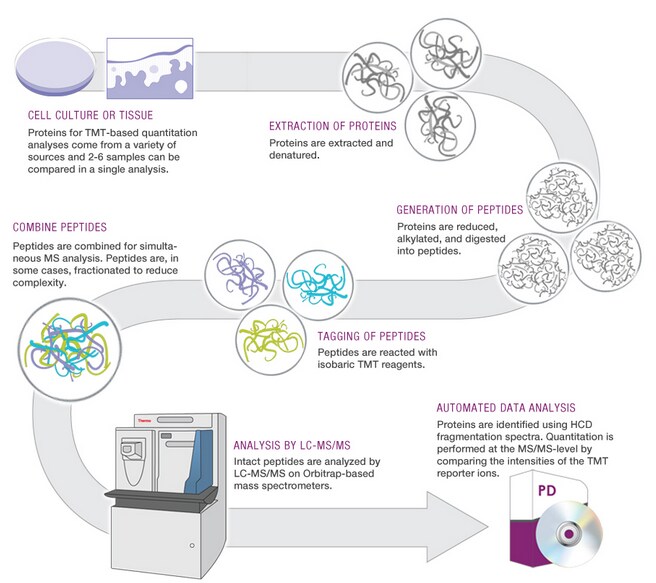 In the last month, two teams working independently published draft maps of the human proteome, bringing the tally of the genes encoding the proteins regulating our cell functions to around 17,500. Because each gene can encode more than one protein, and because each protein can then undergo a number of activity-regulating post-translational modifications to interact with an even larger group of proteins, the scope for future mass spectrometry (MS)-based proteomics research is expanding. For proteomics research to continue unimpeded, the processing technology for protein quantitation needs to become more efficient regarding time, accuracy and cost.
Multiplexed protein quantitation satisfies all of those requirements. Techniques such as the use of Thermo Scientific's tandem mass tags (TMTs) with isobaric tags enable analysis of multiple samples per experiment. One high-resolution MS run can process many different samples efficiently and quickly, producing reliable data for comparison between and among tissues, disease states and treatments.
The running of multiple samples, also known as multiplexing, increases assay parallelization and thus optimizes laboratory time. McAlister et al. (2012) showed that increasing the number of samples analyzed, from 6-plex to 8-plex sets of TMT, did not affect protein identification or quantitation quality.1 Furthermore, through advances in MS technology in conjunction with introduction of a third MS fragmentation step (MS3), Ting et al. (2011) demonstrated improvements in data quality and a reduction in spectral complexity.2
In comparison with metabolic labeling such as SILAC (stable isotope labeling by amino acids in cell culture), TMTs are more universally applicable for tagging existing proteins. This makes them suitable for analysis of biological fluids, tissues and cells, rather than relying on in vitro incorporation. Tandem mass tagging is also suitable for protein discovery, especially where no antibody exists.
Characterizing an entire proteome means wrangling thousands of proteins through MS analysis and then processing the data. This becomes even more complicated with biomarker discovery for complex diseases such as cancer, where comparing large numbers of pathologic samples with normal controls is standard. In a recent spectroscopyNow.com webinar, Wilhelm Haas from Harvard Medical School described the use of TMT isotopologues for 10-plex protein quantitation to characterize breast cancer proteomes, an undertaking of only 4.5 hours per cell line. Results obtained were reproducible, with consistent numbers of proteins identified with each sample replicate.
As any assay scientist will remind you, comparisons across experiments are subject to inter-assay variability; for statistically powerful data, it is best to compare samples directly within the same run. Multiplex proteomics enables high throughput of samples and acquisition of data, for identification and quantitation of thousands of proteins in a single experiment, which is essential for biomarker discovery projects and for the study of complex diseases at the proteome level.
When Nature published the first draft of the human genome in February 2001, the project had taken ten years to complete, at a cost of $3.8 billion. Seven years later, sequencing James Watson's genome cost only $1.5 million and took only four months. Since then, processing speeds have more than doubled each year. Today, with the advent of next-generation sequencing and chip-based technology, as in Life Technologies' Ion Torrent Personal Genome Machine, the cost per genome has broken through the $3,000 mark to below $1,000 and can take as little as five hours to sequence.
And this is where proteomics stands today: on the edge of a data-laden abyss, with the tantalizing promise of new discoveries in biomarker research—that is, if the processing speed conundrum can be solved.
References
1. McAlister, G.C., et al. (2012) "Increasing the multiplexing capacity of TMT using reporter ion isotopologues with isobaric masses," Analytical Chemistry, 84 (pp. 7469–78), doi: 10.1021/ac301572t.
2. Ting, L., et al. (2011) "MS3 eliminates ratio distortion in isobaric multiplexed quantitative proteomics," Nature Methods, 8 (pp. 937–40), doi: 10.1038/nmeth.1714.
Further Reading
http://www.piercenet.com/product/amine-reactive-10-plex-tandem-mass-tag-reagents
http://www.piercenet.com/product/amine-reactive-6-plex-tandem-mass-tag-reagents
http://www.piercenet.com/cat/tandem-mass-tag-reagents
http://apps.thermoscientific.com/media/cmd/ASMS-TNG-Roadshow/TNG/resouces/PN_ASMS13_W617_RViner.pdf
TMT Workflow on Planet Orbitrap: http://planetorbitrap.com/tmt#.U5oPxvldU8I
http://planetorbitrap.com/data/uploads/ZFS1332968513303_QuanProteomicsBrochure.pdf
Post Author: Amanda Maxwell. Mixed media artist; blogger and social media communicator; clinical scientist and writer.
A digital space explorer, engaging readers by translating complex theories and subjects creatively into everyday language.