Go Digital PCR: Pt 1 – Next-Gen Quantification begins our six-part series introducing you to digital PCR (dPCR), what makes it next-gen technology, and how it compares to real-time quantitative PCR (qPCR) and traditional PCR.
What Is Digital PCR?
To date, qPCR has been a powerful and sensitive gene analysis techniques used for a broad range of applications. As the name suggests, qPCR measures PCR amplification as it occurs, unlike traditional PCR, which collects results after the reaction is complete, making it impossible to determine the starting concentration of nucleic acid. qPCR's entry into the market revolutionized PCR-based quantitation of DNA and RNA.
Digital PCR is a newer approach to nucleic acid detection and quantification that estimates absolute numbers of molecules through statistical methods. This technology offers an alternative to qPCR for absolute quantification and rare allele detection rather than relying on the number of amplification cycles to determine the initial amount of template nucleic acid in each sample.
Digital PCR vs. Real-Time qPCR vs. Traditional PCR at a Glance

Digital PCR

Real-Time qPCR

Traditional PCR

Overview

Measures the fraction of negative replicates to determine absolute copies.

Measures PCR amplification as it occurs.

Measures the amount of accumulated PCR product at the end of the PCR cycles.

Quantitative?

Yes – The fraction of negative PCR reactions is fit to a Poisson statistical algorithm.

Yes – Data is collected during the exponential growth phase of PCR when the quantity of the PCR product is directly proportional to the amount of template nucleic acid.

No – However, comparing the intensity of the amplified band on a gel to standards of a known concentration can give you semi-quantitative results.

Applications

Absolute quantification of viral load

Absolute quantification of nucleic acid standards

Absolute quantification of next-generation sequencing libraries

Rare allele detection

Absolute quantification of gene expression

• Enrichment and separation of mixtures

Quantitation of gene expression

Microarray verification

Quality control and assay validation

Pathogen detection

SNP genotyping

Copy number variation

MicroRNA analysis

Viral quantitation

•  siRNA/RNAi experiments

Amplification of DNA for:

Advantages

No need to rely on references or standards

Desired precision can be achieved by increasing total number of PCR replicates

Highly tolerant to inhibitors

Capable of analyzing complex mixtures

Provides a linear response to the number of copies present to allow for small fold change differences to be detected

Increased dynamic range of detection

No post-PCR processing

Detection is capable down to a 2-fold change

Collects data in the exponential growth phase of PCR

An increase in reporter fluorescent signal is directly proportional to the number of amplicons generated

The cleaved probe provides a permanent record amplification of an amplicon

• Simple to design

• Easy to perform

• Uses more readily available equipment and

  reagents

• No special training required
How Digital PCR Works
Whereas traditional PCR measures at the plateau, giving you variable results due to variations in reaction kinetics, and qPCR measures at the exponential phase for more accurate quantitation, dPCR counts individual molecules for absolute quantification
dPCR works by partitioning a sample of DNA or cDNA into many individual, parallel PCR reactions; some partitions contain one or more molecules while others contain none. Each partition undergoes PCR amplification and analysis separately. Partitions with and without amplified product are individually counted. Those containing amplified product are designated positive; those with no amplified product are designated negative.
A nanofluidic chip provides a convenient and straightforward mechanism to run thousands of PCR reactions in parallel. Each well is loaded with a mixture of sample, master mix, and reagents, and individually analyzed to detect the presence or absence of an endpoint signal.
Following PCR analysis, the fraction of negative reactions is used to generate an absolute quantity of the number of target molecules in the sample, without standards or endogenous controls.
Due to random assortment, there's no assurance that each positive reaction received only a single molecule. To account for partitions that may have received more than one molecule of the target sequence, a correction factor to determine the absolute template quantity is applied using the Poisson model.
In the case of the QuantStudio™ 3D, Digital PCR System, which can thermal cycle up to 24 20,000 well nanofludic chips at one time, the onboard software sets the thresholds and performs the calculation.
To apply the Poisson model, you must have at least one negative reaction – a reaction with no molecule. The Poisson model describes the probability of a reaction receiving zero, one, two, or three copies (see bar chart above). The model corrects for reactions containing multiple molecules and provides a probability that the answer is correct. As a result, sample partitioning paired with Poisson statistical data analysis allows higher precision than traditional PCR and qPCR methods.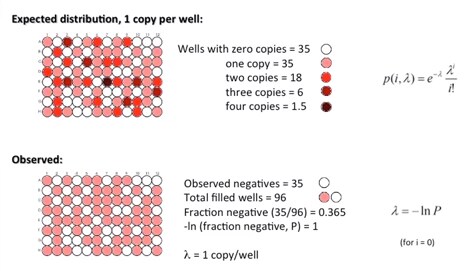 It's important to note that when using the Poisson model, the negative reactions matter most (see 96 well plate results above). They help establish both the number of DNA molecules present in the original sample but also the ratio of positive to negative reactions post PCR analysis.
For example, dPCR is particularly well suited for applications that require the detection of small amounts of input nucleic acid or finer resolution of target amounts among samples, eg, rare sequence detection, copy number variation (CNV) analysis, and gene expression analysis of rare targets.

CAPTION: For any digital PCR reaction you have maximum precision when you look at 1.6 copies per reaction. The graph shows precision that one would achieve using either 20K (green), 12K (blue) or 3K (red) reaction partition consumable. The X-axis represents negative reactions (20.32%) while the Y-axis represents precision (95% confidence). Maximum precision comes out to 20% negatives and 80% positives. Looking at the blue and green lines, precision is consistent between ~5% and 90% negative reactions with both 20K consumable or 12K consumable. This is the target to aim for with your sample concentration, e.g., one copy per reaction well – 20,000 reactions in 15 uL. At the extremes, precision drops off precipitously.
Digital PCR Delivers High Levels of Accuracy and Reproducibility
Before we talk about applications, here's some data that demonstrates dPCR's accuracy and reproducibility.
The graph on the left shows the accuracy of dPCR in absolute quantification compared to other methods. The graph on the right shows the rests of 40 individual chips loaded by four different users. As you can see that these four different users were able to obtain basically the same results.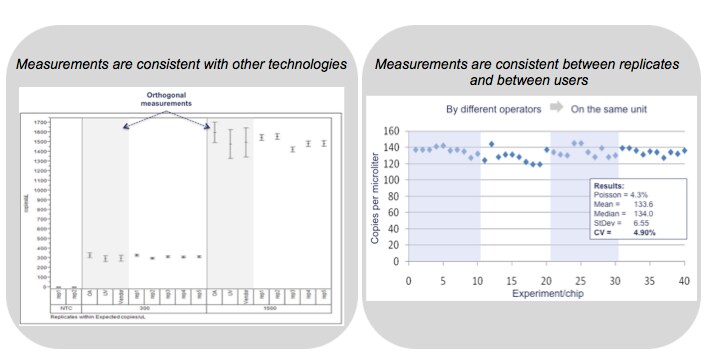 Digital PCR Works with a Range of Applications
dPCR is well suited to performing rare allele detection, absolute quantification of gene expression, viral titering, quantification of next-generation sequencing libraries, and creating nucleic acid standards, as well as the enrichment of separation of mixtures.
Specific applications available for absolute quantification include:
•  Copy Number Variation (CNV) – Detect and quantify small percent copy number differences with a high degree of precision
•  Next Generation Sequencing (NGS) Library Quantification – Absolute quantification of NGS libraries and validation of sequencing results, without reference standards
•  Differential Gene Expression – Detect gene expressions changes of ±10% for absolute transcript quantification without a reference gene
•  Quantification of Viral Load – Absolute quantification of bacterial and viral loads, and absolute pathogen counts
•  Absolute Quantification of References & Standards – Generate absolute reference standards for genetic measurements, metrology, and cross-lab comparisons
Specific applications available for allele detection include:
•  Rare Mutation Analysis – Detect and quantify rare mutations for low-prevalence targets in cancer research samples
•  Sensitive GMO Detection – Sensitive detection and absolute quantification of plant mutations and genetically modified organisms
•  Low Level Pathogen Detection – Detect low-level pathogens that cause human illnesses through contaminated food and water supplies
Conclusion
I'll wrap up with a quick recap of dPCR advantages. First and foremost, dPCR provides a mechanism for absolute quantification, which lets you determine the number of molecules in your sample without the need for standard curve. This is especially beneficial for reference laboratories and gene expression analysis.
Secondly, dPCR allows you to identify a rare molecule in an overwhelming number of normal alleles. Prime examples may include mutant alleles of proto-oncogenes in FFPE-preserved tumor samples, chimerism in bone marrow transplant samples, and detecting oncogenic mutations in circulating free DNA.
Finally, because dPCR is an endpoint PCR reaction, it's less sensitive to inhibitors than qPCR reactions, where inhibitors such as SDS or heparin could affect PCR efficiency. This is an important attribute for labs working with environmental or precious cancer samples.
Learn More about Digital PCR
Contrast and compare three generations of PCR technology at Digital PCR vs. qPCR vs. Traditional PCR.  Follow this link to learn more about next-generation QuantStudio® 3D Digital PCR System, offering simplicity – load and go, turn-key chip-based workflow, affordability – less than 50% of the price of competing platforms, and reference curve-free quantitation – concentration measurements in copies/μL without a standard curve. And find all your dPCR and qPCR instrument support needs in a single online source, including relevant technical information, tips and tricks when starting an experiment, and fixes for common instrument and software errors.
Read all of the Let's Go Digital PCR Series:
Go Digital PCR: Pt 1 – Next-Gen Quantification
Go Digital PCR: Pt 2 – QuantStudio™ 3D
Go Digital PCR: Pt 3 – Copy Number Variation
Go Digital PCR: Pt 4 – NGS Libraries
Go Digital PCR: Pt 5 – Rare Mutations