Considered as the gold standard, Sanger sequencing technology has been proven through decades of results. You might be familiar with the simple workflow or already have an established protocol in your lab.  However, with the new applications developed for Sanger sequencing such as minor variant detection, the data quality that you are getting out of your protocol just might not be up to par.
To help researchers generate high-quality data for minor variant detection, we put together a few user bulletins to provide some best practices and troubleshooting tips to help make your life in the lab easier.  These protocols have been extensively tested to ensure high quality, reproducible results. Check it out!  You might uncover a new possibility for your Capillary Electrophoresis instrument and perhaps finally resolve that data issue that you've been trying to live with for years.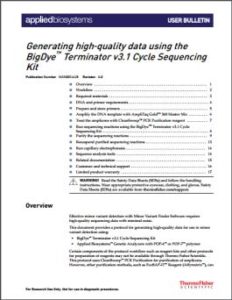 A protocol for generating high‑quality data for use in minor variant detection using:
Applied Biosystems™ Genetic Analyzers with POP‑6™ or POP‑7™ polymer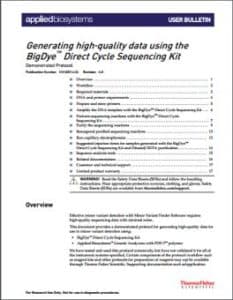 Sequencing with the BigDye Direct Cycle Sequencing Kit takes fewer steps and less hands-on time.  By combing PCR clean-up and cycle sequencing into a single step, the BigDye Direct workflow reduces the traditional Sanger sequencing workflow time by up to 40%. This protocol is also optimized for sequencing short amplicons, since BigDye Direct's novel sequencing primer and chemistry enable high data quality from base 1 after the sequencing primer.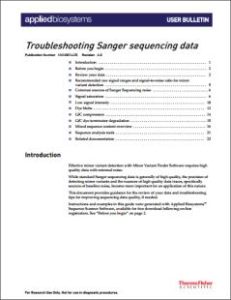 Do you experience signal saturation, low signal intensity, dye blobs…etc. from your data? This document provides guidance with troubleshooting tips for improving sequencing data quality.
Did these help you solve your problems and achieve higher quality data? Let us know what you think about these tips and tricks in the comments section below.