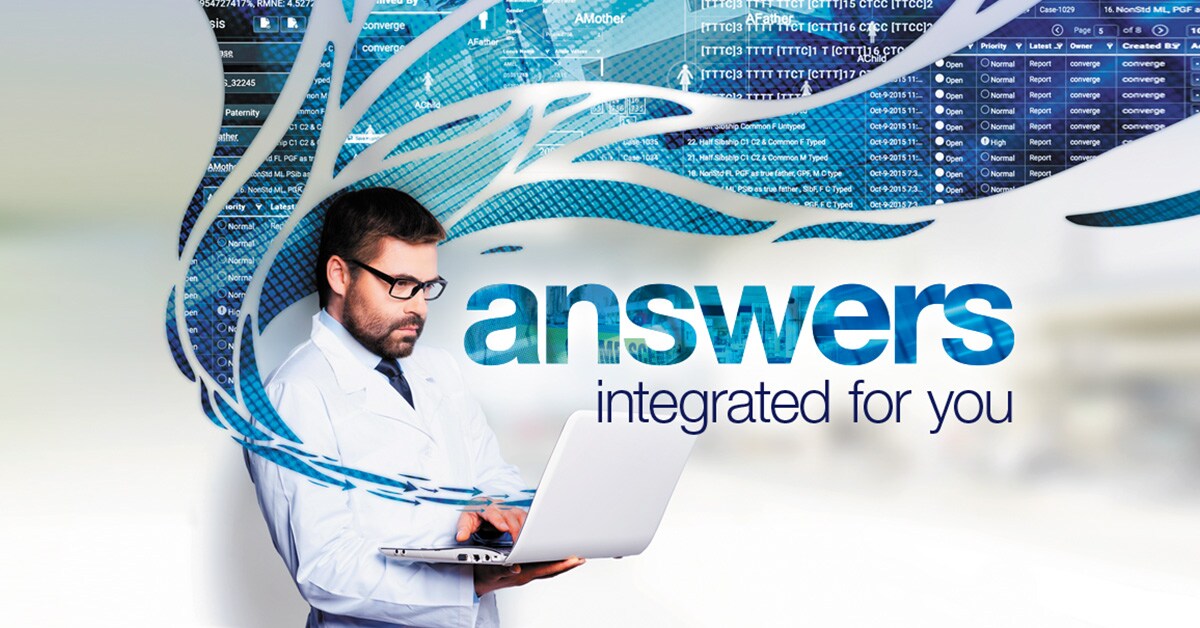 Forensic scientists routinely work with multiple data management and DNA analysis software packages to make complex decisions. And those packages may not sync to keep all the needed information stored together. Now Applied Biosystems Converge Software  offers a forensic analysis platform that centralizes forensic DNA data and analysis, and case information in one place. Converge Software offers paternity and kinship analysis, NGS analysis of STRs to help determine the number of contributors in a sample, and CE to NGS comparisons forensic of STR profiles, all with a review and audit trail.
Unlike other standalone software, Converge Software offers a customizable architecture and a broad range of data inputs and parameters, including both NGS and CE DNA profiles, to meet the needs of the modern forensic genetics laboratory.
       Case information is stored in one place: case, subject and genotype profile information (CE and NGS), files, and pictures
       CE to NGS transition features are available which can support the lab's NGS validation
       Data archiving, backup and recovery, as well as security and eSignature support IT compliance and integration protocols

Converge software also provides a simple and flexible solution to help manage the complexity of paternity and kinship testing with proven, validated algorithms, and a highly intuitive user interface.
       Streamlined Kinship and Paternity analysis has easy-to-use pedigree tree drawing capabilities, statistical calculations and a flexible reporting customization
       Includes 43 different paternity and casework cases including incest, sib ship and avuncular cases
       Supports batch processing of 96 samples for high throughput labs
       Kinship Analysis can be performed on profiles generated from CE or NGS STR analyses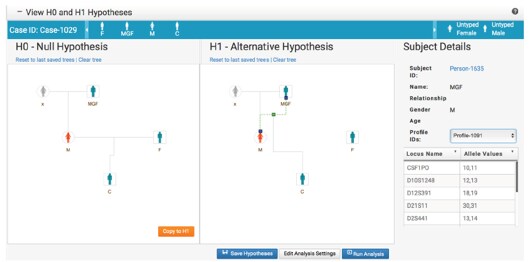 If you're getting started with NGS analysis in your casework lab, Converge Software offers a modules for NGS analysis of STRs to help analyze mixtures, compare NGS to CE STR profiles to support NGS validation, and resolve complex  kinship cases. With an interface that is similar to GeneMapper ID-X Software, Converge Software provides information on STR allele call, STR sequence motifs of isometric heterozygotes, and known SNPs in flanking regions from the Applied Biosystems Precision ID  GlobalFiler NGS STR Panel v2.
       Simplified NGS data management, analysis and results review. Provides Process Quality Values (PQV) and flags such as allele number (AN), off-ladder allele (OL), peak height ratio (PHR), below stochastic threshold (BST), and control concordance (CC)
       Integrated CE and NGS case management workflows and data concordance
       Enhanced mixture and degraded samples profiles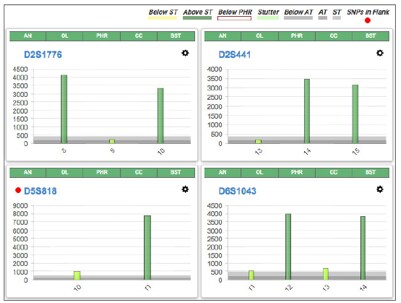 Whether it's case management, paternity and relationship testing, or NGS analysis, forensic DNA labs need a better software solution for better data processing. Take a sneak peek at how the Converge Software adapts to you and feel free to watch the short video below which give a great overview of the software: