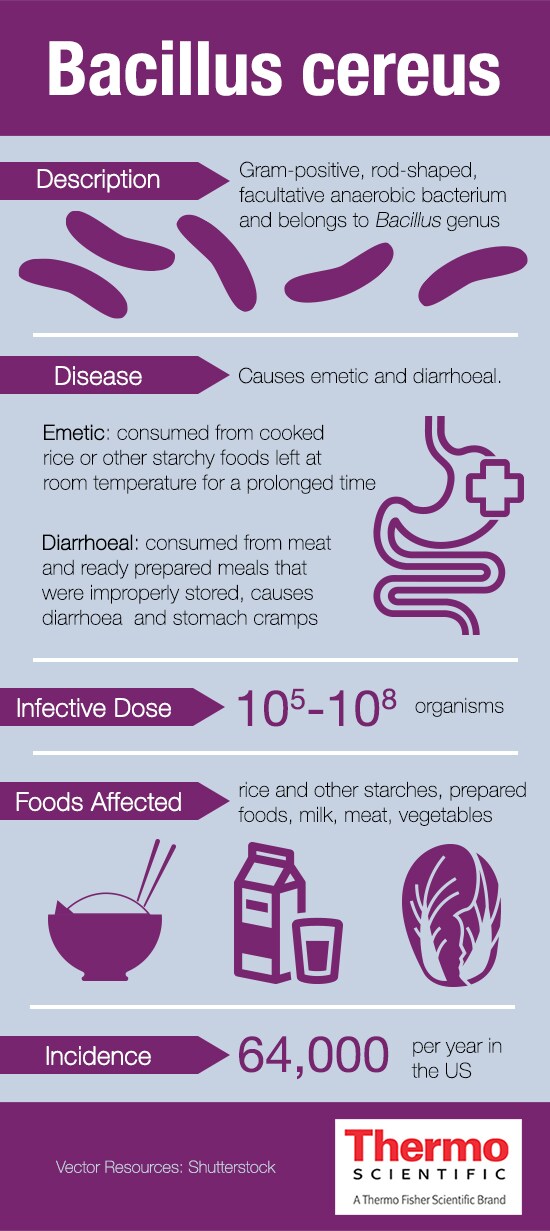 Description 
Bacillus cereus is a Gram-positive, rod-shaped, facultative anaerobic bacterium that can produce toxins which cause food poisoning. It belongs to the Bacillus genus and shares similar characteristics, such as forming protective endospores, with other Bacillus members including B. anthracis, B. thuringiensis, B. mycoides and B. pseudomycoides.
The use of 16S rRNA gene sequencing has shown B. cereus has a similarity score of >97% with five other pathogenic Bacillus spp., suggesting that they should be classified as a single species. However, virulence factors and their ability to cause more than one type of food-borne illness argue against this. The following factors are used to differentiate B. cereus from other Bacillus spp.:
Presence of crystal toxins. B. thuringiensis produces crystal toxins which are used as pesticides and in some cases may allow an enterotoxic strain to enter the human body, causing a food-borne illness.
Haemolytic activity. B. cereus is beta haemolytic, B. anthracis is non-haemolytic.
Level of motility. B. cereus is the most motile.
Rhizoid growth. B. mycoides and B. pseudomycoides have characteristic rhizoid colonies with their root-like structure and creamy appearance. They can be differentiated by differences in fatty acid composition and DNA-DNA relatedness.
Disease
B. cereus causes two types of illness; emetic (nausea and vomiting) and diarrhoeal.
Emetic: The emetic form is most commonly caused by consumption of cooked rice and other starchy foods that have been stored at room temperature for a prolonged period causing endospores, which have survived the cooking process, to germinate and produce toxins. These toxins include the emetic toxin (cereulide) which cannot be destroyed by subsequent heating. The incubation period is 30 minutes to 6 hours and illness usually lasts around 24 hours.
Diarrhoeal: The diarrhoeal form can be caused by consumption of food such as meat and ready prepared meals which have been improperly stored. B. cereus thrives at room temperature and following consumption, produces a toxin in the intestine that causes diarrhoea and stomach cramps. The incubation period is longer than the emetic form at 6-15 hours, but the duration of illness is the same.
Infective dose
Illness is commonly associated with the consumption of 105-108 organisms. The infective dose can vary depending on the amount of enterotoxin produced.
Foods affected
B. cereus is widespread in the environment and can be isolated from soil and vegetation. It is found in a variety of foods which include rice and other starches; prepared foods such as soups, sauces and puddings; milk, meat and vegetables. The common factor in most cases of food-borne illness is the consumption of foods which have not been stored at temperatures less than 40F/4°C or above 140F/60°C.
Incidence
The estimated number of B. cereus food poisoning cases in the US is 64,000 each year. The figures may be higher than this due to unreported cases or misdiagnosis because of similarities with other types of food-borne illness, e.g. Staphylococcus aureus or Clostridium perfringens. All demographics are susceptible to B. cereus food poisoning.

References
United States Food and Drug Administration. Bad Bug Book: Foodborne pathogenic microorganisms and natural toxins handbook
National Center for Biotechnology Information: Bacillus cereus food poisoning and its toxins
Learn more about other common and less common food bugs in our series of Thermo Scientific Application Notes, available to download from our food community