X-ray inspection systems
offer image analysis for critical quality verifications by creating grayscale images corresponding to density. To detect a contaminant in those images the contaminant must have significant contrast compared to the product inside. Unlike metal detectors that offer protection from many types of metal contaminants encountered in food production, X-ray systems can find virtually any substance that is denser or sharper than the object containing it.
Most X-ray detection systems project a narrow beam from the top down to a linear detector. This makes using the X-ray image for product inspections easier, but also means that the taller the object, the narrower it must be to always fit in the beam. So, some food processors need systems that project a wide X-ray beam from the bottom up to a non-linear detector to ensure that everything passing through the inspection tunnel is completely inspected. Any differences in X-ray signal across the detector should be automatically calibrated out during product setup. This helps ensure that no matter where the product passes through the beam you always get the best detection possible. This "wrap-around" detector process helps ensure there are never any "blind spots" in the inspection tunnel.
This process also must be swift. Think of the steady stream of metal cans, plastic bottles or other upright packages such as boxes or pouches as they swoop by on a product line. An inspection system must be able to reliably scan the packages completely and detect foreign objects – right on the line. Sometimes inspection is more complicated. For example, a dual-beam inspection is necessary for 100% detection probability in containers made of glass.
Shown below are some typical contaminant material densities compared to water (i.e., water density = 1.0) and the general X-ray system capability to detect them. The only way to definitively determine what can and cannot be detected (material and contaminant size) is to have an application specialist run a test.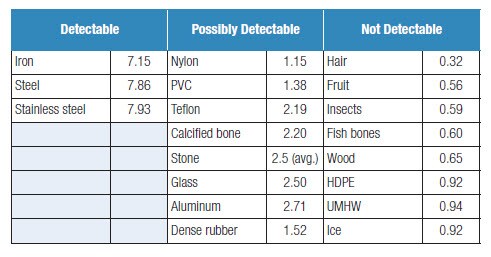 The need to market products in packaging materials that cost-effectively enhance shelf life has led to the use of metalized film or foil-based packaging. These materials provide better oxygen, moisture and UV-light barriers and have a longer shelf life. Detecting contaminants in them requires an X-ray system, which, unlike a metal detector, has no problem seeing right through these packages to detect any very small contaminants.

For addition information, read the white paper: What food processors should know: metal detection vs. X-ray inspection

X-ray inspection is one of the first lines of defense to identify the presence of foreign contaminants in food products before they have the chance to leave the processing plant.