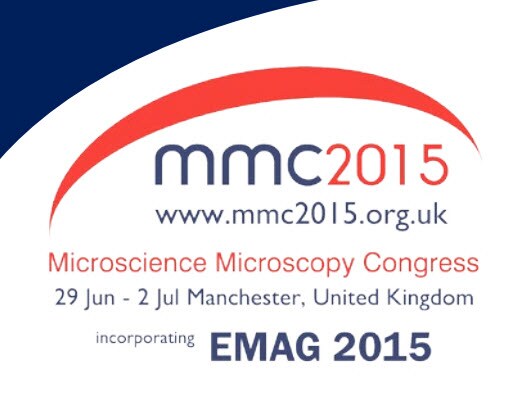 X-ray microanalysis plays a key role in the development, production and failure analysis of all types of polymers and plastics. In fact, you have probably seen many articles on this blog addressing the role of X–ray Photoelectron Spectroscopy in helping to ensure quality and in discovering how and why polymer and plastics parts fail.
If you want to see the many various disciplines and areas of microscopy and imaging for polymers and plastics under one roof, mmc2015 is the place to be next week. The Microscience Microscopy Congress, brings together the various techniques, technologies, instruments, and experts in one conference.   It is Europe's largest event dedicated to microscopy and imaging and offers four parallel sessions, pre-congress workshops, poster presentations, a huge exhibition and a fully-equipped teaching and learning zone, including free workshops.
In fact, we will be conducting two of the workshops being offered on the show floor:
Phase mapping, statistics and COMPASS | Tuesday, 30 June 2015 | 15:30 – 16:15
Smarter spectroscopy with WDS: When EDS isn't good enough|Wednesday, 1 July 2015 | 13:15 – 14:00
Although the workshops are free, you should register to reserve your place.  In addition to the workshop, there will be demonstrations of additional technologies and techniques, including an EDS detector, WDS spectrometer, Electron Backscatter Diffraction, and X-ray Microanalysis at Booth 306.
The show is providing an app that you can download onto your iPads, iPhones and all Android mobile devices.  The app provides lots of useful information and features, including the mccc2015 conference program, submitted abstracts, exhibition information, exhibition reward scheme, and a chat function.
If you can't be at the show, visit our event page, or follow the show Facebook or twitter page using the hashtag #mmc2015.
Hope to see you there.
Show Details:
Microscience Microscopy Congress 2015
29 June – 2 July 2015
Manchester, UK
Booth 306
Free Seminars:
Tuesday, 30 June 2015 – 15:30 – 16:15 
Phase mapping, statistics and COMPASS
Wednesday, 1 July 2015 – 13:15 – 14:00 
Smarter spectroscopy with WDS: When EDS isn't good enough
Click here to Register or for more information