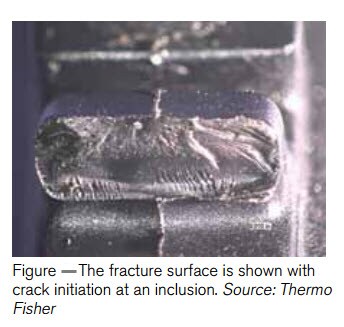 Many sample analysis approaches can be applied to obtain useful information about a sample. One of the most popular and easy-to-use techniques available is modern Fourier Transform Infrared (FT-IR) instrumentation and ATR, or Attenuated Total Reflectance, using diamond crystals. This spectroscopy technique was utilized to analyze failed poly (butylene terephthalate) (PBT) valves.
A number of valves were evaluated as the parts had failed during installation with the mating components. The failures occurred within the retention arm, which functions as a snap during installation of the valve assembly. The valves were produced from an unfilled, lubricated, injection molding grade of PBT.
Microscopic examination of the valve fracture surfaces showed generally similar features, characteristic of brittle fracture, across all of the failed parts. The failures exhibited crack initiation at an inclusion present within the molded retention arm.
The valves were initially analyzed using energy dispersive X-ray spectroscopy (EDS). Analysis of the base fracture surface showed exclusively carbon and oxygen, consistent with the expected results based upon the description of the material as an unfilled PBT resin. Analysis of the included particle showed a significant amount of sulfur and trace levels of chlorine, potassium, and sodium.
Since infrared spectroscopy is a valuable polymer characterization tool which can be used effectively in product design, manufacture, and failure analysis, the valve samples were directly analyzed using FT-IR with a diamond ATR. Analysis of a sample of the base material produced a spectrum characteristic of thermoplastic polyester, such as PBT.  The fracture surface inclusion was excised and subsequently analyzed via FTIR.
A direct comparison of the results with those obtained on the base material showed the presence of additional absorption bands. A spectral subtraction was performed removing the bands associated with the PBT base material. The resulting spectrum exhibited absorption bands characteristic of poly (phenylene sulfide) (PPS).
Contaminant Had Different Melting Temperature
PPS has a melting temperature approximately 285 °C, and as such, consistent with its presence as a non-dispersed particle within the significantly lower melting PBT resin. The presence of the included contaminant acted as a point of severe stress concentration, focusing and multiplying the stress applied through the snap installation.
For more details, including spectra representing the inclusion contained additional absorption bands in comparison with the base material, the spectral subtraction of inclusion minus base material, and the image of the fracture surface with crack initiation at an inclusion, read the Identifying Failures and Ensuring Quality of Plastic Materials article.