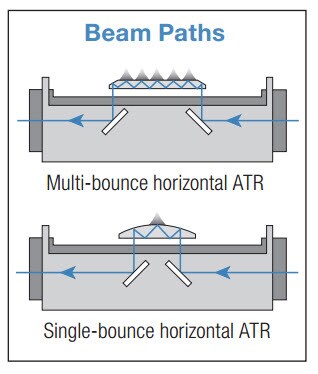 Attenuated Total Reflectance (ATR) is a powerful sampling technique that virtually eliminates sample preparation. Used as an accessory to an FT-IR instrument, ATR is ideal for strongly-absorbing or thick samples which often produce intense peaks when measured by transmission. ATR works well for these samples because the intensity of the evanescent waves decays exponentially with distance from the surface of the ATR crystal, making the technique generally insensitive to sample thickness. Homogeneous solid samples, the surface layer of a multi-layered solid or the coating on a solid are good candidates for ATR analysis. Ideal solids include plastics, black rubber, laminates, paints, coatings and natural powders.
An ATR accessory operates by measuring the changes that occur in an internally reflected IR beam when the beam comes into contact with a sample. An IR beam is directed onto an optically dense crystal with a high refractive index at a certain angle. This internal reflectance creates an evanescent wave that extends beyond the surface of the crystal into the sample held in contact with the crystal.
In regions of the IR spectrum where the sample absorbs energy, the evanescent wave will be attenuated. The attenuated beam returns to the crystal, then exits the opposite end of the crystal and is directed to the detector in the IR spectrometer. The detector records the attenuated IR beam as an interferogram signal, which can then be used to generate an IR spectrum.
It is important to know about different methods of sample handling because certain techniques are more effective than others, depending upon the specific sample type. In order to obtain the best quality spectrum from your sample, it is important to know which handling technique works best for your sample type. Acquiring the best spectral data possible will give you more confidence in your results.
For more information about these different techniques, read the Introduction to FT-IR Sample Handling. It includes an index of sample types as well as a ratings chart for the various techniques that can be used with different samples.  To get some basics about Fourier Transform Infrared Spectroscopy, download the Introduction to FT-IR.