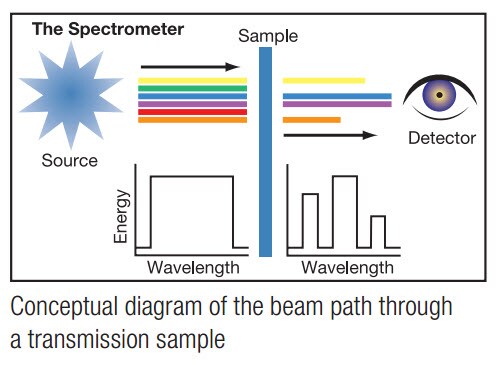 There are different techniques of sample handling used with Fourier Transform Infrared Spectroscopy (FT-IR), including Diffuse Reflectance (DRIFTS), Attenuated Total Reflection (ATR), and True Specular Reflectance/ Reflection-Absorption.
Certain techniques of sample handling are more effective than others for specific sample types. In order to obtain the best quality spectrum from your sample, it is important to know which handling technique works best for your sample type. Acquiring the best spectral data possible will give you more confidence in your results.
The transmission method is the most traditional form of sample measurement.  In transmission analysis, the user simply places a sample directly into the infrared (IR) beam of the FT-IR instrument. As the IR beam passes through the sample, the transmitted energy is measured and a spectrum is generated. However, the analyst must often prepare the sample into a pellet, mull, film, etc. before the transmission measurement can be made.
Excellent quality spectra can be obtained for many types of samples, including soluble polymers, thin polymer films, regular-shaped polymers (with preparation), irregular-shaped polymers (with preparation), and non carbon-filled dark polymer films – as well as organic powders in pellet or mull form, thermoplastic powders, free-flowing or viscous liquids, and high concentrations to trace amounts of gases.
There are several advantages of using transmission for analyzing samples.  The cells and mounts are generally inexpensive so it is economical.  Because it is the most traditional form of analysis, the technique is well established for obtaining excellent spectral information.  And because it is ideal for qualitative measurements as well as quantitative works, many standard operating procedures are based on this technique.
For more information about these different techniques, read the Introduction to FT-IR Sample Handling. It includes an index of sample types as well as a ratings chart for the various techniques that can be used with different samples.  For example, for thermoplastic polymers and thin polymer films, Transmission falls into the Excellent rating; though for thin and thick fibers, it is rated only Adequate.
To get more info and resources about Fourier Transform Infrared Spectroscopy, visit our FTIR Learning Center.