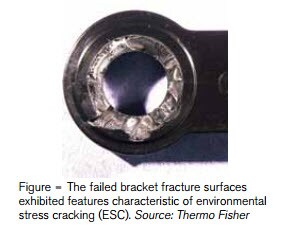 A set of brackets had cracked while in service, so a failure analysis was conducted using Fourier Transform Infrared (FT-IR) instrumentation and ATR, or Attenuated Total Reflectance, using diamond crystals. For unknown material identification, such as in failure analysis, the most common approach is to perform a quick infrared analysis followed by a simple search comparing the sample spectrum to a spectral database of polymers, plasticizers or other compounds. When using the technique for quality control of incoming material, comparisons are made against spectra of known good materials to verify they are the same.
Sporadic failures had been reported on these parts. The brackets were injection molded from a flame retardant grade of polycarbonate / poly (acrylonitrile:butadiene:styrene) (PC+ABS).
The brackets were examined microscopically, identifying catastrophic transverse cracking at the base of the cylindrical boss, consistent with tensile or bending stresses. Inspection of the fracture surfaces presented characteristics of brittle fracture, with multiple apparent crack origins along the inner diameter of the boss wall. The observed features were indicative of a slow crack initiation and growth mechanism, transitioning into more rapid crack extension.
Overall, the observed features were indicative of environmental stress cracking (ESC), a failure mechanism whereby a plastic material cracks due to the contact with an incompatible chemical agent while under tensile stress. Several of the cracks exhibited a liquid residue emanating from the fractures.
Molecular Degradation Can Cause Failure
Specimens representing the bracket material were analyzed using FT-IR with a diamond ATR. Analysis of bracket core specimens showed absorption bands characteristic of a PC+ABS resin. Analysis of the residue removed from the fracture surfaces produced results indicative of the present of organic esters. Organic esters are known to act as ESC agents in conjunction with PC+ABS resins.
Melt flow rate testing was used in the investigation to determine that the part material had undergone substantial molecular degradation associated with the injection molding process. This degradation rendered the parts susceptible to premature failure and environmental stress cracking.
Infrared spectroscopy — which can be used effectively in product design, manufacture, and failure analysis — was proven to be a valuable polymer characterization tool in this case.
For more details, including FT-IR spectra representing the failed and reference brackets contained absorption bands indicative of a PC-ABS resin, and the FT-IR spectra obtained on the bracket fracture surfaces contained absorbances associated with organic esters, read the Identifying Failures and Ensuring Quality of Plastic Materials article.