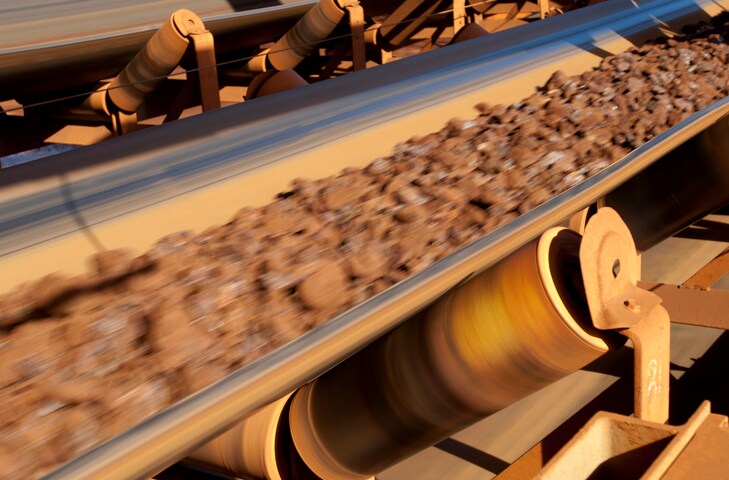 Over the last few years there has been a lot of interest and buzz in the mineral processing community around ore sorting and routing as a way of improving the efficiency of mining operations. While particle based ore sorting has been done successfully at low product volumes for decades newer systems can be scaled by placing multiple machines in parallel. Particle sorters require removal of fines for sizes below ~ 35mm so an additional material handing step of screening and large scale and the resulting fines must be handled separately. For these reasons there has been renewed interest in looking at sensing technologies that can measure the entire content of material on a moving conveyer. These Bulk Ore sensors would ideally measure ore types and chemistry both accurately and very rapidly and across a wide range of ore types and elemental concentrations.
Once such candidate for Bulk Ore sorting for base and precious metals operations is PGNAA, Prompt Gamma Neutron Activation Analysis. (Crossbelt Conveyor Considerations – What You Need To Know.)). Chute and Cross-Belt PGNAA Analyzers have been used successfully since the mid-1980s in Coal and Cement operations world-wide. There are many hundreds of these in use to today in Cement Raw Mix and Stockpile blending applications as well as coal train loadouts. The physics of PGNAA are amenable to meeting most of the requirements for a Bulk Ore sorting sensor given that certain conditions are met.
As with all measurement techniques the sought elements and ranges must be within the capabilities of the physics. PGNAA (Prompt gamma neutron activation analysis) is a deeply penetrative technique that can interrogate a wide range of elemental composition independent of particle size after the primary crushing stage found in most metal mining operations. In the case of Copper, 2-sigma measurements can be obtained below typical cutoff grades in less than 30 seconds. Copper is a particularly good example as the technique has good sensitivity to this element. Other elements may have more or less sensitivity so their cut-off grade and measuring times would scale accordingly. Some ore types may be inferred by looking at combinations and ranges of elements present if there is a favorable spatial arrangement of material along the conveyer and a distinct correlation of elements to ore types. Since the PGNAA spectra contain information from all elements present the full elemental composition must be reported for proper calibration.
Accuracy is always a key attribute of any analytical method but in an on-line real time analyzer for process control one must also consider how well the device samples the process. If the material presented to the analytical device is not representative of the process then the analytical results can be misleading and lack true value. In the case of PGNAA On-Belt Analyzers, factors such as belt loading and measurement uniformity are important success factors for a Bulk Sensing application. (See the Online Stockpile Analysis article in World Cement for more details on these factors.)
Measurement Uniformity is a result of careful instrument design using expert knowledge and modeling techniques for neutron and gamma-ray transport in materials. This is gained over decades of model development and real-world experience across many different kinds of applications. Belt loading is controlled by the design of the material handling system feeding the Bulk Sensor. Ideally the belt is kept at a constant load for best results. Recognizing that constant load is not always feasible, another important characteristic of the PGNAA Cross-Belt Bulk Sensor is how well it can handle variation in load height and width. Compensation for these changes should be automatic and can be factored into the calibration and by correction algorithms in the analyzer software.
PGNAA analyzers must be calibrated against known reference standards containing a range of elemental concentrations representing the range of materials to be analyzed. In order to deliver a suitable ROI for a Cross-Belt Analyzer, factory calibration on static samples is commonly used. This allows the Cross-Belt analyzer to deliver useable assay data out-of the box without waiting weeks, months or even years for the mine to deliver ore-types that span the range of elemental concentrations and relationships needed.
Calibration fine tuning is performed after installation. The method used to validate the analyzer results against the mine's lab standard methods must take into account existing infrastructure and established methods for sampling. The time and cost for validation sampling can be very significant in larger base metal operations so these requirement must be factored into the material handling system design and financial justifications for such projects.
As a final word, the insertion of Bulk Ore Sorting Stations into mining operations and the consequences of their impact on downstream beneficiation operations will have a transformational impact on our industry. Designers, owners and operators of such plants must take into account the key sensors in these sorting solutions are now the most important cog for correct operation of their mine and be prepared to invest in the infrastructure, personnel, training and proactive maintenance required to maximize up-time, availability and accuracy. An experienced supplier of On-Belt PGNAA analyzers will be able to advise those considering such application the best practices for operating and maintain their analyzers for maximum availability and accuracy.
Editor's Note: For more information about bulk handling and slurry analysis systems, read: