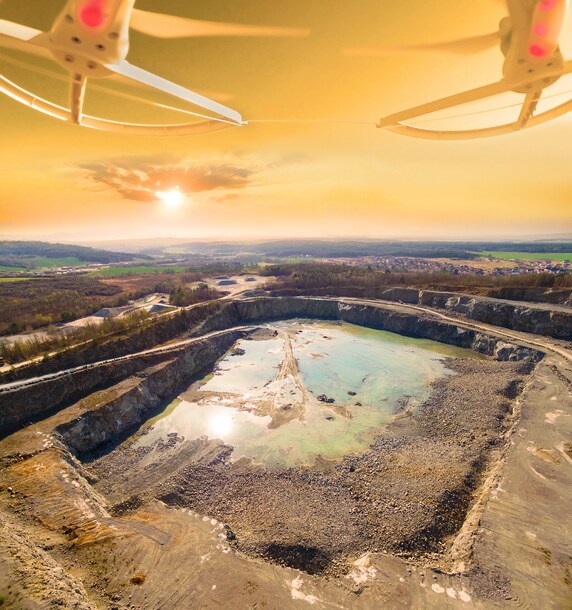 Portable X-ray fluorescence (XRF) analyzers are improving efficiency in oil and gas exploration and production (E&P) operations by providing rapid sample analysis in the field, in real time. They provide a cost-effective alternative to expensive on-site labs or time consuming analysis at off-site laboratories.
A cost-effective solution to improving mine site safety is drones. An article on Forbes.com describes how drones are being used to monitor and manage mine sites from a safe distance. According to the article, drones are used in oil and gas operations to enhance emergency response and recovery, provide live situational awareness during fires, spills, and other emergencies, conduct routine inspections, and gain real-time visibility into systems and sites that were once a challenge to view, fix, and maintain.
Renner Vaughn, Cape's director of oil and gas, was interviewed for the Forbes piece:
"With the ability to remotely pilot drones from anywhere in the world, whether onshore or off, operators can much more easily and quickly inspect well sites, pipelines, storage tanks, and offshore platforms, giving the right experts all the benefits of a first-person viewpoint, without the safety risks or time and cost required to manually traveling onsite," Vaughn explains. "For example, operators can deploy drones to get visibility on an alarm situation before sending a field operator out, helping them to more quickly get eyes on the situation while also keeping personnel out of a potentially dangerous situation.
"Additionally, the remote visibility offered through the drones can slash the costs of managing large-scale facility builds, minimizing timelines for approvals and drastically reducing costs previously required for travel, ensuring time, resources, and personnel are dedicated to more impactful areas of work."
In addition to oil and gas exploration, drones have many other important applications in mining. In Australia, drones are used to collect data from inaccessible areas of legacy mines for remediation efforts, producing digital terrain models that give operators a better perspective of the site, according to an article on mining-technology.com. Drones are an important safety measure in this application, eliminating the need for humans to enter dark, potentially unstable or dangerous areas of the mine.
Swedish company Inkonova is developing drones with simultaneous localization and mapping (SLAM) technology. As described in an article on newscientist.com, the company was able to map an underground mine in Mali with a volume of roughly 30,000 cubic meters using its manually operated drone, TILT Ranger, with SLAM.
A post on the BPH web site describes how the company uses drones:
Ensure areas are clear before a blast takes place and to track fumes post-blast.
Improve road safety on sites, by monitoring traffic, road conditions and hazards.
Help inspect overhead cranes, towers and roofs of tall buildings to avoid working at height.
Provide real time aerial footage and 3D maps of sites.
Measure stockpiles quickly and accurately.
Review compliance to design against mine plans to understand where to improve safety or boost productivity.
Inspect the flare tips at processing plants while the plants are online.
Map and digitally record areas of cultural heritage.
For more information about current and emerging mining technologies, visit the Cement, Coal & Minerals online learning center and check out the application notes, infographics, product spec sheets, videos, case studies, and eBooks dealing with all aspects of the mining industry, from exploration through processing, mineral analysis, and bulk weighing, monitoring, and sampling systems, and more.