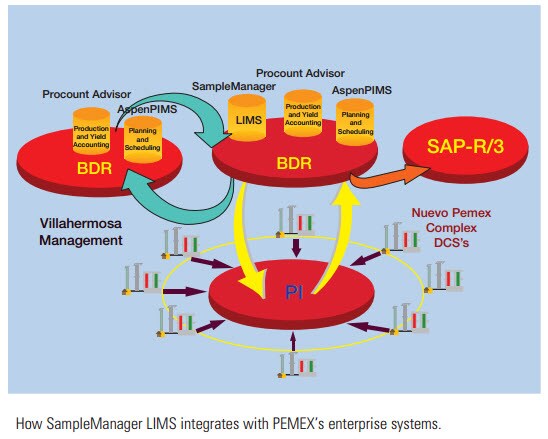 Editor's Note: This is the third article in the Tuesday series discussing how Laboratory Information Management Systems (LIMS) are being used in oil and gas operations. [Subscribe now so you don't miss an article in the series.]
Like many other companies in the oil and gas business, PEMEX Gas and Basic Petrochemicals faced many issues related to data capture and analysis, productivity, and quality control — stemming from outdated, cumbersome, time-consuming manual processes.
To address these challenges, PEMEX initiated a laboratory information management system (LIMS) standardization project resulting in the implementation of a LIMS across its nine gas processing facilities in Mexico. The company needed an enterprise-wide system that would automate the data capture and validation process, thus accelerating the analytical cycle. Standardization would contribute to ensuring data integrity, enabling secure access to laboratory information in real time, and reducing duplication of tasks. This would help PEMEX speed its business decision-making process and continuously improve its practices.
Furthermore, PEMEX needed a LIMS solution that would easily integrate with other technologies employed by the company, including their ERP System (SAP) and Process Information Management System (OSI PI). They wanted a system that would make test results immediately available to all necessary personnel as soon as they were entered and authorized in the LIMS by the laboratory staff.
Good Laboratory and Manufacturing Practices
The LIMS solution needed to operate under Good Laboratory and Manufacturing Practices (GMP and GLP) to help enforce the specifications that certify its products under a strict quality control process and ensure regulatory compliance. Specification checking was also required to achieve tighter control and greater profitability and to provide better inventory and shipping management. The LIMS of choice would need to monitor and alert staff to any safety or quality issues along the supply chain, from the delivery of goods to the petrochemical company to the delivery of the final products to the customers. Finally, PEMEX needed a LIMS solution that could provide full audit capabilities for routine reporting to regulatory agencies.
PEMEX deployed a LIMS in its gas processing complex in Tabasco State in Mexico that generated such significant productivity gains that the company moved forward with an enterprise-wide LIMS standardization project.
The Results
The standardization of the LIMS across all of PEMEX's gas processing facilities resulted in a significant production cost savings of over $500,000 per year and a notable increase in revenues generated by the improved productivity and quality of the products. The enterprise-wide LIMS solution helped PEMEX to accelerate time to market at a lower cost by converting raw data into real-time knowledge for fast, timely and fact-based business decisions.
With a smooth, rapid installation, as well as easy-to-use interface for all laboratory employees, PEMEX's standardized LIMS solution also reduced employee training costs and allowed the company to rotate personnel across its gas processing facilities. Risk of accidents and insurance costs were reduced since employees no longer manually transfer documents throughout the different areas of the operation.
LIMS standardization also allowed for more effective planning and organization of PEMEX's laboratory operations. Moreover, all tasks for all processor facilities were consolidated and programmed in the most efficient way. Being an open system, the LIMS allowed the integration of equipment and enterprise systems while ensuring remote access capabilities for efficient and effective support.
Read the complete case study, The Real Benefits of Standardizing on a Single LIMS in the Gas and Petroleum Industry to learn more.