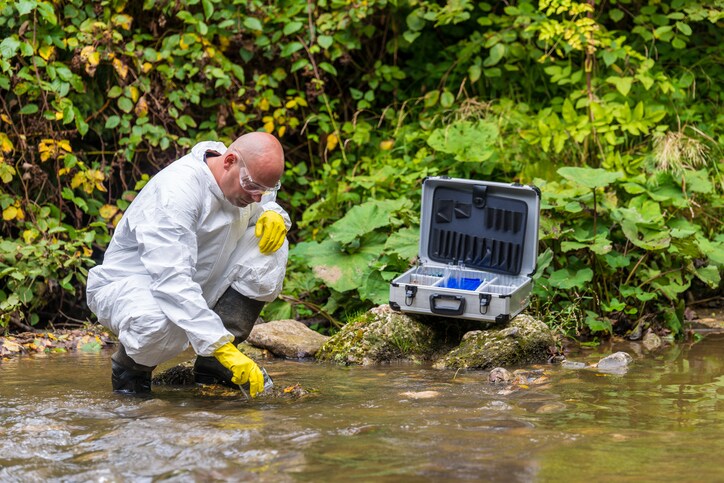 Geologists employ a variety of geophysical methods to measure variations in the physical properties of rocks (e.g. density, magnetism, electrical conductivity, natural radioactivity, etc.) that may indicate a gold deposit. Although these geophysical methods can be crucial for gold exploration, geochemical methods – including portable x-ray florescence (XRF) – are the only methods that can measure the concentration of gold and other associated elements. Today, portable XRF is used in various stages of gold exploration and mining including grass-root exploration (particularly using pathfinder elements), finding source of gold in stream sediments, core logging, identification of lithologies, and even grade control.
The sampling techniques are aimed at mapping the distribution of gold and in particular, the various elements associated with gold known as the pathfinder elements (silver, copper, zinc, nickel, mercury, arsenic and barium). Pathfinder elements are very important in finding gold because they help focus the search area. It's much easier to find the pathfinder elements than it is to find gold, and once found they can help determine if gold is nearby.
Now scientists from the University of Adelaide present another potential way to find undiscovered gold deposits—through bacteria. The University of Adelaide web site reports that researchers have been investigating the role of microorganisms in gold transformation. In the Earth's surface, gold can be dissolved, dispersed and re-concentrated into nuggets. This epic 'journey' is called the biogeochemical cycle of gold.
"Primary gold is produced under high pressures and temperatures deep below the Earth's surface and is mined, nowadays, from very large primary deposits, such as at the Superpit in Kalgoorlie," says Dr. Frank Reith, Australian Research Council Future Fellow in the University of Adelaide's School of Biological Sciences, and Visiting Fellow at CSIRO Land and Water at Waite.
"In the natural environment, primary gold makes its way into soils, sediments and waterways through biogeochemical weathering and eventually ends up in the ocean. On the way bacteria can dissolve and re-concentrate gold — this process removes most of the silver and forms gold nuggets.
"We've known that this process takes place, but for the first time we've been able to show that this transformation takes place in just years to decades — that's a blink of an eye in terms of geological time.
"These results have surprised us, and lead the way for many interesting applications such as optimizing the processes for gold extraction from ore and re-processing old tailings or recycled electronics, which isn't currently economically viable."
"Understanding this gold biogeochemical cycle could help mineral exploration by finding undiscovered gold deposits or developing innovative processing techniques," says Dr. Shuster, University of Adelaide. "If we can make this process faster, then the potential for re-processing tailings and improving ore-processing would be game-changing. Initial attempts to speed up these reactions are looking promising."
The researchers say that this new understanding of the gold biogeochemical process and transformation may also help verify the authenticity of archaeological gold artefacts and distinguish them from fraudulent copies.
Read Identification of Lithology & Base Metal Anomalies – Pathfinders for Gold Exploration Using Thermo Scientific Portable XRF Analyzers to learn about the successful use of portable XRF analyzers in gold exploration.
To learn about another potential gold "pathfinder," read Trees, Termites, and …Gold?