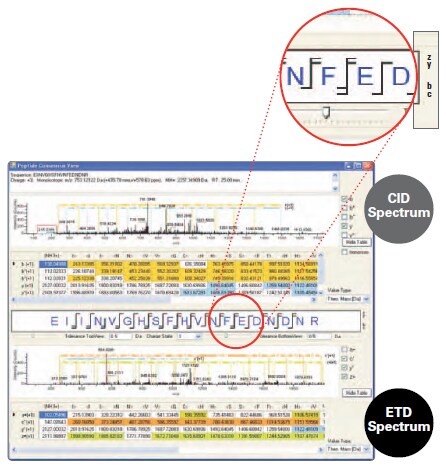 Spectrum libraries are an invaluable starting point for developing targeted assays. They provide information about fragmentation patterns and retention times, particularly in the case of parallel or selected reaction monitoring in tandem mass spectrometry (MS). Although the use of synthetic peptide standards can greatly improve accuracy when predicting retention time in new experiments, any samples that do not include the peptide standards cannot be used.
Frewen et al. have a novel method for selecting peptides endogenous to a sample to act as standards.1 In doing so, the scientists demonstrate their use for predicting retention times of other peptides, including those with chemical modifications, which indicate portability to both unmodified and post-translationally modified peptides.
The researchers performed activity-based protein profiling (ABPP) on a selection of human lung cancer cells and five pairs of tumor plus adjacent control human tissue samples. They used Pierce™ ActivX™ (Thermo Scientific) desthiobiotin ATP probes to label the ATPase active sites. The probes use a desthiobiotin tag that facilitates selective labeling of lysines in the kinase active site.
The investigators used a 4-hour gradient on ultra-performance liquid chromatography (LC) to validate their experiments, along with an LTQ Orbitrap hybrid ion trap-Orbitrap mass spectrometer (Thermo Scientific) to obtain spectral data using data-independent acquisition (DIA). They then identified peptides using Proteome Discoverer software (Thermo Scientific) and built a spectrum library using the Crystal node for Proteome Discoverer software (version 1.4). The Crystal library computes a relative retention time for each peptide stored in the library as a distance between the two nearest landmark peptides; they used these to estimate the retention times on a new gradient. After measuring the retention time of the landmarks on the new gradient, the relative retention times can then be projected onto the new gradient, and the average time is the estimate. Frewen et al. estimated the times of 1,750 peptides. They compared their estimates based on peptide hydrophobicity and measured accuracy of the estimate as the difference between the estimated and observed times.
The library contained 220,542 spectra from 250 LC-MS runs, including 9,109 peptide sequences (12,063 total with modified forms).
In order to identify appropriate endogenous peptides, the research team began with the 50 most commonly seen peptides. Using an in-house automated process that both covered the entire elution profile and consistently eluted in the same order relative to each other, the team recorded the relative order of the 50 peptides in 250 runs. Using a greedy algorithm, they identified 17 that eluted in a consistent order.
Frewen et al. found the library predictions to be much closer than the hydrophobicity predictions to the observed retention times, with most falling within ±10 minutes of the observed time. They showed that endogenous peptides can successfully act as retention time landmarks and accurately estimate retention times in new gradients.
The researchers' algorithm successfully identified endogenous peptides with consistent elution behavior to act as standards, and they were able to accurately predict the retention time of any library peptide by estimating it relative to the standard peptides. The advantage of such a method is that comparisons can more easily be made across datasets with accurate mass and retention time measurements.
Reference
1. Frewen, B., et al. (2014) "Spectrum Library Retention Time Prediction Based on Endogenous Peptide Standards," PowerPoint presentation.
Post Author: Miriam Pollak. Miriam specialised in neuroscience as an undergraduate but traded in lab work for a post graduate degree in science communication.
She has since had a career that has spanned science communication, science education and communications management.
However, Miriam has found her bliss balancing her love of writing and disseminating medical research with managing a multimillion dollar research budget for a childhood cancer charity in Australia.