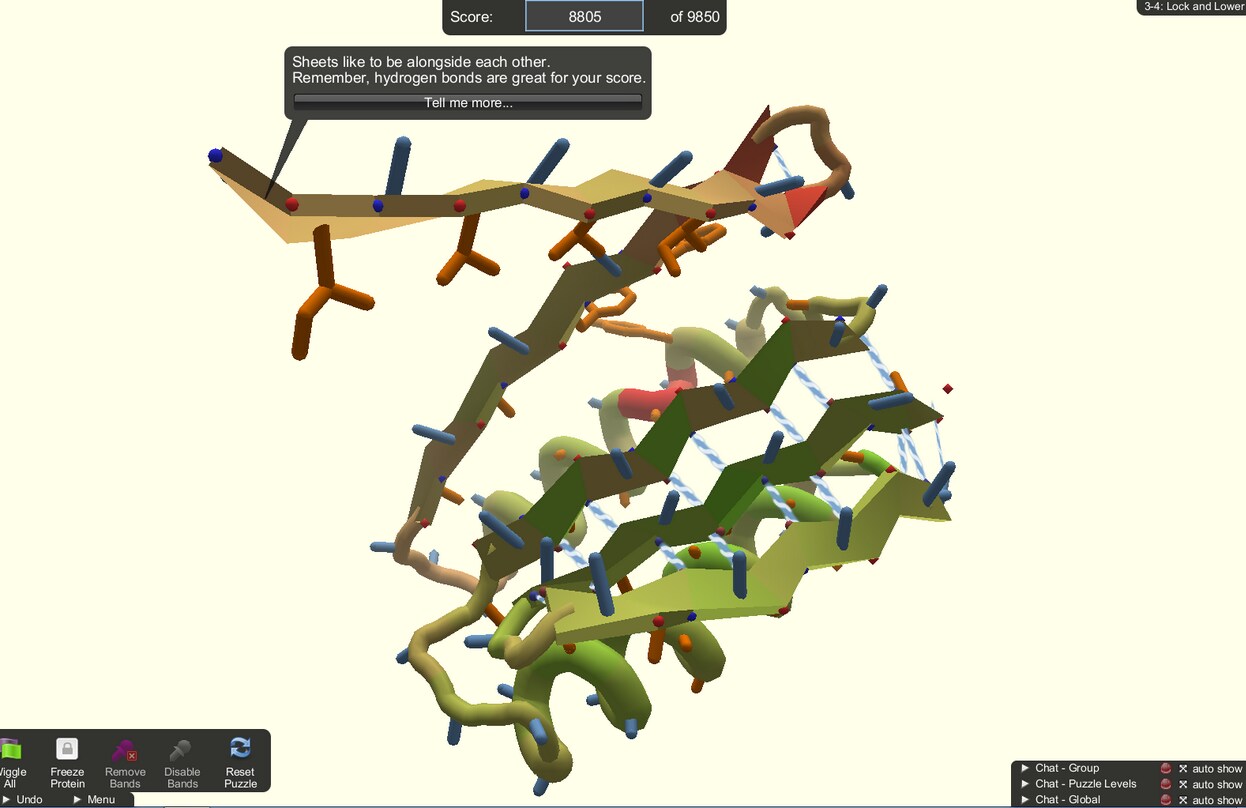 It turns out that computers are not that good at solving visual puzzles. That's okay, because apparently we humans can help.
In 2008 researchers at the University of Washington decided to try humans at the game of folding proteins—a highly complex task that takes computers a long time and ultimately produces poor answers. To make things interesting and attract a large number of participants, the researchers created a game called Foldit. Foldit challenges players of varying levels to predict an existing protein structure or to design a new protein structure. Players can align in teams playing in tournaments, or they can play on their own or in groups. The game offers different folding puzzles for players to attempt. Foldit is really just like any online game where spatial orientation and pattern recognition are the two big skills that make players successful.
"We're collecting data to find out if our pattern-recognition and puzzle-solving abilities make us more efficient than existing computer programs," said Foldit game designer Adrien Treuille. "If this turns out to be true, we can then teach those strategies to computers and get them to fold proteins faster and more accurately than ever. People's obsession with games makes us collectively a very powerful force."
Protein Structural Prediction
The computer scientists who created Foldit are trying to teach computers how those proteins fold and in what sequence to make the folds. Identifying the optimal structure from a host of possibilities is widely regarded as one of the most difficult tasks in biology today, and current methods require a great deal of money and time—even for computers. Foldit takes advantage of people's puzzle-solving intuitions and competitive natures to discover the best protein structures.
The idea is to take folding strategies from human players and automate them to make protein-prediction software more effective. One of the first successes from Foldit's unique "brainsourcing" technique came in 2011 with the discovery of the structure of a protein that helps HIV reproduce—the solution emerging in only three weeks. On November 12, 2014 Foldit's home page advertised a new puzzle to resolve the structure of vascular endothelial growth factor (VEGF). VEGF triggers new blood vessel growth and is often hijacked by cancer to promote tumor growth.
Protein Design
A small protein may consist of 100 amino acids, while some human proteins can be huge—comprising over 1,000 amino acids. The number of different ways even a small protein can fold is enormous due to so many possible combinations. Knowing the structure of a protein is key to understanding how it works and to drug targeting. New protein-based compounds—like many new potential drugs—require design help, and this is Foldit's second goal: to design new protein-folding sequences. Protein design is a relatively new field, compared to protein prediction. Not many automated approaches to protein design exist, so Foldit's human folders have less competition from the machines. Players are, in essence, designing new proteins that could help prevent or treat important diseases such as cancer, HIV and Alzheimer's, to name only three.
Anyone Can Play
The beauty and the power of the Foldit premise is that anyone can play. Although some players are protein researchers and people from related fields, many players know nothing formal about the science of proteomics. Suprisingly, many very good players are excellent at seeing the potential relationships among amino acids, understanding the "rules" and folding up a protein on that basis. In 2012 a ninth-grade student, Michael Tate, was one of the game's top players. Bankers, organic farmers, architects and scientists are all working together to solve some of the most difficult biological problems in the world, emerging from around the globe to compete and contribute.
Why not join them? Download the Foldit app and puzzles from www.fold.it.
Post Author: Heather Drugge. Heather has 20 years of experience writing about products and services for both the private and public sectors, including more than 15 years with high-tech and biotech companies. She specializes in science-based writing for B2B technology-based companies. test