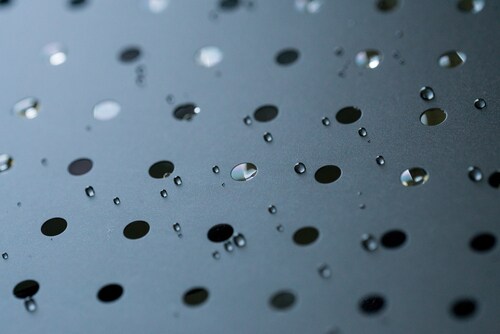 Cleaning up samples for top-down proteomics can be time-consuming and not easily automated. However, Kim et al. (2015) introduce an in-line matrix removal platform that effectively and rapidly removes sodium dodecyl sulfate (SDS) detergent from gel-eluted liquid fractions entrapment electrophoresis (GELFrEE) fractions prior to mass spectrometry analysis.1
Researchers use top-down proteomics to analyze intact proteins and characterize post-translational modifications and other structural features that might not survive trypsin digestion for bottom-up sample preparation. However, problems caused by the complexity of samples under investigation may offset these benefits. It is also difficult to establish workflows for high-throughput analysis. With this in mind, Kim and coauthors developed a cross-flow filtration method for removing detergents commonly used in prefractionation that interfere with electrospray ionization (ESI). Using this method, the researchers were able to complete sample cleanup in five minutes, running the filter so that it ran in-line with mass spectrometry, thus automating the process for high-throughput analyses.
The research team first created a cross-flow filtration device, using a semi-porous membrane sheet that allows only the detergent molecules to cross. The filtration device works on the principle of asymmetrical flow field-flow fractionation (AF4), a size-based separation technique that operates through laminar flow. By running the laminar flow parallel to the semi-permeable membrane, the team removed SDS from the proteins before proteomic analysis. Since a pump drives the technique, it is possible to couple filtration directly to the mass spectrometer.
Kim et al. tested the filtration device using commercial protein standards subjected to detergent processing. They coupled the device directly to the LTQ ion trap mass spectrometer (Thermo Scientific), using ESI to ionize the proteins. Then the team examined the spectral data, noting complete SDS removal with filtration. They also optimized the workflow, looking at filtration time and solvent use to maximize protein recovery and compatibility with ESI.
The researchers then tested the GELFrEE fractions, using myoglobin, carbonic anhydrase and ubiquitin as the protein standards to assess recovery and completeness of SDS removal prior to mass spectrometry. They found that compared to traditional cleanup methods, the in-line filtration technique gave better results, improving them between 2- and 10-fold. Finally, Kim et al. tested the new procedure with a complex biological matrix, analyzing histone-enriched fractions obtained from HeLa S3 cells. The researchers found that the filtration resulted in good isotopical resolution for all four core histone proteins.
In conclusion, Kim et al. are confident that the in-line filtration method using cross-flow filtration adequately removes matrix from GELFrEE fractions prior to mass spectrometry analysis, preventing interference with ESI. Moreover, the team also notes that the method helps to concentrate proteins diluted in the buffer.
Reference
1. Kim, H.K.m et al. (2015) "An on-line matrix removal platform for coupling gel-based separations to whole protein electrospray ionization mass spectrometry," Journal of Proteome Research, 14 (pp. 2,199–2,206).