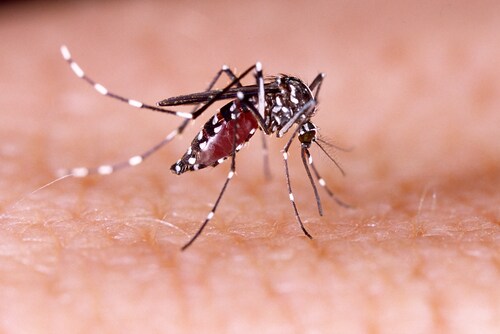 Mosquitoes, in particular Aedes aegypti and Aedes albopictus, transmit chikungunya virus (CHIKV). The virus causes joint pain, high fever and rash. While it is typically non-fatal. CHIKV is considered debilitating, with a number of epidemics occurring worldwide in Europe, Africa and Asia. Despite the illness typically resolving in three to four days, muscle and joint pain can persist for weeks, and researchers are unsure why. Seeking to learn more about the pathophysiology behind CHIKV, Dhanwani, R. et al (2014) used a mouse model of CHIKV to examine molecular changes in muscle tissue during infection.
The team prepared an Indian strain of CHIKVDRDE-06 and inoculated eight newborn mice. They included mice injected with C6/36 cell supernatant as controls. Next, the team observed the CHIKV progression in the mice. While the team notes that the majority of mice recover from CHIKV, for this investigation, they used mice at the peak of symptoms. After euthanizing these mice, they used four of the suckling mice from the CHIKV inoculated mice and four from the control group for a proteomic analysis. The team dissected the mouse tissues and used liquid nitrogen to freeze samples at -80℃.
From the remaining mice, the team collected mouse hind limbs, skin and spleen tissues. The team used this tissue to confirm CHIKV and extract viral DNA. They also compared the physical differences between infected and uninfected animals and noticed the CHIKV-infected muscles showed swelling, possibly due to overt inflammation of the tissue. They also saw atrophied hair follicles and lymphoid proliferation and hemorrhage located in the spleens.
The team described the most striking changes as the changes seen in the skeletal muscle. Under the microscope, dark pink staining indicated atrophied and necrotic muscle fibers with neutrophils and monocytoid cells among the muscle fibers.
Looking for proteomic changes, the team used two-dimensional electrophoresis (2-DE) to separate and identify proteins. Twenty-seven protein spots showed significant changes in mean intensity upon CHIKV infection in muscle tissue. Twenty-five spots showed upregulation of gene expressions, whereas two spots showed downregulation at the ratio of CHIK/mock ≥|1.8|, p,<.05). To further investigate proteins of interest, they performed an in-gel trypsin digest on the protein spots and used Matrix-assisted laser desorption/ionization time of flight (MALDI TOF) to identify differentially expressed proteins. For this experiment, the team used an Applied Biosystems 4800 MALDI-TOF-TOF Analyzer (Thermo Scientific).
The team found 31% of differentially expressed proteins fit in the following protein categories: 19% stress proteins, 13% iron metabolism, 6% energy metabolism, 6% lipid metabolism, 19% inflammation and blood factors, and 6% signal transduction proteins.
Dhanwani et al. recommend researchers continue to look for new protein changes involved with CHIKV. They also predict validating differentially expressed proteins in serum may reveal new insights into the detection and treatment of CHIKV.
Reference
Dhanwani, R., et al. (2014) "Characterization of chikungunya virus induced host response in a mouse model of viral myositis."PLoS One 9(3):e92813. doi: 10.1371/journal.pone.0092813. eCollection 2014.
Post Author: Emily Humphreys. Emily has previous research experience in eye development, infectious diseases, and aging. Emily has been a regular contributor to Accelerating Science since 2012.