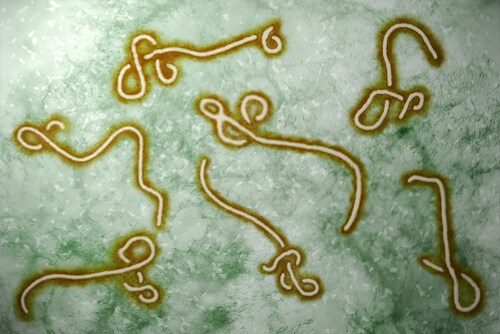 Filovirus hemorrhagic fever features a rapid onset, high level of infectiousness, and staggering mortality rates of up to 90%. Because no clinically licensed therapeutic treatments or vaccines exist at this point in time, filovirus outbreaks—including the Ebola and Marburg viruses—are a significant concern for both public health and biodefense. For these reasons, the need for reliable, sensitive diagnostics is acute.
Recently, Kamata et al., working out of the U.S. Army Medical Research Institute for Infectious Diseases, developed a protein microarray-based assay capable of detecting all members of the Filoviridae family: the Marburg virus (Marburg marburgvirus) and the Ebola viruses (Sudan ebolavirus, Zaire ebolavirus, Reston ebolavirus, Bundibugyo ebolavirus and Taï Forest ebolavirus).1
To compose the assay, the research team took full-length genes for nucleoprotein (NP), virion protein 40 (VP40) and the glycoprotein mucin-like domain fragment (GP-mucin) for each virus species and cloned these into a pENTR/TEV/D-TOPO vector (Life Technologies, a Thermo Fisher Scientific brand). Then they used LR Clonase II (Life Technologies) to shuttle entry vector clones into destination His-tagged expression vectors. The team expressed and spotted a total of 34 purified recombinant proteins before microarray processing.
The team used anti-His antibody and a panel of purified filovirus antibodies to validate the assay, confirming that the microarray performed as designed. They determined that all His-tagged proteins were successfully spotted. Most of the antibodies bound with their targets with a high degree of specificity (anti-Marburg-VP40, anti-Marburg-GP, anti-Sudan-VP40, anti-Sudan-GP, anti-Zaire-VP40, anti-Zaire-NP, and anti-Zaire-GP), while some displayed minor cross-reactivity.
The researchers also evaluated the assay using serum samples from rhesus macaques vaccinated with trivalent virus-like particles (VLPs) prior to challenge with Marburg marburgvirus (MARV) or Zaire ebolavirus (ZEBOV). They collected three samples from each primate: naive, post-immunization, and post-challenge. The team applied the serum samples to their microarray, detecting bound IgG using fluorescently labeled antibodies.
For both MARV and ZEBOV, the scientists report a significant increase in antibody response in immunized versus naive samples and an even greater increase in challenged samples. They reported cross-reactivity among Ebola NPs and VP40s, but highly specific GP responses. Secondary evaluation of Escherichia coli-expressed GP-mucins indicated similar antibody recognition, as compared to multi-domain GPs from eukaryotic cells, confirming the GP-mucin domain as a reliable serological marker. In addition to detecting IgG responses, they also reported measurement of relative levels of IgM antibodies. The team notes that the significant increase in ZEBOV- and MARV-specific IgG after challenge indicates that VLP vaccination did not confer sterilizing immunity.
Overall, Kamata et al. report their protein microarray assay to be highly sensitive while requiring minimal sample volume (1–2 microliters). Although the team evaluated only two filovirus strains in this study, they posit that their assay could assist clinicians in multiplexed analysis involving all strains. Furthermore, they indicate that, given the limited resources available in most outbreak settings, a low-cost, point-of-care assay could expedite diagnosis and allow for serological surveillance. Considering the aggressive and virulent nature of filovirus infection, an epidemiological surveillance system—including for outbreaks of both human and zoonotic infections—is imperative for adequate epidemic response.
Reference
1. Kamata, T., et al. (2014, September) "Determination of Specific Antibody Responses to the Six Species of Ebola and Marburg Viruses by Multiplexed Protein Microarrays," Clinical and Vaccine Immunology, doi: 10.1128/CVI.00484-14 [e-pub ahead of print].
Post Author: Melissa J. Mayer. Melissa is a freelance writer who specializes in science journalism. She possesses passion for and experience in the fields of proteomics, cellular/molecular biology, microbiology, biochemistry, and immunology. Melissa is also bilingual (Spanish) and holds a teaching certificate with a biology endorsement.