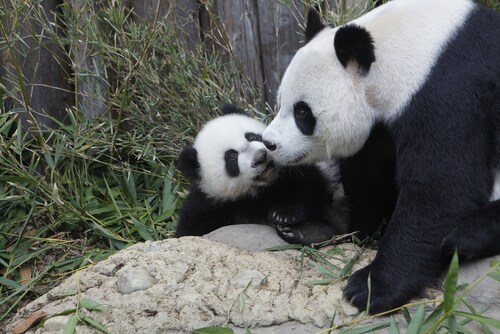 Griffiths et al. (2015) examined the giant panda (Ailuropoda melanoleuca) milk proteome during lactation, comparing it with two other bear species in addition to other mammals, including humans.1 The researchers were interested in the timing of the changeover from colostrum to mature milk in the panda, since it could reflect the relative immaturity of bear cubs in general at birth. The initial results show that the panda milk proteome appears to reflect the physiology of reproduction and infant care over time.
Griffiths et al. state that bear cubs are "the most altricial neonates of any placental mammal," in that the offspring are born in a relatively premature condition and are small compared to maternal body size. For comparison, marsupial offspring are extremely altricial, in that the period spent suckling is often referred to as extra-uterine gestation. Nutritionally, this underdevelopment translates into a higher dependence on the mother's milk supply for a longer period. It also suggests a longer period of dependence on the mother for immune function, a factor influenced by placental anatomy in species possessing this structure.
In mammals, a close connection between maternal and fetal circulations in the placenta (endotheliochorial) means that transfer of immune components can take place mostly in utero. However, some types of placental structure (epitheliochorial), where the connection between the two circulatory systems is not as close, prevent passage of immunoglobulins. Instead, this takes place immediately after birth across the gut wall, in the period before the epithelial barrier closes. Colostrum, or first milk, secreted from birth, thus changes over to mature milk after a short period, reflecting the maternal-neonatal relationship. It contains higher levels of proteins, which comprise mainly immunoglobulins and other immune components for gut transfer to the neonate. Proteomically, Griffiths et al. suggest that it should be possible to monitor this changeover in panda milk composition and follow the physiological relationship between mother and offspring.
The researchers obtained milk samples from the following animals and different stages of lactation.
Species used for the study
| | | |
| --- | --- | --- |
| Species | Stage of Lactation | Number |
| Giant panda (A. melanoleuca) | From 12 hours postpartum until 5 months | n = 6 |
| Bottlenose dolphin (Tursiops truncates) | 9 months postpartum | n = 1 |
| Indian elephant (Elephas maximus indicus) | 2 months postpartum | n = 1 |
| African bush elephant (Loxodonta Africana) | 15 months postpartum | n = 1 |
| Polar bear (Ursus maritimus) | 3–4 months postpartum (oxytocin stimulation) | n = 1 |
| Grizzly bear (Ursus arctos horribilis) | 3–4 months postpartum (oxytocin stimulation) | n = 1 |
| Human | Mid-lactation | n = 1 |
| Cow (Bos taurus) | Pooled commercial | – |
| Dog (Canis familiaris) | 4 weeks postpartum | n = 1 |
Following collection, they stored samples frozen at -20°C (-80°C under liquid nitrogen for the panda samples) until processing. First, the researchers centrifuged the milk aliquots at 4°C to separate the intermediate aqueous phase from fat and sedimentary pellets. They used 1-dimensional (4–12% gradient, reducing and non-reducing conditions: Invitrogen NuPAGE, Thermo Scientific) and 2-dimensional sodium dodecyl polyacrylamide gel electrophoresis (SDS-PAGE) to separate the proteins. After in-gel trypsin digestion, the researchers analyzed the peptides by liquid chromatography and mass spectrometry (LC-MS) using a nanoflow ultra-high performance LC system, RSLCnano (Thermo Scientific). The team also performed metabolomics analysis using an Exactive mass spectrometer with Xcalibur software revision 2.1.0 (both Thermo Scientific).
Comparing the profiles generated for each species, Griffiths et al. noted similar results for those related within clades. From the proteomic profile generated, they could see that the transition from colostrum to mature milk took around 30 days for giant pandas, with immunoglobulins (Ig) appearing in early lactation and casein levels rising slowly. The researchers noted that IgA predominated but, in contrast to other species, found that IgG was also abundant. From these results, they suggest that the epithelial barrier to immune transfer stays open for longer in giant panda cubs, though it is also possible that this species possesses an active IgG transporter similar to that found in rodents.
Compared to the milk of other species, panda milk contained lower levels of lactose and sialyllactose, with elevated fucosyllactose. The researchers also found that levels of the amino acid taurine persisted in the milk, unlike those observed in the cow or human samples. They propose that this could indicate that giant pandas are dependent on a dietary supply of taurine, as seen in obligate carnivores that cannot synthesize the amino acid, such as the domestic cat, unlike other mammals.
Griffiths et al. conclude that although the proteomic analysis of giant panda milk does indeed reflect the prolonged dependence shown by the cubs for maternal immunity, it does not show the extreme changes seen in marsupial milk from the lengthy extra-uterine development stage.
Reference
1. Griffiths, K., et al. (2015) "Prolonged transition time between colostrum and mature milk in a bear, the giant panda, Ailuropoda melanoleuca," Royal Society Open Science 2(150395), doi: 10.1098/rsos.150395