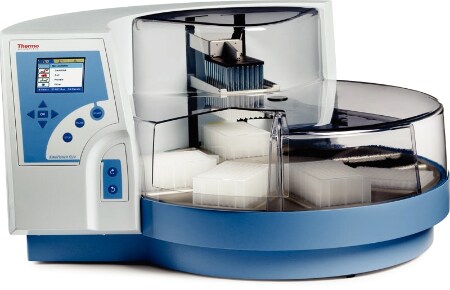 Disease-associated changes in protein phosphorylation status, along with their downstream effects on cell signaling, make phosphoproteome characterization essential for clinical studies. Altered regulation of key enzymes (phosphorylases and kinases) affects protein post-translational modification and therefore explains pathogenesis or gives rise to diagnostic and therapeutic biomarkers.
However, studying the phosphorylome is technically demanding because enrichment strategies are often required to boost phosphopeptide abundance. Moreover, clinical proteomics usually requires large numbers of sample materials and experimental replicates in order for the results to achieve statistical significance. This high-volume workload in conjunction with the limitations of manual processing has, until recently, hampered phosphoproteomic research.
Tape et al. (2014) recently developed a fully automated phosphopeptide enrichment workflow, making the information freely available online.1 Utilizing commercial reagents in conjunction with Thermo Scientific's KingFisher Flex Magnetic Particle Processor robot, the authors are confident that the new methodology provides a robust and reproducible platform for purifying phosphopeptides.
Moving away from traditional pre-fractionation processing steps, Tape and colleagues investigated phosphopeptide enrichment through capture by metal dioxides. They sought to automate as much of the phosphopeptide enrichment workflow as possible by optimizing the use of magnetic, hyper-porous TiO2 and Ti-IMAC microspheres. By utilizing the robotic handling and multi-station facility of the KingFisher Flex, they added bead treatments (together and singly) in conjunction with other steps in the sample processing workflow prior to proteomic analysis.
The researchers used cell lysates as their starting material, concentrating on human lines such as HEK293 (embryonic kidney cells). Once lysed, they digested the intact proteins using both lys-c and trypsin, then processed them through various preparatory and enrichment workflows using automated sample handling. Subsequent proteomic analysis took place via liquid chromatography–tandem mass spectrometry (LC-MS/MS) assay using either an LTQ Orbitrap Velos hybrid ion trap-Orbitrap mass spectrometer or a Q Exactive Plus hybrid quadrupole-Orbitrap mass spectrometer, coupled with a Dionex UltiMate 3000 LC system (all Thermo Scientific).
The research team's initial investigations concentrated on optimizing reagent use and developing workflows. The researchers tracked phosphopeptide retention, establishing parameters by measuring 32P-labeled lysates in a scintillation counter, in addition to evaluating transfer of methodology into the automated process.
Once fully satisfied, the team turned to optimizing the enrichment strategy prior to LC-MS/MS analysis. They found that although successive rounds of enrichment improved yields, phosphopeptide purity decreased commensurately. They also found, however, that combining TiO2 with Ti-IMAC enhanced purification and enrichment and that this combination worked well in the automated environment. Comparison with manual methods showed that the new workflow worked equally well, with savings in hands-on processing time and increased sample throughput.
In another step taken to evaluate their proposed workflow, the team quantified human synthetic peptide abundance using selected reaction monitoring via a TSQ Vantage triple quadrupole mass spectrometer (Thermo Scientific) to assess recovery of spiked analytes. The data obtained showed good recoveries and consistent results. Moreover, in examining assay statistics, Tape and co-authors found that they obtained highly consistent results for intra- and inter-plate variability, with data collected across five days of experimental runs.
In a final evaluation of the new automated workflow, the research team used a label-free proteomics approach to characterize the phosphoproteome of a pancreatic ductal adenocarcinoma cell line. The data confirmed the team's opinion that the automated workflow gave consistent and reproducible results. They are confident that combining the two enrichment strategies in conjunction with an automated workflow will enhance phosphoproteomic research by increasing sample throughput for data output.
Reference
1. Tape, C.J., et al. (2014, October) "Reproducible automated phosphopeptide enrichment using magnetic TiO2 and Ti-IMAC," Analytical Chemistry, 86 (pp.10296−302), doi: 10.1021/ac5025842.
Note
Program files and workflows are accessible here: http://www.ebi.ac.uk/pride/archive/projects/PXD000892
Post Author: Amanda Maxwell. Mixed media artist; blogger and social media communicator; clinical scientist and writer.
A digital space explorer, engaging readers by translating complex theories and subjects creatively into everyday language.