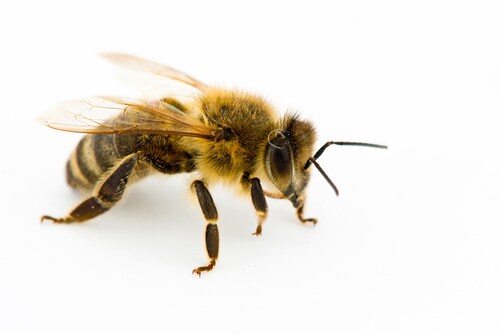 Honeybees are social insects. Their colonies are made up of three types of adult bees: a single queen, multiple female workers and multiple male drones. Each type is important to keep the group functioning. All bees begin as an embryo inside an egg. The workers and drones are derived from fertilized (diploid) and unfertilized (haploid) eggs, respectively, laid by queen bees. Fang et al. suggest honeybee embryogenesis may be ideal for developmental studies; however, the mechanisms regulating the embryogenesis of the drone and its differences compared with worker bees are still poorly understood. To better understand these mechanisms, Fang et al. used a proteomics workflow to analyze bee embryos at three time points throughout development.1
The researchers sampled honeybee (Apis mellifera ligustica) eggs from the Institute of Apicultural Research, Chinese Academy of Agricultural Science in Beijing at 24, 48 and 72 hours of age. For each time point, the team collected 1,000 eggs from five colonies and stored eggs at −80°C until further analysis.
Fang and colleagues extracted proteins, digested them with trypsin and analyzed them using mass spectrometry. They performed liquid chromatography and tandem mass spectrometry (LC−MS/MS) using an EASYnLC 1000 system coupled to an Orbitrap Elite mass spectrometer (both from Thermo Scientific) via a nanoelectrospray ion source. They also used Xcalibur software (Version 2.2) for scan control.
The team identified 1,560, 2,055 and 1,819 proteins at the ages of 24, 48 and 72 hours, making this the largest proteomic study ever conducted in honeybee embryos. These results represented 2,840 nonredundant proteins. Using gene ontology studies, they discovered proteins were most commonly associated with transcription (14.9%), followed by transporters (13.1%), folding/degradation (9.5%), carbohydrate metabolism/energy (9.2%) and translation (8.5%). Noticeably, 942 proteins (33% of 2,840) were shared across the three differently aged embryos.
Diving deeper, Fang et al. found five biological pathways significantly enriched in all three ages of embryos: ribosome, proteasome, citrate cycle, carbon metabolism and amino acid biosynthesis. A review of earlier studies helped the team determine mechanistic differences between worker and drone bees. In the young embryo (<24 hours), proteins are primarily responsible for providing metabolic energy for organogenesis. In the middle to late stage (48−72 hours) rudimentary organs are forming, as is the basic embryo configuration. After this point, drones and workers begin to diverge. Drone morphogenesis happens earlier than morphogenesis in workers. Proteins and pathways activated during this time include transcriptional and translational machinery to support the needed protein materials for the organogenesis as well as distinct antioxidant mechanisms to remove free radicals. Other differences include more strongly expressed cytoskeletal proteins in the embryos for good organization of shape, movement, and the contents of the cell in the much larger drone bees.
Fang and colleagues maintain that this data can help expand understanding of embryonic development in bees and across species, using the honeybee as a model organism.
Reference
1. Fang, Y et al. (2015) "Proteome analysis unravels mechanism underling the embryogenesis of the honeybee drone and its divergence with the worker (Apis mellifera ligustica)," Journal of Proteome Research, 14(9) (pp. 4059-71), doi: 10.1021/acs.jproteome.5b00625.