New instruments are great, but they don't mean much if you don't know how to use them, or how to properly analyze the data they produce. So what do you do when given a project utilizing a technique you've never performed before? Or you need to use an instrument that none of your lab mates has really ever worked with?
Well, there are always training classes to try, but funds and approval for such expenses can be difficult to obtain. But, have you heard about our classes called LabCoat Live? It's an interactive, virtual training program, and the cost (only $300!!) will definitely appeal to your lab manager. But how does this work? How can you learn to do these qPCR experiments without someone coming to teach you?
Everyone has online courses now, but this program takes that concept a couple steps further.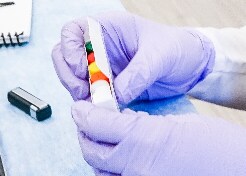 Once you sign up for a class date, you are shipped a set of defined reagents to perform an example experiment. How cool! Everything you need is provided in a nice little box and ready to go. A lab course instruction page provides instrument templates and an experimental protocol as well. The class, on a Monday, includes a live 1-hr online instruction with a Thermo Fisher Scientific scientist who leads you through the theory on your selected topic (current options include Absolute Quantitation, or Gene Expression using ∆∆Ct).
After the class, you have the next 3 days to run the experiment, using the provided reagents, on your own time. On Friday, you meet again for another 1-hr live online session, to review the data together and see how you did. The instructor is also available to help and answer any questions, via the online class discussion board, that may come up as you work your way through things.
Could it really be that simple? I decided to audit the class myself. And how did it go? Well, check out my standard curve! It was my first qPCR experiment (after working with just protein biochemistry techniques for 5 years) and it turned out beautifully! Spot On. So pretty, I had to post and share here.
You may dread starting a new project using a new technique, but this course can really help you learn the technique and data analysis. Who knows, you may end up teaching other members of your lab how to use the instrument, and get so much more out of it!
Learn more about the current courses and check out dates that work for you at www.thermofisher.com/labcoatlive
For Research Use Only. Not for use in diagnostic procedures.