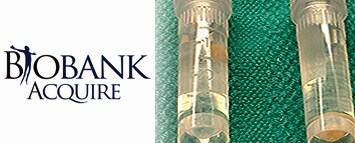 Biobank data management needs are becoming more complex as biosample collections grow to meet research demands. In the field of personalized medicine, for example, researchers require access to increasing numbers of samples to characterize the individual traits and population dynamics that could improve treatment options. As a solution for this growing problem, Dowst et al. (2015) describe the development and implementation of Acquire, a tailor-made program for biobank data management.1
Acquire was developed to help manage state and local repositories for national biobanks and was designed through consultation with end users from more than three state biobanks. The application provides data management for all stages of a biospecimen's lifecycle where information is gathered. These stages include biospecimen acquisition and donor information, quality control and quality assessment tests (QC/QA), research access requests, and sample tracking functions.
Acquire is a modular Java Enterprise Edition 6 web-based application that is built around two types of databases: Oracle 11g, which handles most of the data acquired with each sample, and MongoDB storage for data related to imaging. Acquire uses existing an software program, caTissueSuite 1.2, as its biobank inventory module built into the framework, with all other modules custom built from scratch by the authors. End users see the data output as web pages, which display information on the samples according to interrogation and queries.
Another feature, developed in consultation with and according to the needs of biobanks, is security. Acquire is designed to operate with a secure HTTPS connection and under secure socket layer (SSL) encryption. Furthermore, user management features allow for individualized login and permission settings that can be varied according to levels of access required by research and support staff.
As a web-based application, Acquire is optimized for popular browsers such as Firefox 32+, Chrome 37+, Safari 7+ and Internet Explorer 11+. Dowst et al. suggest that although the software is designed to fit within restricted operating budgets, a basic information technology (IT) support team should be on hand to maintain operations. This should include someone familiar with database management and provision to perform regular (daily, weekly) backups, preferably off site in a secure location.
Dowst et al. report that Acquire has been well accepted, outperforming commercial applications in terms of features offered. A notable benefit of the program is the QC/QA tracking that is strongly associated with each biospecimen. In one case, researchers were able to use Acquire to identify poor-quality biosamples that gave poor-quality data in experiments. By examining biospecimen lifecycle data held in Acquire, the researchers discovered that the problem had arisen during sample collection. This led to changing the collection protocol to maintain sample integrity in storage.
In conclusion, the researchers consider that Acquire functions well as a web-based open-source database and is adaptable to a wide range of biobanking-specific needs and workflows.
Acquire is available for download:
Reference
1. Dowst, H. et al. (2015) "Acquire: An open-source comprehensive cancer biobanking system," Bioinformatics, 31(10) (pp.1655–62), doi: 10.1093/bioinformatics/btv012.