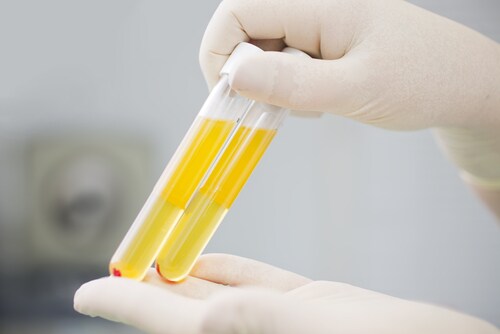 Combining the banking of leftover blood specimens collected for routine care with de-identified electronic medical records (EMRs) has enabled the BioVU DNA biobank of Vanderbilt University Medical Center to be a key player in the development of personalized medicine. BioVU employs an opt-out approach with no phenotypic exclusions, allowing the collection of 1,200 to 2,400 unique adult DNA samples and 160 to 320 unique pediatric DNA samples every month. Each of these samples links to longitudinal medical records in the de-identified EMR database.
DNA is not the only bankable component, however. Blood plasma, which is removed during routine DNA extraction from whole blood, also carries potential for proteomic biomarker discovery. For this reason, BioVU researchers investigated the possibility of expanding their collection procedures to include plasma banking to maximize leftover specimens and take advantage of the opportunities afforded by plasma-based research. Bowton et al. reported their findings in a recent article.1
After receiving input from researchers with interest in plasma samples, the team selected three projects as pilots for plasma banking and simulated these studies from start to finish. The team ultimately identified two major factors that researchers need to consider when adding plasma banking to the existing biobank: cost and utility.
When it comes to cost, the opt-out approach BioVU employs for DNA banking would be untenable for plasma banking. Instead, the researchers narrowed collection by project and phenotype to limit processing costs associated with samples that would not be readily used. The team noted that the characteristics of plasma (not static like germline DNA) could translate to a significant increase in accrual rate when compared with DNA samples (11,000/month versus 1,500/month, respectively), necessitating a ~10-fold increase in biobank resources allocated for processing (equipment, personnel, etc.). Intentional banking and collection limits (one sample per donor per day) can mitigate this issue.
The most pressing factor in terms of clinical utility is ensuring high-quality proteins in plasma samples. Bowton et al. note that because the BioVU plasma samples are ancillary components of preexisting draws, they are subject to delayed processing with storage at suboptimal 4°C for 3–5 days before preservation at −80°C in Matrix 2D bar-coded tubes (Thermo Scientific) for traceability. This may somewhat affect research utility, since some analytes destabilize under these conditions. The team asserts that researchers seeking banked plasma samples should consider the target analytes and propose research methods to determine suitability, incorporating relevant validation protocols in their work.
The researchers suggest that once fully integrated with the EMR database, plasma specimens could offer scientists access to proteomic changes over time with corollary health outcomes. This could be a valuable resource for monitoring disease progression and response to treatment as an aspect of personalized medicine. When it comes to research aims, the availability of plasma samples at BioVU would accommodate multiple fields, including genomics, metabolomics, bioinformatics, proteomics and epigenetics.
Reference

1. Bowton, E. A., et al. (2015) "Phenotype-driven plasma biobanking strategies and methods," Journal of Personalized Medicine, 5(2) (pp. 140–152), doi:10.3390/jpm5020140.