Digital transformation is expected to revolutionize pharmaceutical manufacturing, with the adoption of advanced manufacturing technologies that include advanced data analytics and smart/intelligent automation. These technologies, when paired with good process design and continuous improvement, enhance the observability and controllability of manufacturing and business processes, resulting in consistent quality and more efficient, agile, and cost-effective supply chains.
This digital pharma landscape, known as Pharma 4.0™, is expected to accelerate innovation within the industry, creating new opportunities for the development of novel therapies. Here, we look at the role laboratory information management systems (LIMS) will play in realizing the strategic benefits offered by a Pharma 4.0 operating model.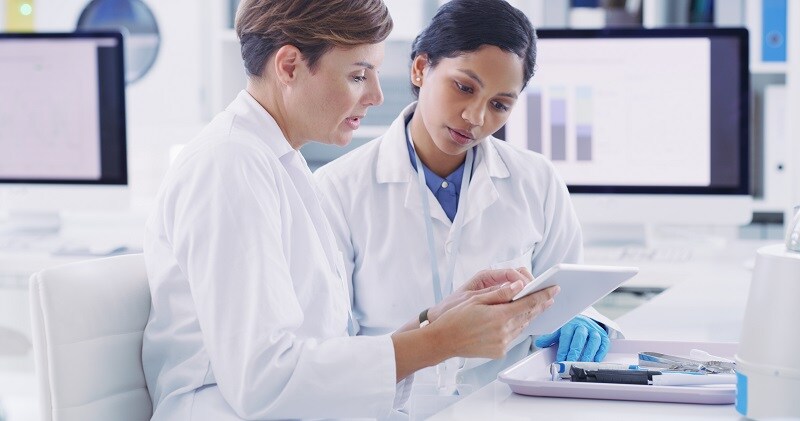 Pharma 4.0: The future of pharmaceutical manufacturing
Next-generation manufacturing technologies bring a wealth of opportunities for pharmaceutical companies to address unmet healthcare needs. From 3D-printing and additive manufacturing to cell therapies, the future manufacturing segment will be built on high-tech production systems that enable the commercial production of ever more sophisticated therapies.
Ongoing advances in process control and automation are helping to catalyze this change, assuring the quality and safety of these complex medicinal products, which are often highly sensitive to variations in manufacturing conditions. Thanks to innovative sensor technologies, data analytics and modeling, manufacturers can monitor and control an extensive range of process variables and product characteristics during production.
Pharmaceutical manufacturing chains are also becoming more efficient as advanced technologies drive the opportunity of process intensification. Innovations such as reagent recirculation and recycling, the integration of multi-step workflows into single unit systems, and the shift from batch to continuous production are resulting in high-yielding processes with smaller footprints, increased efficiencies, and lower operating costs. Other solutions, such as modular manufacturing systems that can be reconfigured according to changing needs, provide an opportunity for the pharmaceutical industry to maximize operational agility, allowing facilities to manufacture a broader range of products or scale production at speed in response to dynamic market demand.
Digitalization will play a central role in realizing this vision of Pharma 4.0, connecting the different segments of the value chain to provide businesses with comprehensive observability and control over complex product portfolios and their distribution. The impact of digitalization will be transformative, enabling faster decision-making, greater responsiveness to supply chain disruption, and quality and efficiency at every stage of production. With high-quality data at the heart of this future operating model, digital maturity and data integrity, underpinned by a strong informatics infrastructure, will be essential.
Advanced informatics infrastructure: Supporting real-time decision-making across the pharmaceutical value chain
Informatics solutions such as LIMS have long been important for bringing people, processes, and technologies together to support seamless data-sharing across pharmaceutical production and distribution chains. However, as manufacturers invest in more efficient and flexible Pharma 4.0 systems, maintaining an effective informatics infrastructure will prove fundamental for success.
Connected equipment, multipurpose sensors, and monitoring technologies are enabling the collection of data on an unprecedented scale. Integrated informatics solutions bring this data together in a meaningful, organized way, simplifying retrieval and allowing operations to be managed as a single system rather than a series of separate processes. Informatics solutions also enhance and maintain the integrity of data by eliminating manual transcription and making this information securely accessible to authorized users.
Taking this holistic approach provides pharmaceutical manufacturers with more comprehensive oversight over processes, allowing them to respond to supply chain disruption or quality control issues more quickly. For example, some modern LIMS platforms can track and trend instrument performance data to identify subtle changes indicative of performance issues. By automatically alerting key users and triggering timely maintenance when issues are detected, these powerful systems can minimize unplanned downtime, keeping production lines running more efficiently.
Deploying a strong informatics infrastructure also means manufacturers can utilize ongoing advances in artificial intelligence/machine learning for process condition monitoring and predictive analytics. These systems allow manufacturers to connect seemingly unrelated data, including information on warehouse storage conditions and instrument parameters, to troubleshoot problems, optimize processes, and boost productivity. The more relevant data that can be used, the better informed the model. Naturally, to generate the most meaningful results, the application of high-quality data is essential. Advanced informatics solutions help to maintain the integrity of data by automating processes and eliminating manual data input and transfer, ensuring decisions are based on the most accurate information.
Integrated informatics: Easing the path to Pharma 4.0
With digital technologies advancing at such a rapid pace, one of the biggest challenges pharmaceutical companies face is ensuring IT infrastructure investment not only meets current business requirements, but will meet the needs of tomorrow too. Investing in informatics solutions that struggle to support emerging digital technologies may mean that manufacturers are less able to realize the full benefits of this transformation – and risk falling behind the competition.
Informatics solutions built with integration and connectivity in mind provide a scalable option for managing production line data. Thermo Scientific™ SampleManager LIMS™, for example, offers integrated LIMS, laboratory execution system (LES), electronic laboratory notebook (ELN), and scientific data management system (SDMS) capabilities, as well as cloud-connectivity. As data is easily transferable and can be securely hosted in the cloud, it is unrestricted by physical IT infrastructure, allowing manufacturers to expand capabilities and extend capacity as their requirements change.
By opting for informatics solutions with inherent flexibility and scalability, businesses can harness the immediate benefits of faster decision-making, improved data integrity, and greater efficiency, while laying the foundation for future growth in automation, digitalization, and exponential technologies.
Look out for the next blog in our Pharma 4.0 series, which highlights the simple strategies pharmaceutical companies can adopt to prepare for Pharma 4.0.