Is your lab looking for easily configured dashboards to monitor key performance indicators (KPIs) for faster, more informed decisions? Are your analysts looking for an easy way to store and retrieve unstructured data and molecular structures with sample data? Does your contract testing lab need help managing customers, work, pricing and invoicing? Thermo Scientific™ SampleManager LIMS™ software version 12.3, the newest release of Thermo Fisher Scientific's flagship LIMS solution, delivers more rich functionality for its global users. This latest version adds an electronic lab notebook (ELN), enhanced features for contract testing laboratories and improved control for dashboard creation. SampleManager LIMS software can be deployed on premises, or on a customer managed or fully managed cloud, hosted by Amazon Web Services (AWS).
Version 12.3 of SampleManager LIMS software provides the following benefits:
Analysts can store and easily find supplementary information such as unstructured data and molecular structures against entities in SampleManager LIMS software.
Contract labs can easily manage customers, work, pricing and invoicing, and provide their clients with a secure portal to access requests and results.
Super users can easily configure dashboards to provide user or role views of KPIs or other information to enable faster, more informed decisions.
"Building on more than 30 years of laboratory informatics knowledge and technology expertise, SampleManager LIMS software continues to provide rich functionality and put control in the hands of users to drive efficiencies, connect data and deliver actionable information," said Dr. Cheryl Moody Bartel, head of product management for digital science, Thermo Fisher Scientific. "The new version of the software introduces further capability and usability enhancements to enable manufacturing QA/QC and contract laboratories to improve management of their laboratory operations and drive further insights from their data."
Introducing Electronic Lab Notebook
The ELN adds to the already rich capabilities of the SampleManager LIMS software suite, integrating with the existing LIMS, lab execution system (LES) and scientific data management system (SDMS). The notebook supports the storage of unstructured data and molecular structures, enabling analysts to store and search for supplementary information against entities in SampleManager LIMS software. The ELN features:
Various page types including rich text, spreadsheet and PDF.
Templates to expedite new page creation.
Page links to samples, tests or instruments, collating relevant, related information.
The ability to define and embed molecular structures.
User or role cross-check page review and page lock for data security.
Logged edits to drive data integrity.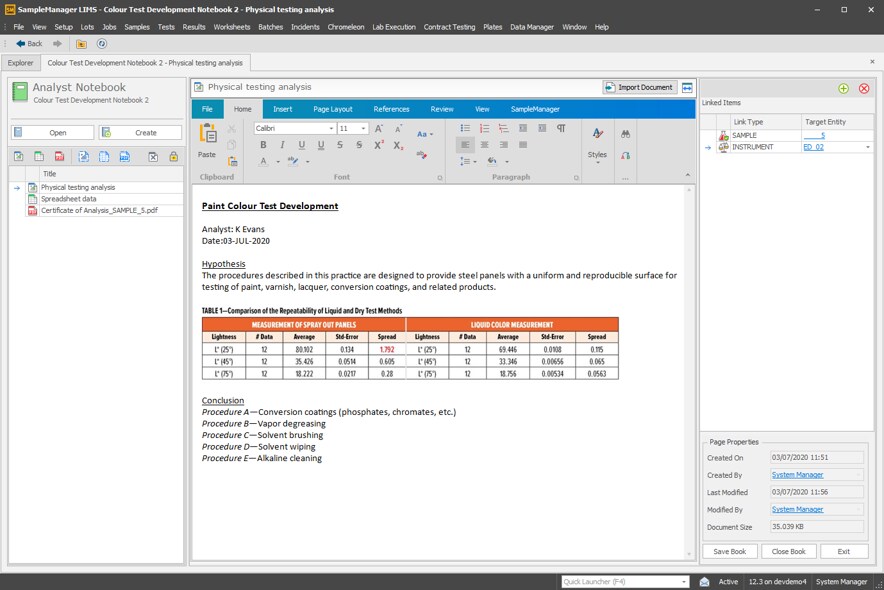 Complete Control of Contract Testing
Laboratories providing contract testing services or those that recharge work back to other areas of their business can take advantage of the comprehensive contract testing capabilities in SampleManager LIMS software:
Building Secure, Professional Customer Portals
Contract labs using SampleManager LIMS software can offer their clients a secure online portal to access their work and results, releasing their analysts from administrative tasks and improving customer experience. The portal enables contract lab clients to approve quotes, log in samples against statements of work, and access results. The configurable user interface allows customer re-branding, making it possible to change colors, add logos and create tailored navigation menus.
Designing Dashboards to Track KPIs
With the new dashboard designer, users can build and deploy simple dashboards in a drag and drop UI with no need for code. Scientists now have the option to configure dashboards themselves, putting more tailored data visualization in the hands of the user.
One of the most widely deployed LIMS in the world, SampleManager LIMS software delivers laboratory management, data management and process execution capabilities all in a single solution. The software integrates with instruments and equipment, such as Manufacturing Execution Systems (MES), Process Information Management Systems (PIMS), Enterprise Resource Planning (ERP) systems and Chromatography Data Systems (CDS), enabling a holistic view of operations for quicker decision making, better process control and improved productivity. Through configuration, SampleManager LIMS software can be tailored to suit the needs of an extensive range of business operations and laboratory workflows, from smaller individual deployments through to global multi-site implementations.
Click here to learn more about SampleManager LIMS software version 12.3, or visit our website for more information.