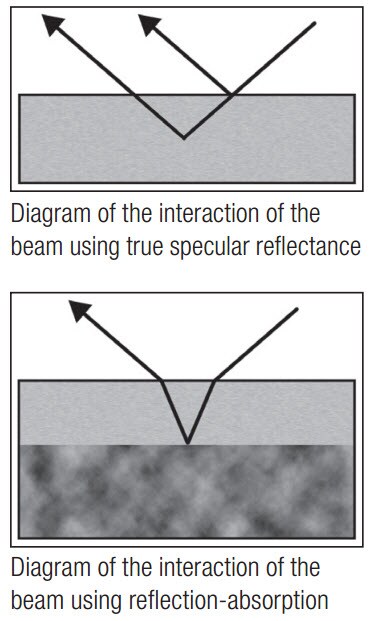 True Specular Reflectance/Reflection-Absorption is a surface measurement technique that works on the principle of reflective efficiencies. It is one of several different sample handling techniques used with Fourier Transform Infrared Spectroscopy (FT-IR).  Other methods are Transmission, Diffuse Reflectance, and Attenuated Total Reflection (ATR). FT-IR instruments  are effective tools for verifying polymer raw materials — as well as intermediates and finished products — for consistency, purity and concentration.
The True Specular Reflectance principle states that every sample has a refractive index that varies with the frequency of light to which it is exposed. Instead of examining the energy that passes through the sample, True Specular Reflectance measures the energy that is reflected off the surface of a sample, or its refractive index.
By examining the frequency bands in which the rate of change in the refractive index is high, users can make assumptions regarding the absorbency of the sample. The True Specular Reflectance technique provides excellent qualitative data, especially for thin polymer film on reflective substrates.  It's also adequate for thick polymer films and flat, smooth polymers.
Reflection-Absorption works on the same principle, but due to sample properties, some of the energy passes through the surface layer, is absorbed into the bulk of the sample, and then reflects off a substrate below the surface layer. A combination of True Specular Reflectance and Reflection-Absorption can occur when criteria for both techniques are met. If a qualitative comparison to transmission spectra is desired, users can apply the Kramers-Kronig correction to the data to remove the effects of dispersion.
Specular Reflectance has several advantages.  Because of its sensitivity to monolayer samples, it can detect Angstrom thick coatings on metal substrates; and as a nondestructive method, there is no contact or sample damage during analysis.
For more information about these different techniques, read the Introduction to FT-IR Sample Handling. It includes an index of sample types as well as a ratings chart for the various techniques that can be used with different samples.  To get some basics about Fourier Transform Infrared Spectroscopy, download the Introduction to FT-IR.