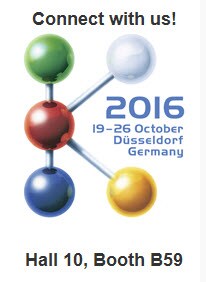 What part of the alphabet reminds you of the one of the biggest shows for plastics and rubber? The Letter K!
Known as the world's premier fair for the plastics and rubber industry, the K Show  promises its attendees "Everything from the latest state of the art and trailblazing innovations to development visions." With over 200,000 expected attendees and 3,200 exhibitors, K 2016 serves as a central forum for an exchange of information, ideas and opinions from across the globe.
According to show materials, there will be seven main areas of interest covered by talks, keynote speeches and panel discussions:
Plastics Industry 4.0
New materials
Lightweight Design
Marine litter
Youth and Education
Plastics meet Design
Resource efficiency
Experts from the worlds of science, business and politics will be reporting on and discussing the economic, social and environmental challenges and potential solutions. Each theme day will kick off with a talk by an acknowledged expert and comes to a close with a panel discussion.
The show is a great place to network and discuss the challenges faced in development, production, and quality analysis of polymers at any stage of the value chain. Whether you support research, QA/QC, product development or production, make sure you stop by our booth and speak to our experts; they may be able to help solve your everyday challenges.
We will be demonstrating technology that helps scientists and manufacturers cover the complete polymer and plastics lifecycle, simulating or accelerating production and improving efficiency, from incoming raw materials, product development, process control to quality assurance and failure analysis.
This is just a sample of the technologies that will be demonstrated on our booth (B59 in Hall 10). Stop by and become inspired.  If you can't make it to the show, we have outlined it all on our K Show page so you can get a glimpse of the technology and solutions that will be featured there.
If you are lucky enough to make the trip, Dusseldorf is one of Germany's foremost economic, transport and cultural centers. The Dusseldorf tourism page touts plenty of museums, theaters, music halls and opera houses, shopping, dining, parks and gardens, and even a castle. A popular attraction is the Rhine Tower, which stands almost 800 feet tall and has a restaurant over 500 feet up in the air, which revolves around its axis once per hour during certain times of the day. And in Altstadt (Old Town), you'll find narrow lanes and old churches, quaint breweries and ancient pubs, hip bars and clubs, good old French fries and exquisite food.
Hope to see you there, but whether you're at the show or not, let's Solve, together.
Show Details:
K 2016
Booth B59 in Hall 10
October 19-26, 2016
Dusseldorf, Germany
Follow the show on twitter using #K2016