Crystallinity in polymers and plastics
Plastics, a type of polymer, are used in almost every industry, from packaging and electronics to construction. Specific applications—like water bottle caps and cell phone covers—require different properties.
Properties are determined by the degree of crystallization and by the type of polymer. Polymers are composed of long molecular chains, which range from highly crystalline structures like a box of uncooked spaghetti to amorphous structures with highly entangled coils like cooked spaghetti in a strainer.
The crystallinity of a polymer defines its optical, mechanical, thermal, and chemical properties—all which are important for achieving desired qualities in various applications. For example, high crystalline polymers are rigid, have high melting points, and are less affected by solvent penetration, whereas amorphous polymers are softer and more pliable, don't melt as quickly when heated, and are more susceptible to solvent penetration.
X-ray diffraction methods in polymer science
As scientists analyze the suitability of plastics for their products, X-ray diffraction (XRD) has become the go-to tool for identifying the type and crystallinity of polymer materials. The Thermo Scientific ARL EQUINOX 100 Benchtop X-ray Diffractometer, in particular, provides expedited data collection times compared to other options—thanks to its unique, curved position sensitive (CPS) detector that measures all diffraction peaks simultaneously in real time.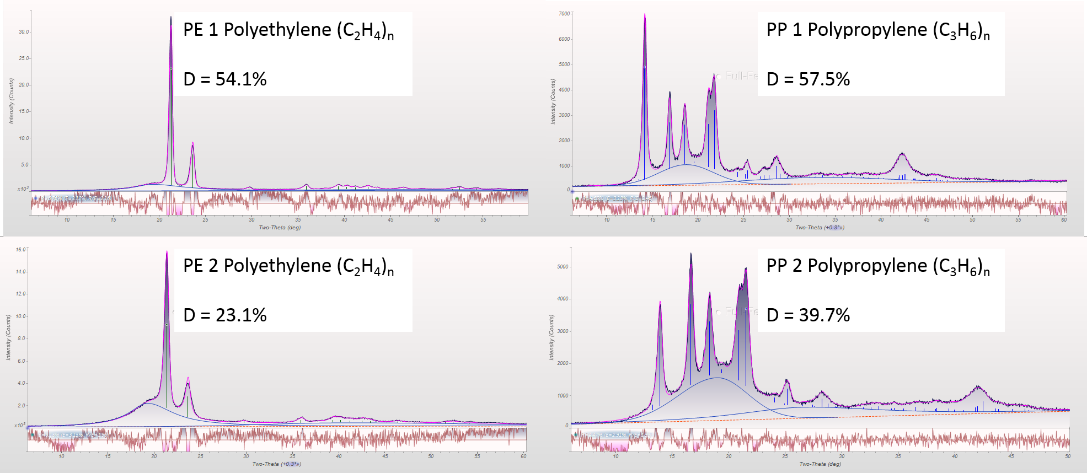 Using the ARL EQUINOX 100 X-ray Diffractometer, the degree of polymer crystallinity can be identified in minutes.
 With the ARL EQUINOX 100, researchers can determine the quality of polymer products—both in research labs and during the production process—in less than 10 minutes! The ARL EQUINOX 100 uses a high flux X-ray source with very low power consumption that doesn't require an external water chiller or other peripheral equipment, making it the most energy efficient XRD solution available.
The compact benchtop design offers high-quality data comparable to that obtained from a typical high-power, floor-standing instrument. Used together with MDI JADE 2010 software and the ICDD PDF4+ Organic database, researchers of all experience levels can quickly determine the type and crystallinity of polymer materials.
The ARL EQUINOX 100 offers today's busy industrial labs a fast and convenient way to analyze polymer compounds, helping them speed analyses and lower costs as they ensure the quality of polymer products.
To learn more about how the ARL EQUINOX 100 Benchtop X-ray Diffractometer can be used for polymer research, please see our Structural Analysis of Polymers webpage and download the Polymer Material Analysis poster.
 Dr. Simon Welzmiller is a Global Application Specialist XRD at Thermo Fisher Scientific.
 ///
Subscribe now to receive Advancing Materials updates straight to your inbox.
Connect with an expert: https://www.thermofisher.com/us/en/home/global/forms/industrial/spectroscopy-materials-analysis-inquiries.html