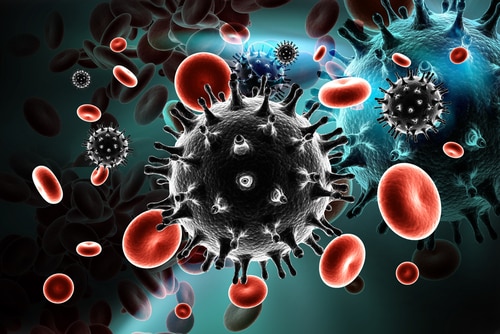 During HIV infection, the HIV-1 genome is reverse-transcribed into human chromatin within CD4+ T cells. In recent years, the development of anti-retroviral drug therapy has been proven to bring HIV-1 levels below the detectable threshold. As Britton et al. recently explained, anti-retroviral drugs do not eliminate HIV altogether, because the HIV-1 provirus remains protected within the human chromatin.1 This factor prompted the research team to call for novel drug therapeutics to clear the virus during active infection.
The team investigated the epigenetic changes in histone post-translational modification (PTM) and host transcriptional activity during HIV infection. To do this, they extracted both histones and mRNA from UV-inactivated HIV-infected and mock-infected SUP-T1 cells. They also studied the expression of chromatin-associated enzymes, such as histone deacetylases, acetyltransferases, demethylases, methyltransferases, and histone chaperone proteins.
At 4 and 20 hours post-infection, the authors harvested, washed and performed flash freezing upon the cells at -80°. They extracted histone proteins using H2SO4 and purified them before digesting them in trypsin, preparing the proteins for mass spectrometry (MS) analysis.
The researchers used nano-liquid chromatography and tandem MS (MS/MS) to analyze the alterations to histone PTM profiles. To do this, they employed an Agilent HPLC system and an LTQ Orbitrap XL hybrid ion trap-Orbitrap mass spectrometer (Thermo Scientific). After accumulating approximately 500,000 ions, the team acquired MS spectra in full-scan modes, between 200 and 1,500 m/z at 30,000 resolution. They collected 5 to 7 data-dependent MS/MS spectra in the ion trap (collision-induced dissociation energy 40%) after accumulation of approximately 10,000 ions. They used Qual Browser software (Thermo Scientific) to calculate the peak abundance for each modified peptide based upon the manual chromatographic peak integration of full MS scans.
The team observed major changes in histone PTM abundances and linked them to massive fluctuations in the mRNA expression of associated chromatin enzymes. They observed a nine-fold increase in the relative abundance of the histone H3 lysine 4 dimethyl (H3K4me2) peptide at 20 hpi, when normalized to mock-infected cells (no virus). They also measured a significant decrease in KDM1A, a K4- and K9-specific demethylase, at 20–32 hpi. In contrast, several H3 9–17 peptides that included K9acK14un, K9acK14ac, K27acK36un and K27me2K36me2 decreased significantly early in infection. Other candidate enzymes, including KDM4B (a K9me3 demethylase) and SUV39H1 (a K9me3 methyltransferase) showed substantial increases and decreases, respectively.
Interestingly, there was little difference between HIV and UV-inactivated (HIVUV) infection. The researchers believe the initial histone PTM changes during HIV infection stem from the host in response to the infection and are not due to HIV's manipulation of the transcriptional machinery.
In closing, these preliminary experiments may act as a starting place for others interested in histone PTM-regulated aspects of HIV progression through replication. To aid in any future work, the authors have deposited the MS data for these experiments to the Chorus public MS cloud application.
Reference
1. Britton, L.-M. P., et al. (2014, October) "A proteomic glimpse into the initial global epigenetic changes during HIV infection," Proteomics, 14 (pp. 2226–30), doi: 10.1002/pmic.201400116.
Post Author: Emily Humphreys. Emily has previous research experience in eye development, infectious diseases, and aging. While she enjoyed the thrill of research, She has since traded bench work for science journalism. Emily has been a regular contributor to Accelerating Science since 2012.