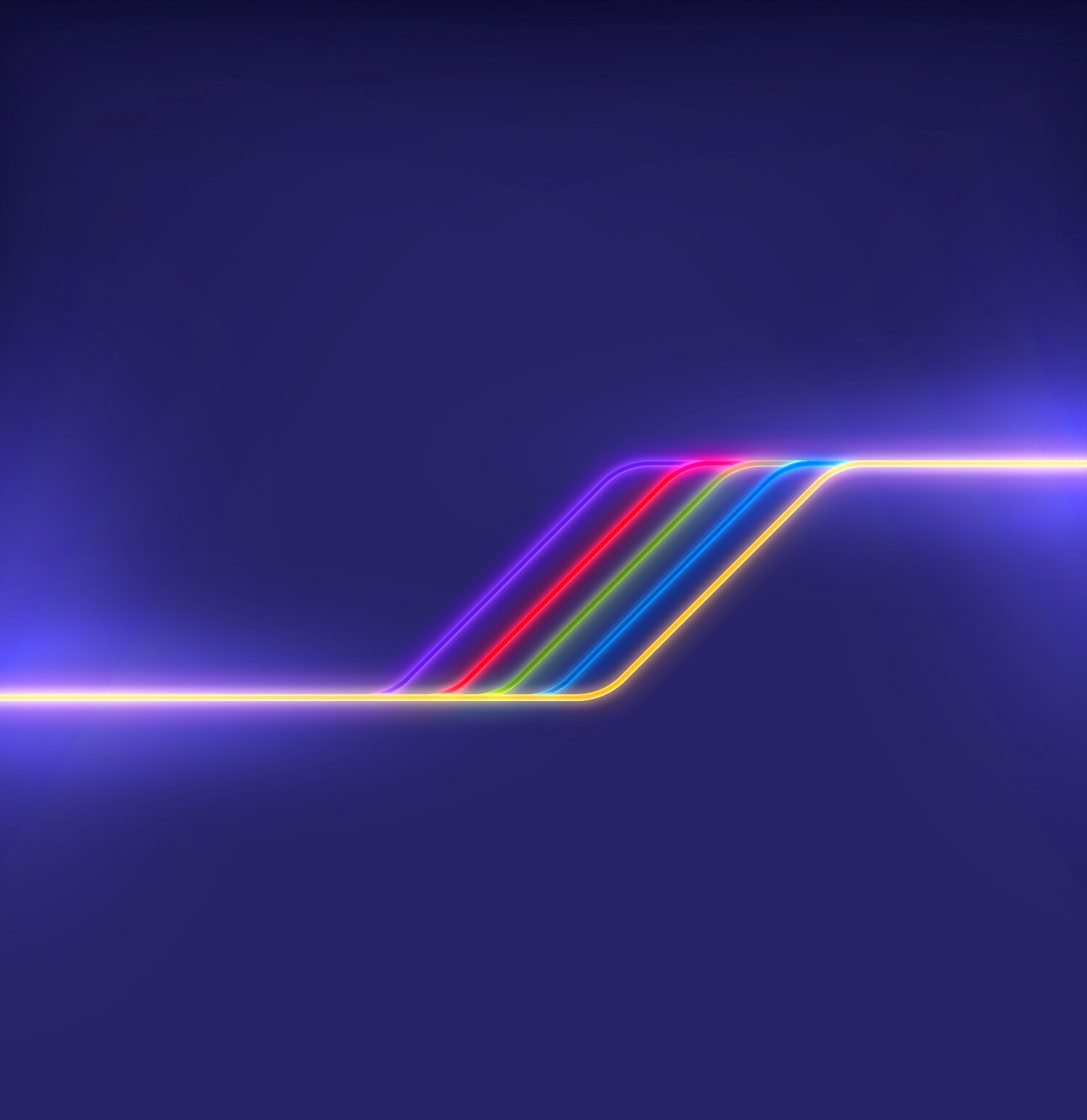 Polymerase chain reaction (PCR) is one of the most powerful technologies in molecular biology. Using PCR, specific sequences within a DNA or complementary DNA (cDNA) template can be copied, or "amplified," many thousand- to million-fold. In traditional endpoint PCR, detection and quantification of the amplified sequence are performed at the end of the reaction after the last PCR cycle and involve post-PCR analysis such as gel electrophoresis and image analysis. Because reactions are checked after they have completed, endpoint PCR data is semi-quantitative and typically used to determine if amplification was successful or not. In real-time or quantitative PCR, often shortened to real-time PCR or qPCR, PCR product is measured at each cycle. By monitoring reactions during the exponential amplification phase of the reaction, users can determine the initial quantity of the target with great precision. There are several reaction chemistries that enable this process but Applied Biosystems™ TaqMan™ Assays have long been the gold standard for making qPCR simple, precise, specific and effective at scale.
So how do they work?
Primers, probes and fluorescent glows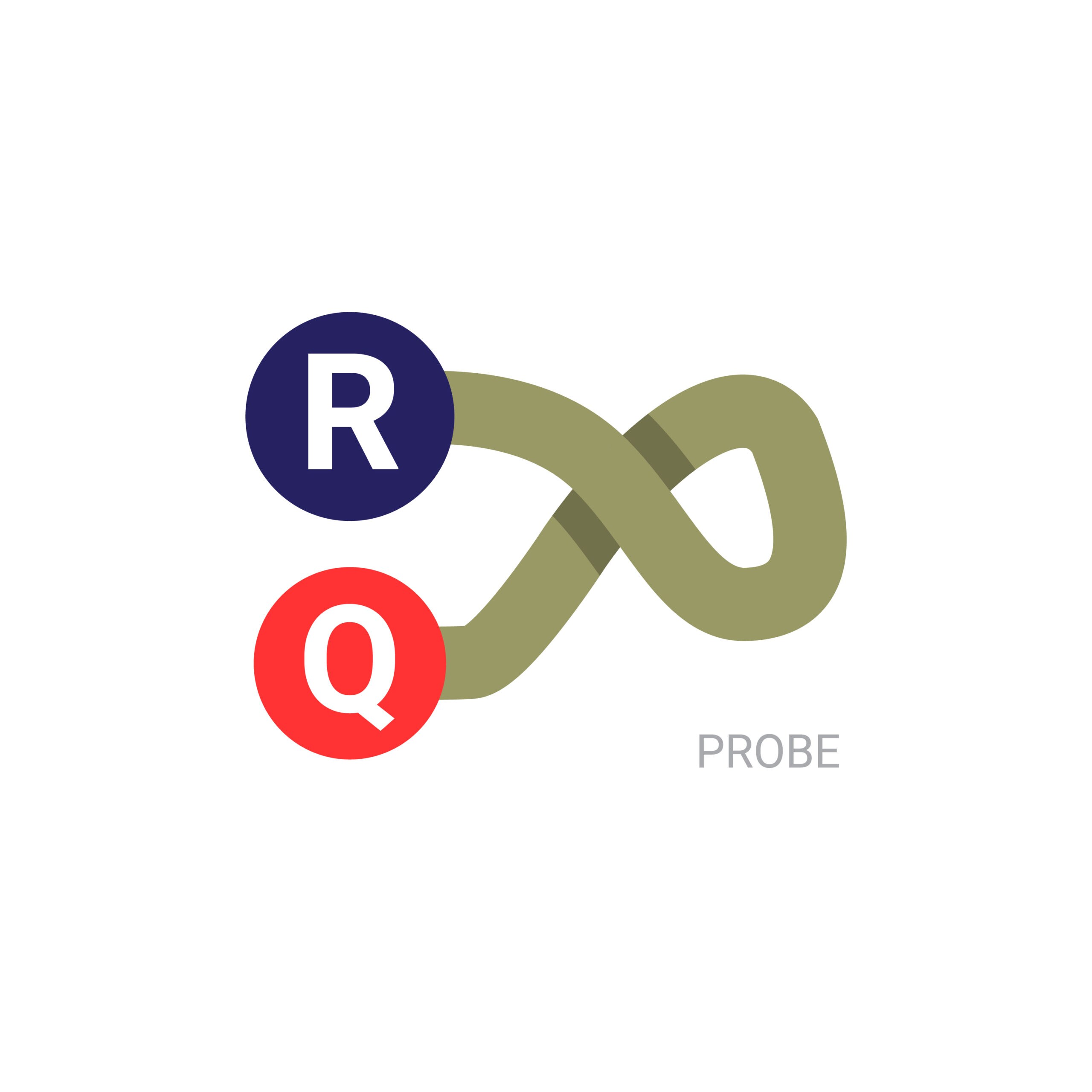 The defining feature of a TaqMan Assay is the probe. This small piece of DNA matched to the DNA template being measured has two special molecules attached: a fluorescent reporter dye (R) and a quencher (Q). While both molecules are attached to the probe, the fluorescence of the dye is suppressed by the quencher. These probes bind to the template DNA after it has been denatured into single strands but before it has begun duplicating, making sure that all duplications of the template interact with the probe.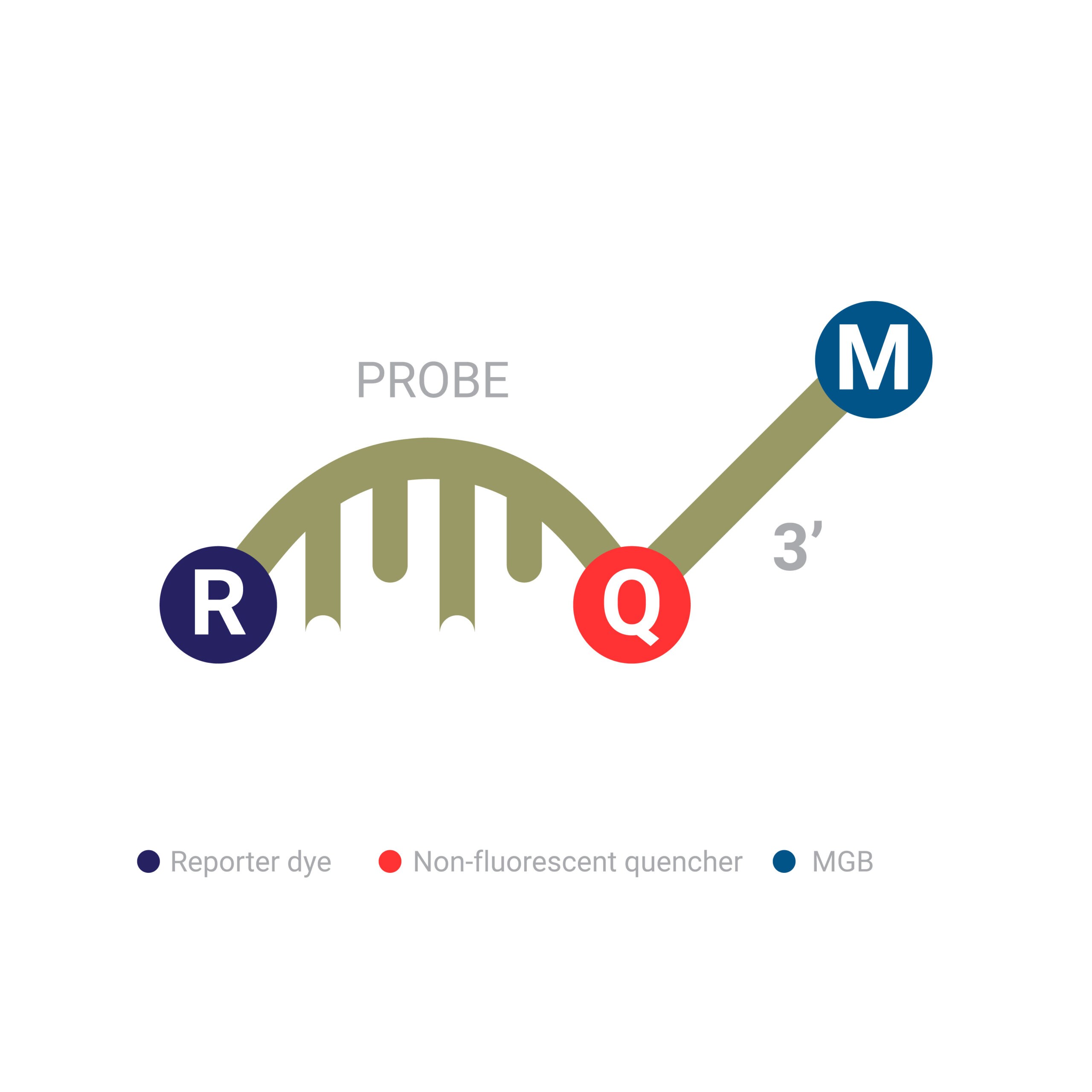 A unique feature of the TaqMan Probe is the addition of a minor groove binder (MGB) moiety at the 3' end that increases the melting temperature (Tm) of the probe and stabilizes probe–target hybrids. This means that TaqMan MGB probes can be significantly shorter than traditional probes, providing better sequence discrimination and flexibility to accommodate more targets.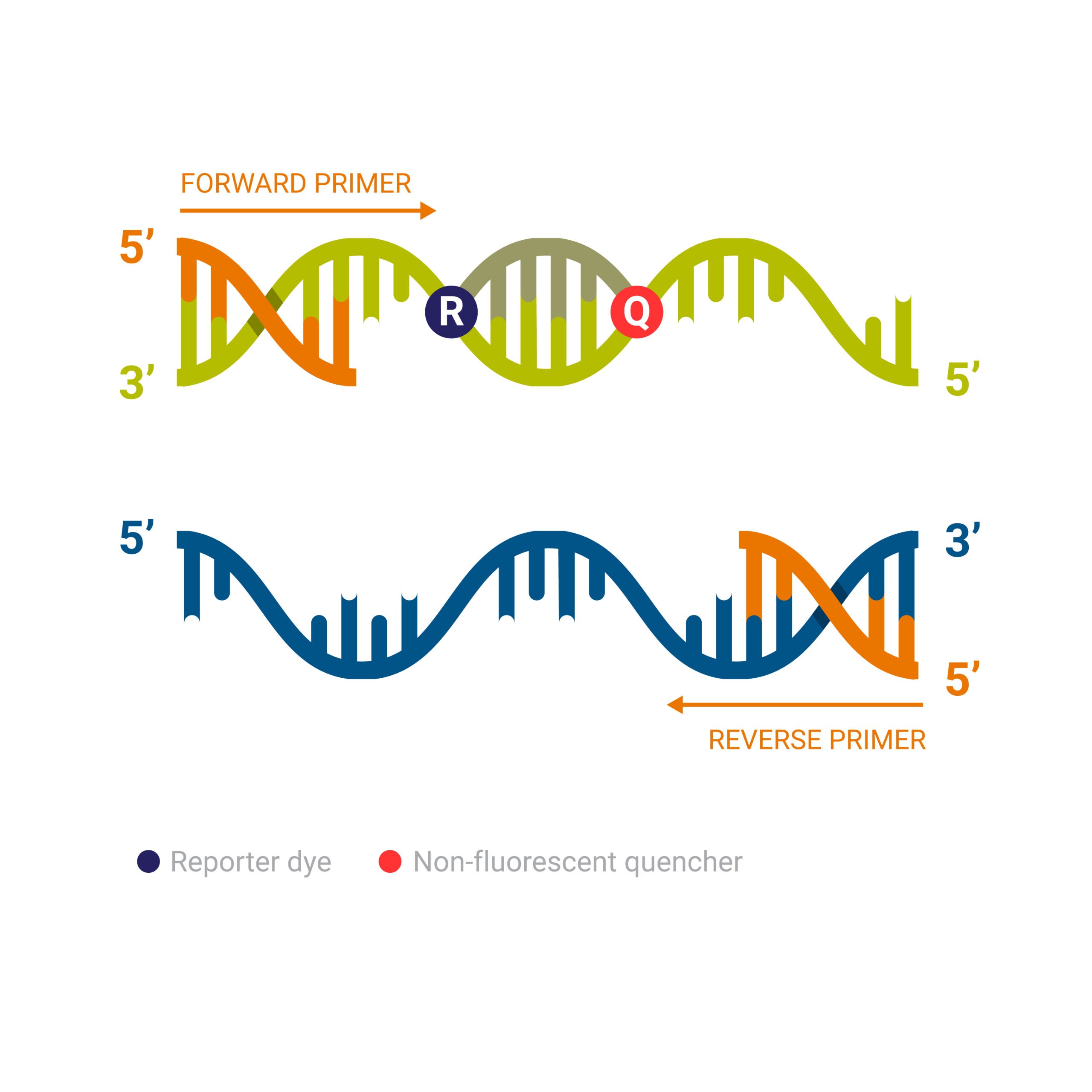 Primers are short sequences of DNA that bind to the two ends (5' and 3') of the template strand. These are carefully designed to be as specific as possible for the template and serve to anchor the reaction, enabling taq polymerase to start duplicating the DNA template. Without good primers, a PCR reaction — quantitative or otherwise — might not duplicate any DNA, or might introduce confound analysis with off-target duplication. This is a particular concern with the other most common qPCR chemistry, SYBR Green dye, which binds to any double-stranded DNA and therefore may lead to amplification (duplication) of unintended targets.
Taq polymerase is a special version of DNA polymerase adapted from the thermophile bacterium Thermus aquaticus, which tolerates much higher temperatures than DNA polymerase from most other organisms. The Taq polymerase has an additional benefit: exonuclease activity. When the polymerase encounters the probe already bound to the template strand it is duplicating, it digests it and gets on with duplicating the rest of the strand. In so doing, the polymerase frees the fluorescent dye and the quencher from each other, relieving quencher-mediated suppression and producing a fluorescent signal that the qPCR instrument detects.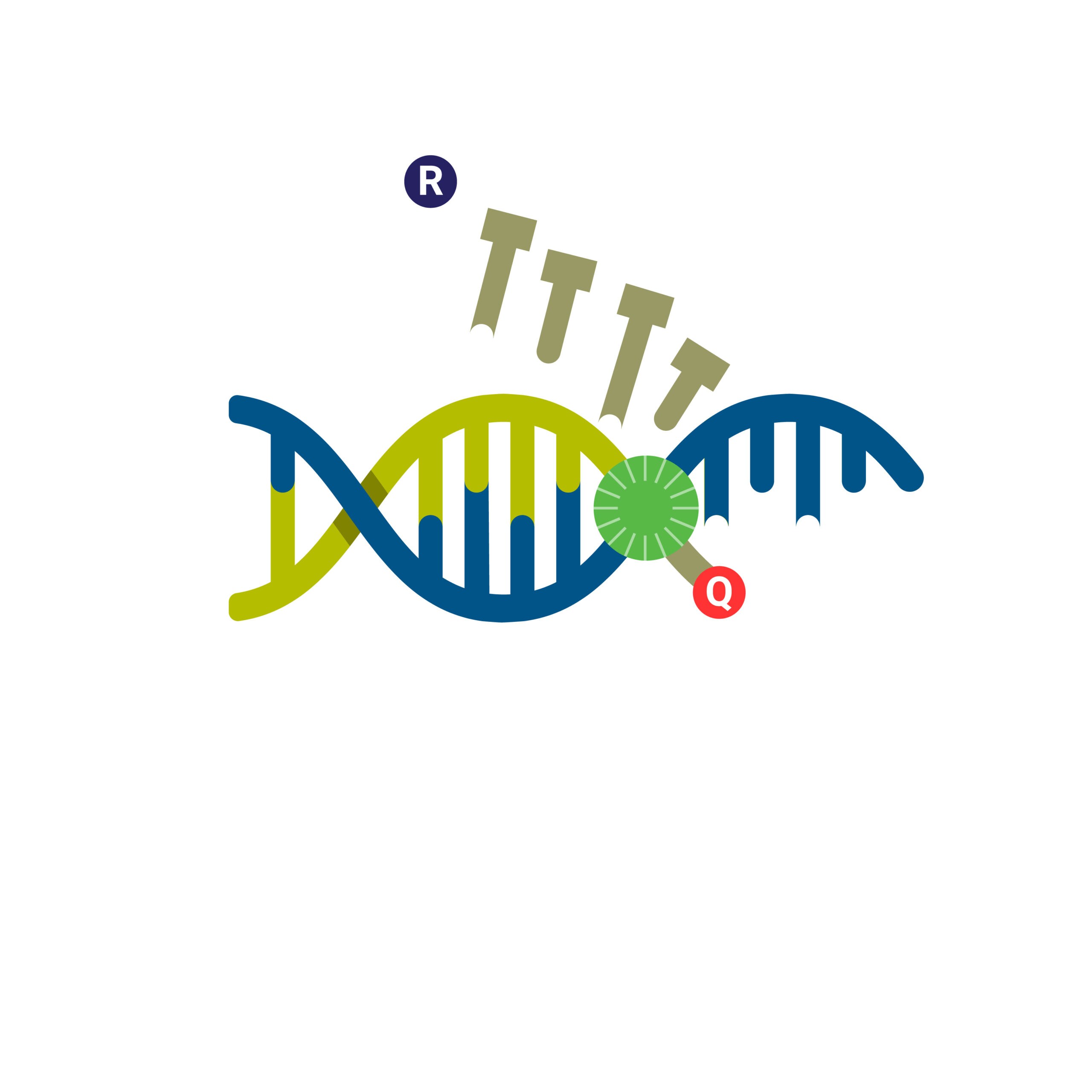 Because this signal is exactly proportional to the amount of template DNA in the reaction, it makes the qPCR quantitative.
View video: How TaqMan Real-Time PCR Assays work – Taq Talk Episode 4
TaqMan Assays have an additional advantage over many other qPCR chemistries, in that they are compatible with numerous different fluorescent probes. This means that multiple DNA templates can be investigated simultaneously, in the same qPCR reaction, because their readings will not overlap. This is called multiplexing and is a capability not available to SYBR Green reactions, in which a single fluorescent dye activates in response to any and all double-stranded DNA in the reaction, specific or not.
View video: Considerations for Singleplex vs. Multiplex qPCR – Taq Talk Episode 23
Streamlined workflow
Enterprising researchers can take advantage of our custom assay design process, in which assays are tailored for specific applications that might be too rare or unusual for off-the-shelf solutions. But for researchers investigating common gene targets, predesigned TaqMan Assays greatly simplify the qPCR workflow. With predesigned assays, no additional design, optimization, melt-curve analysis or other verification is required — just add sample and master mix. Further, every predesigned TaqMan Assay is backed by a performance guarantee,* providing confidence in your results. Thermo Fisher offers more than 21 million predesigned TaqMan Assays across an abundance of genes and species, so there is a high probability that one already exists for your use case. A robust bioinformatics and design process ensures that predesigned TaqMan Assays feature top-of-the-line specificity, sensitivity and reproducibility for excellent results every time.
Easily find a predesigned TaqMan Assay with the Assay Search Wizard
To learn more about TaqMan assays and what they can do for your lab, have a look at this rundown of how they work, a deeper dive, or an investigation of the theory and practice of their design.
Learn more
Real-Time PCR Digital Handbook 2.0: Discover real-time PCR best practices, basic principles and troubleshooting tips.
Check out the entire Applied Biosystems Taq Talk Video Series: As veterans in real-time PCR, we address your most frequently asked real-time PCR questions and challenges in this video series.
*Terms and conditions apply. To see full details of the guarantee, go to thermofisher.com/taqmanguarantee.
For Research Use Only. Not for use in diagnostic procedures.