Have you heard the term senescence but don't know what it is? Want to learn techniques to study it? Look no further. Read this blog post.
Scott Clarke, B.S., a Senior Staff Scientist, and Taryn Jackson, Ph.D., are R&D scientists at Thermo Fisher Scientific who work on the development of fluorescent reagents for cell and tissue staining. Along with a team of other cell biologists, they have developed a novel fluorogenic β-galactosidase (β-gal) substrate for the detection of senescent cells by flow cytometry and fluorescence imaging. They sat down and spoke to us about how the new Invitrogen™ CellEvent™ Senescence Green Probe detects cellular senescence and share information on the probe's benefits and guidelines for its use in multiplex flow cytometry and imaging experiments.
What is senescence?
Senescent cells are cells that have stopped dividing due to telomere shortening, stress, or damage, but remain metabolically active.1-4
How does senescence occur? What are characteristics of senescent cells?
Normal cells are known to have a limited replicative lifespan commonly known as the Hayflick limit.5 After normal cells enter cell cycle arrest, they enter a senescent phase where they remain metabolically active without undergoing cell death processes. These senescent cells adopt a specific phenotypic state that includes the appearance of multinucleated cells, increased vacuolization, expression of pH-dependent β-gal, and morphological changes where cells become enlarged and extended.6,7 This change in cell state is accompanied by an increase in expression (β-gal), making any substrate for this enzyme an ideal marker to identify senescent cells when selectively labelled.
How is senescence detected?
β-gal activation is commonly used as a biomarker for senescent cells. Although β-gal activity is considered a hallmark of senescence, it does not cause the phenomena. Rather, it has been shown that there is an increase in enzymatic activity as the cells enter a senescent state. This hydrolase enzyme resides in lysosomes and converts β-galactosides into monosaccharides under acidic conditions. The activity is optimal under lysosomal pH 4, but conventional assays measure at pH 6. It has been shown that normalized β-gal activity is twice as high in senescent cells as in pre-senescent cells, regardless of the pH value used for testing.8
What assays are available to detect senescence?
There are several assays used by researchers for detecting senescence.9 The colorimetric substrate for β-gal, 5-bromo-4-chloro-3-indolyl-β-D-galactopyranoside, known as x-gal has long been used to detect metabolic activity in cells in vitro. On hydrolysis by β-gal, x-gal is converted into a blue precipitate that can be detected using microscopy. While the x-gal assay is viewed as the "gold standard" method, it is limited in that it is a colourimetric assay.  C12FDG is a fluorescent alternative to x-gal.  If also functions as a β-gal substrate, but has the drawback of leaking out of the cell within a short period of time.  In flow cytometry, many researchers prefer to rely on a combination of antibody markers such as p16ARF and p21.  An alternative is CellEvent Senescence Green Reagent (Figure 1).  It offers a sensitive, fluorescent substrate for β-gal that can be used for the detection of senescent cells in flow cytometry assays and imaging applications.  It offers the advantage of not only being a fluorescent substrate for β-gal, but does not leak out of cells with time due to its ability to covalently bind to intracellular proteins.
Figure 1. Senescent and non-senescent cells treated with CellEvent Senescence Green Probe or X-gal. T47D human epithelial cells were untreated (day 0) or treated with 5 µM palbociclib every other day for 15 days to induce senescence (days 2-14) Cells were stained with the CellEvent Senescence Green Probe for 90 minutes or with X-gal overnight. Stained cells were imaged using the Thermo Scientific CellInsight CX5 High Content Screening Platform using the FITC filter for CellEvent Senescence Green or brightfield for colorimetric X-gal detection.
What type of research can utilize a fluorescent senescence reagent?
Identifying cellular senescence is of growing interest in cancer treatment, aging, developmental biology, and inflammatory disorders such as arthritis. Senescent cells have been implicated in contributing to age-related diseases such as Parkinson's and diabetes, along with cancer resistance and metastasis. Senolytic compounds that selectively target senescent cells may have therapeutic implications in a variety of age-related disorders and cancer treatment. Because the CellEvent Senescence Green Flow Cytometry Kit can selectively identify senescent cells and is fixable and multiplexable, it can be used in research studies on the role of senescent cells in aging and age-related disorders, cellular stresses such as inflammation, and cancer treatment.
Tell me more about the CellEvent Senescence Green Assay.
The Invitrogen™ CellEvent Senescence Green Reagent is a fluorogenic substrate for senescence-associated β-gal detection (Figures 2 and 3). It contains two galactoside moieties, making it specific to β-gal.  Upon recognition and enzymatic cleavage by β-gal, the CellEvent Senescence Green Probe produces a reactive, fluorescent product that covalently binds to cellular components containing thiols, amines and hydroxyl groups and emits a fluorogenic signal. This covalent attachment allows for cellular retention and multiplexing with intracellular markers and other fixable fluorescent probes in flow cytometry. Other β-gal substrates, such as C12FDG, have been used to detect senescent cells but this reagent does not covalently react, so it leaks out of cells and cannot be combined with fixation, permeabilization, and intracellular staining protocols.
Figure 2. Histogram of senescent and non-senescent cells treated with CellEvent Senescence Green Flow Cytometry Assay Kit. T47D human epithelial cells were left untreated (cycling/control; grey histogram peak) or treated with 5 uM palbociclib for 15 days to induce senescence (red histogram peak) through cyclin D checkpoint blockade. The median fluorescence intensity of the senescent cell peak as measured by staining with Invitrogen™ CellEvent Senescence Green Reagent, is approximately 1 log higher than non-senescent cells.
Figure 3. Cyclin A2 and B1 expression decreases with the onset of senescence. Senescence was induced in T47D, human epithelial cells by treating with 5 uM palbociclib in media every other day for 15 days, and were stained with CellEvent Senescence Green Reagent following the protocol. Cycling T47D cells progress through the various cell cycle stages as indicated by the expression of cyclin A2 and B1. A lack of expression of the cyclins (B) demonstrates cell cycle arrest in senescent cells.
If incorporating the CellEvent Senescence Green reagent into a flow cytometry panel, what other markers or fluorescent reagents would be recommended for use and why?
As a multi-faceted process, senescence is implicated in many biological functions and diseases.  Studying the contribution or impact that other markers have on senescent cells will provide insights into the mechanisms involved (see Table 1).
Table 1. A non-exhaustive list of markers for studying senescence-associated mechanisms and proteins.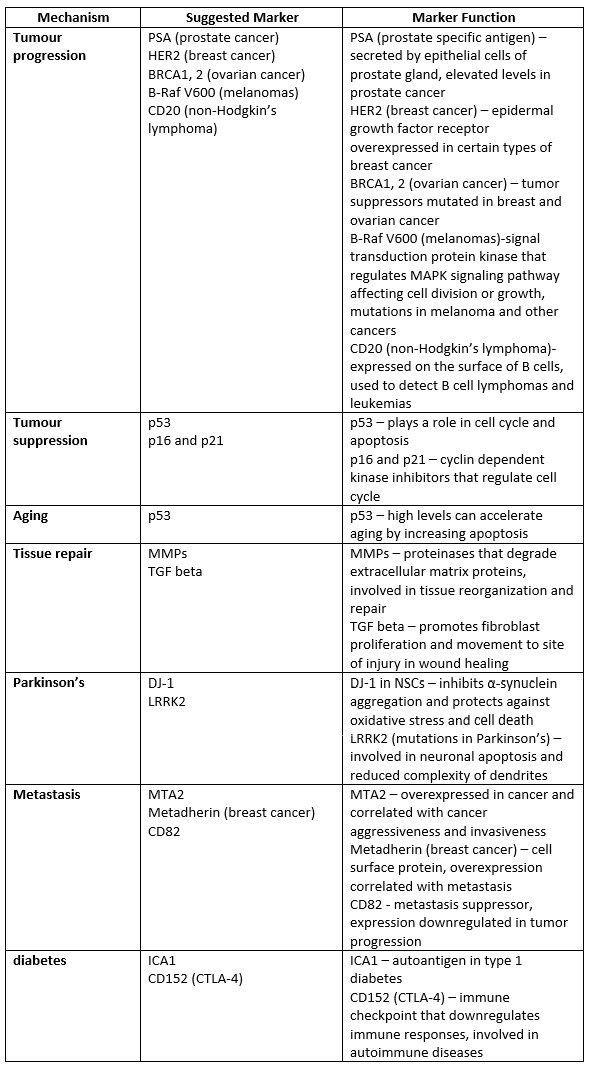 Other non-antibody based fluorescent reagents measuring various cellular features of senescence could also be useful to include in panels such as the Invitrogen™ Click-iT EdU Cell Proliferation Kits to confirm the lack of proliferation of senescent cells, the Invitrogen™ FxCycle stains to detect cell cycle arrest, Invitrogen™ CellROX Deep Red Flow Cytometry Assay Kit to monitor the increase in reactive oxygen species, and Invitrogen™ MitoTracker Deep Red reagent to monitor mitochondrial changes associated with cellular senescence (see Table 2).
Table 2. A list of cell health flow cytometry reagents that could be multiplexed with CellEvent Senescence Green Reagent.
Any tips and tricks you recommend for using the CellEvent Senescence Green reagent in flow cytometry panels?
When combining CellEvent Senescence Green with intracellular staining, cells should be stained with the CellEvent Senescence Green Probe after fixation but before permeabilization since permeabilizing the cells prior to staining can affect the β-gal enzyme and result in loss of the CellEvent Senescence Green signal. Once cells have been stained with the CellEvent Senescence Green Probe, the cleaved substrate covalently reacts so that cells can be permeabilized with detergents such as Triton X-100 or saponin followed by staining for intracellular targets.
When incubating with the CellEvent Senescence Green Probe, cells should be kept in a 37°C incubator with no CO2 so that the reaction buffer remains at pH 6, which is the optimal pH to detect SA-β-gal. Because the level of SA-β-gal can vary in different cell types and samples, the substrate concentration and incubation time should be optimized to allow for optimal discrimination between senescent and cycling cells.
Because senescent cells are typically larger than cycling cells, forward scatter and side scatter parameters can be used as an advantage to separate the populations in senescent cells with weakly upregulated SA-β-gal expression.
Suggested controls are unstained cells for autofluorescence and normal cycling cells of the same cell type as the senescent cells for a negative control. As a positive control, senescence can be experimentally induced in cells through a variety of methods and treatment with agents that cause DNA damage, cellular stress, or cell cycle arrest.5,6, 7
Does the CellEvent Senescence Green Reagent work in other applications?CellEvent Senescence Green can also be used for the detection of cellular senescence in fixed cells for imaging applications. This reagent provides a fluorescent alternative to colorimetric X-gal staining that is the gold standard for detection of senescent cells in imaging, along with the added benefit of multiplexing with fluorescence immunostaining and other fixed cell reagents. The CellEvent Senescence Green Detection Kit provides the CellEvent Senescence Green Reagent and Buffer optimized for imaging applications along with a protocol for staining senescent cells for detection using fluorescence microscopy or in high-content screening applications. It is important to note that SA-β-gal activity is destroyed in FFPE (formalin fixed paraffin embedded) tissue, but is active in cryopreserved tissue. Gentle formaldehyde fixation of cell cultures with 2% formaldehyde plus 0.2% glutaraldehyde for 10 minutes results in good retention of SA-β-gal activity for image based detection. 11What key references should I review if I want to learn more about detecting senescence?
Products availableInterested in learning about other products or reading about other topics for flow cytometry? Read more Behind the Bench blog posts for Flow Cytometry here.
For Research Use Only. Not for Use in Diagnostic Procedures.